How many people attend Coachella every year?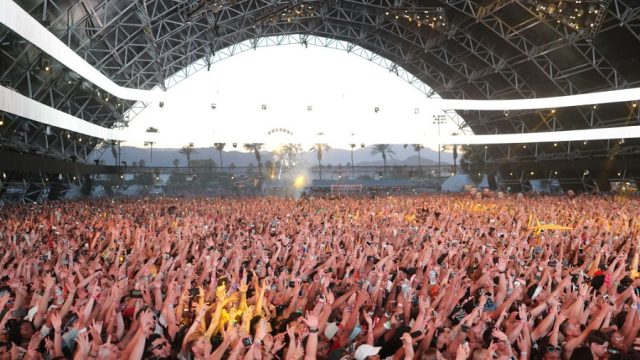 If you're a big music fan, you may also be a fan of music festivals. And if you're a fan of music festivals, you've more than likely heard of Coachella — one of the most popular festivals in the U.S.. But how many people attend Coachella? Before you head out the door for the unforgettable experience, you might want to know if you should worry about overcrowding.
First, a brief history. Officially known as the Coachella Valley Music and Arts Festival, the first event was held back in 1999 and featured acts like Beck, Tool, and Rage Against The Machine. The festival started, and continues to be held, in Indio, California.
The fest used to have an attendance cap of 99,000 guests, but the Indio City Council recently upped that number, meaning the 2017 event entailed 125,000 people.
However, according to LA Weekly, things got a bit crowded. They reported that while the festival grounds had a 40-acre expansion, much of that space was dedicated to making sure guests had ample parking. "This real estate boost was presumably meant to absorb the extra 26,000 attendees roaming the grounds, yet it was hard not to feel like cattle for most of the weekend," writer Katie Bain noted.
And Coachella often sells out very quickly.
In January, their official Twitter said that passes were no longer available as of January 5th.
This year, Coachella is set to start up on April 13th, with acts like Beyoncé and The Weeknd headlining. It'll be quite the year for the festival — if you can handle the crowds.