This is how many people actually hook up at weddings, because we know you were wondering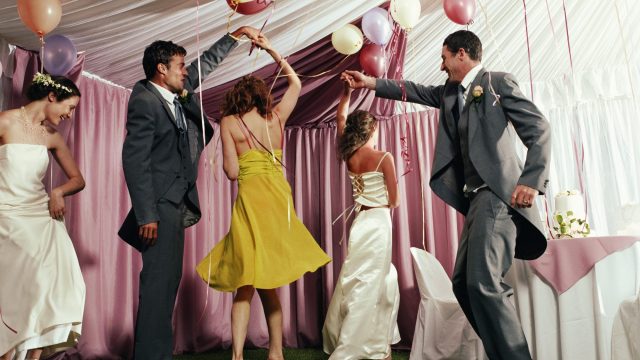 Wedding season is upon us, which means it's open season for singles. What better place for singles to hook up than at weddings, right? Although we've seen hilarious wedding hookups in movies and TV shows, we wondered if wedding hookup culture really exists in real life.
Shannon Smith, Communications Manager for Plenty of Fish, a dating app, tells HelloGiggles that weddings are a singleton's paradise. Just like we imagined. The data is based on surveys conducted on Plenty of Fish users, and the numbers say that weddings are a "great place for singles to mingle," according to Smith.
"Based on thousands of responses, many people confessed that weddings are the perfect spot to hook up or even find a relationship – and mainly because it's easy to start a conversation," Smith tells HG.
Plenty of Fish surveyed over 3,000 of its users between the ages of 21 and 65 to get their opinions on hooking up at weddings.
Out of those who responded, 44 percent said that weddings are the place to find someone.
Like Smith stated, 52 percent of POF respondents believed that starting a conversation at weddings is much easier than anywhere else.
21 percent of those surveyed believe ease of conversation has to do with the fact that everyone looks their best, and is therefore feeling more confident.
Additionally, 15 percent of respondents attributed their chattiness to alcohol (blame it on the open bar), and eight percent said there's no commitment attached to these conversations.
POF wanted to know more about their users' wedding experiences besides their hookup strategies, so they asked about the other fun stuff that happens at weddings.
Through their survey they also found out that 44 percent of that initial 3,000 surveyed have sat through cringe-worthy wedding speeches.
41 percent of respondents admitted that they had too much to drink at weddings before. (Again, let us reference the mayhem and foolishness of an open bar reception).
All that conversing and drinking led to 20 percent of respondents hooking up with someone in the wedding party, but also led to 16 percent meeting their future partner. Whoa!
Let it be known that wedding hookups can lead to more weddings, thus restarting this wild wedding circle.
Finally, POF found that 10 percent of their surveyed users have indeed crashed a wedding. Hey, at least they admit it!
So if you're headed to a wedding this season as a single looking to mingle, according to Plenty of Fish, you definitely have a great shot at meeting someone — whether you're looking for a short- or long-term relationship.
Have fun, give our regards to the bride and groom, and let the conversation (and drinks from the open bar) flow!