So How Many Grammys Does Taylor Swift Already Have?
Spoiler alert: It's a lot.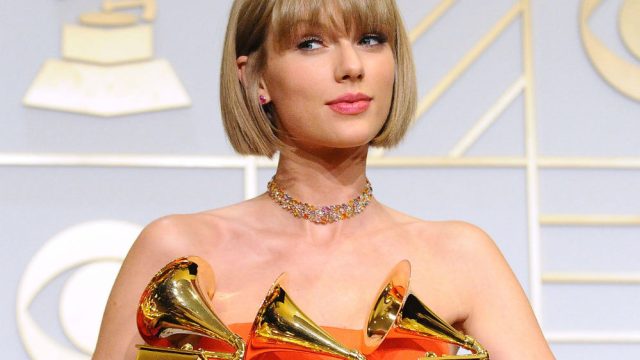 For the 2021 Grammy Awards, Taylor Swift is nominated six times, including a huge Album of the Year nod for Folklore. The nominations add to her impressive collection of Grammy nods—of which she already had 35 before this year—and we can't wait to see if she takes home any new trophies on Sunday.
So the real question is: How many Grammys does Swift already have?
She's won 10 Grammy Awards over the years, starting with her first in 2009. Actually, she brought home four gramophone trophies in 2009 after missing out on the win in 2007 for Best New Artist, her very first nomination. The awards and nominations have been smooth sailing ever since.
The last time she took home awards was in 2015 for Album of the Year, Best Pop Vocal Album, and Best Music Video. She's earned several nominations since then but wasn't able to grab any trophies. This Sunday's ceremony—hosted by Trevor Noah—might be a turning point, though.
Swift is nominated this year for Album of the Year for Folklore, Song of the Year for "Cardigan," Best Pop Solo Performance for "Cardigan," Best Pop Duo/Group Performance for "Exile," Best Pop Vocal Album for Folklore, and Best Song Written for Visual Media for "Beautiful Ghosts" from Cats. Considering what a mega-hit Folklore was in 2020, we wouldn't be surprised at all if it earned her a trophy or two come Sunday.
It's absolutely no secret that Swift is insanely successful. She's broken records, won tons of awards, and is easily one of the biggest pop stars in music history. Her songs are good, and it's impossible to not like at least one of them.
Her winningest year was 2009, followed by 2015. In 2009 she nabbed four awards, and in 2015 she earned three.
In 2015, she scored Album of the Year and Best Pop Vocal Album for 1989, as well as Best Music Video for "Bad Blood." She never won a Grammy for Red (how?!), but she did score four Grammys for Fearless in 2009, including Album of the Year. She also won two awards for "Mean" in 2011, and one for "Safe and Sound" in 2012.
All told, she currently has 10 Grammys.
Swift is up against some serious competition in 2021, including Harry Styles, Post Malone, Dua Lipa, and more. Folklore, though, is a powerhouse, so she could come out victorious. We'll just have to tune in Sunday on CBS to see if she can add to her Grammy count. If nothing else, Swift is performing, so at least we know we'll get a show!