How many figure skaters go to the Olympics? The answer is a lot more than we thought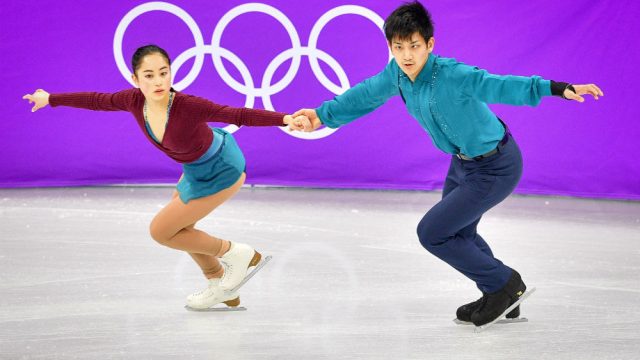 There are a ton of exciting events at the Winter Olympics, but of course, some tend to stand out more than others. One of the most anticipated events is always figure skating (which starts tonight!). That's probably because it's such a beautiful sport to watch, with stellar music and gorgeous outfits to boot. Or maybe it's because we all secretly wish we could be figure skaters. Whatever the reason, one thing is for sure: Everyone wants to know everything about the athletes in the 2018 Games. Starting with the question, how many figure skaters go to the Olympics?
The qualification process for figure skating is a bit complicated. While many athletes will spend most of their lives preparing for the Games, only a select few figure skaters will end up qualifying and participating. While the country hosting the Games is automatically eligible to send at least one entry per event, not all countries are eligible to send even just one skater.
Skaters find out if they're qualified during the World Figure Skating Championships, which happen a year before the Olympic Games. This is the competition that determines which countries can earn Olympic spots. The rubric for qualification is extensive, with rules like, "If a country's top two placements' sums are between 14 to 28 for a country, two Olympic spots are earned."
Once a country is given an Olympic spot, it's up to the country to decide who they are sending — meaning that country comes up with the guidelines athletes need to watch out for.
Sometimes, even countries that earned a spot won't send athletes if they don't think they can place in the top half at the Games. In the United States, Olympic figure skaters are typically those who have placed in championship events during the U.S. National Figure Skating Championships. But that's no guarantee. Even skaters who excel in the Championships might not end up qualifying.
The crazy part? The figure skaters won't know if they'll be representing the U.S. until a few weeks before the Games. Yikes!
This year, the USA figure skating team consists of 14 skaters. For the female competition, there's Karen Chen, Mirai Nagasu, and Bradie Tennell. For men, there's Nathan Chen, Adam Rippon, and Vincent Zhou. For Ice Dance, there's Madison Chock and Evan Bates, Madison Hubbell and Zachary Donohue, and Maia Shibutani and Alex Shibutani. Lastly, for Pairs, there's Alexa Scimeca Kinierim and Chris Kinierum.
According to Wikipedia, it seems that there are 153 figure skaters overall, from 32 different countries.
That's a lot of figure skating, and we can't wait to watch every single competition.