The calories in Starbucks's Crystal Ball Frappuccino might make you forget about your future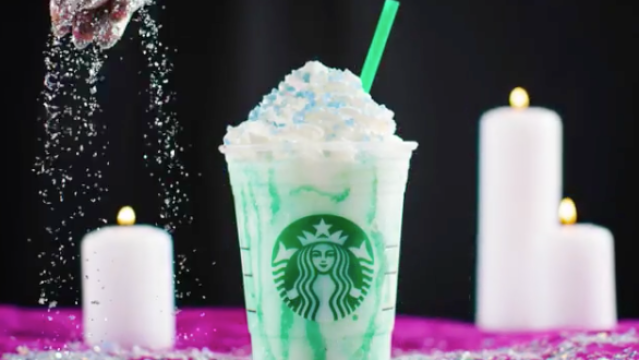 Come closer, dear, and look into our Starbucks Crystal Ball Frappuccino. Can you see what we see? Yes, child. That is the calorie count of the new Starbucks drink, only available between March 22nd and March 26th. As we've told you before, every thorn has a rose — and every Starbucks beverage has its unflattering calorie count. It's just the way life is. Exactly how many calories can we see in the new Starbucks Crystal Ball Frappuccino? It's not too late to shield your eyes.
The new magical elixir comes in the three standard Starbucks sizes — Tall, Grande, and Venti Iced. And depending on your preference, one can choose the milk or dairy alternative that is mixed into the concoction, therefore affecting your calorie intake.
So if you're looking to see less calories in your future, you might want to opt for a Tall Crystal Ball Frapp made with almond, coconut, or non-fat milk. Without whipped cream, this version of the beverage contains 140 calories. With whipped cream, you're taking in 240 calories.
But if a Tall won't satisfy your fortune-seeking needs, a Grande Crystal Ball Frappuccino made with almond, coconut, or non-fat milk, and served sans whipped cream, packs 210 calories. Or swap in whole milk for 30 more calories, and then top that creation with whipped cream to peak at 380 cals.
Then again, you can throw calorie counting to the wind and dive into a Venti Iced Crystal Ball Frappuccino. By treating yourself with whole milk and whipped cream, you'll win a free 460 calories. But you're sipping in pure magic, after all. How much harm can it really do?
Sure, this fortune-telling wonder certainly isn't the most healthy thing you could be consuming. But it's only around for four days, so get your fill before it's too late — and before your future becomes foggy once again!