How to make a corsage for prom in five easy-peasy steps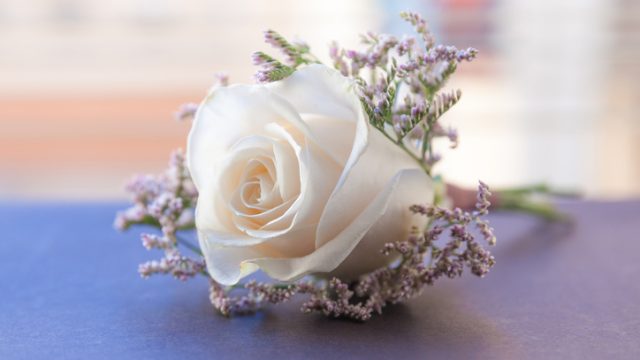 Prom is the one night in my life I've ever had to worry about a corsage. While I've never had to wear one again, 9 years later, I still keep mine in a keepsake box at my parent's house. Of course, mine was picked up in haste from the floral section of our grocery store and looking back, I would have loved to have something a little more personal to remember the night by. Perhaps I should have looked up how to make a corsage.
Making your own corsage is a fun way to customize your prom night ensemble, to make sure you and your date match. It's also a chance to make a statement — it's your corsage, so you should fashion it in a way that suits your mood. Add a succulent, make it huge, choose rainbow colors. Do whatever you need to do to make prom night all yours.
If you're the type with the patience, creativity, and enthusiasm to make your own corsage, here's how. (And also, I applaud your character.)
What you'll need:
A mixture of flowers
Greenery or filler flowers (or both!)
Green Floral Tape
Ribbon
Scissors
Wristband (like a corsage bracelet, scrunchie, or similar cuff)
Hot glue gun or super glue
Gather your flowers in whatever formation you'd like. Experiment with a few different arrangements. Cut the stems to about 1-2 inches.
With the flowers still in the bouquet, gather the stems together and wrap them with green floral tape. Start just below the base of the flowers and wrap the tape all the way to the bottom of the stems. Keep it tight.
Use your ribbon to tie a bow around the flower stems and to cover the green floral tape. Go as big or as small as you prefer. Velvet and lace ribbon are pretty options.
Now, the flower portion of your corsage is complete and it's time to adhere it to the wrist band. This can be done with a hot glue gun or with super glue. Add a small amount of glue to the band and paste the flower stems onto it. Be sure to let it set completely.
Once the glue has fully dried, try on your corsage and make any changes before prom night.
Tips to create a beautiful, long-lasting corsage:
? Traditionally, the corsage color scheme matches your dress. You can also choose complementary colors.
? Choose sturdy, hardy plants so they can hold up all night. Flowers like roses, carnations, and chrysanthemums are the most common corsage flowers.
? Prior to crafting your corsage, place your flowers in water to keep them as healthy as possible.
? Don't make the bouquet too unwieldy — you don't want it to get in the way of dancing, nor do you want it to fly off your wrist while you dab. (This is what I assume happens at a modern prom.)
? Keep your flowers fresher for longer with a spray of Clear Life, a flower mist that extends the life of your plants.
? Alternatively, use faux florals. There are some pretty options that look very realistic, and that will allow you to customize your corsage beyond what's in season at the time.
? If you're going with a date who will wear a boutonniere, we've compiled instructions on how to customize that, too!
Most of all, have fun. Dance the whole time. Don't end up at IHOP like I did. Or do. Those pancakes were delicious.