How Kate Hudson speaks about her stepdad will make you cry happy tears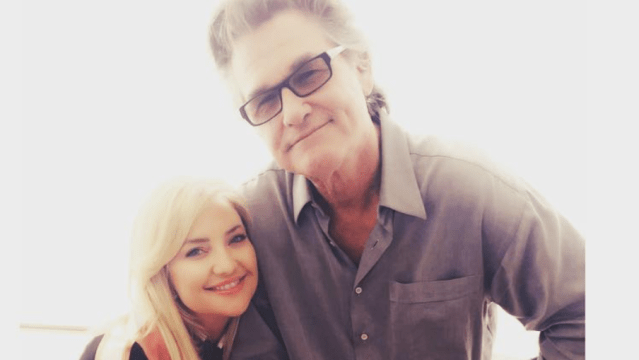 Kate Hudson recently opened up about her relationship with her stepdad Kurt Russell, and we're inspired by the genuine connection they share.
Kate admitted that her relationship with her biological father, Bill Hudson, started to fall apart when he broke up with her mother, Goldie Hawn, in 1980. Kate said Goldie never spoke badly about Bill, and she knew from an early age that the divorce was never about herself and her brother, Oliver.
Since then, Kate has found a father figure in Kurt Russell, Goldie's partner of more than three decades. He's always been there for them, and taught her how to navigate Hollywood.
"The trust I got from [Russell] in terms of his dependability was priceless for me," Kate revealed on The Howard Stern Show. "He is so honest, so brutally honest. I love him so much; he is just a great guy. He is an original. He doesn't buy into things."
Kate and Kurt star in Deepwater Horizon together, an upcoming film about the victims of the infamous BP oil rig explosion in 2010. While on Good Morning America promoting the film, Kate had nothing but praises for her stepdad's work.
"It's really boring [being on set] but for me as a kid, I loved it. I loved every aspect of it and I loved watching Kurt because he's such a phenomenal actor," she said. "He puts so much care and effort into his roles in a way that I think is different than a lot of young people I've worked with."
Bill Hudson told The Daily Mail last year that he was essentially disowning Kate and Oliver.
"I say to them now, 'I set you free.' I had five birth children and I now consider myself a father of three. I no longer recognize Oliver and Kate as my own… [Oliver] is dead to me now. As is Kate," Bill said.
If Kate ever felt any anger towards Bill in the past, there's no indication of it now.
"I think forgiveness in any aspect is something that is complex. It is the greatest tool to be able to separate that attachment. So for me, I recognize whatever those issues are is something he has to live with. That must be painful for him and I forgive him," the 37-year-old mother of two told Howard Stern.
Forgiveness is growth. Kate's story is a great example for all of us.