THIS is supposed to be how Lane Kim's story ends on "Gilmore Girls" (because what happened to her is not okay)
If you're anything like me, or the other million-billion Gilmore Girls fans out there, you are counting down the hours until we finally get those new episodes. And why wouldn't you be? We all slumped through those last two seasons and muttered under our breath about the questionable plots and where the show was going.
First, there was the absurdity of Luke and Lorelai's demise and reunion, then how Logan quickly cut off Rory after she rejected his impromptu proposal (and Rory was totes cool with it all), and of course, the way Lane Kim was treated. Now, let's talk about Lane. Lane was the greatest character ever on Gilmore Girls. She was pop culture savvy, musically gifted, a wonderful friend, and frankly, she deserved better than how she wound up. There's nothing wrong with marriage, nothing wrong with kids (I've got one of my own), but to see her end up left behind to raise the twins while Zack goes off to try and become a rock god?
 No, no, no. That's not how Lane's story ends. Hopefully we'll see what really happens come Thanksgiving weekend, but for now, here's what I'm hoping for.
First Off, Lane should amicably divorce Zack.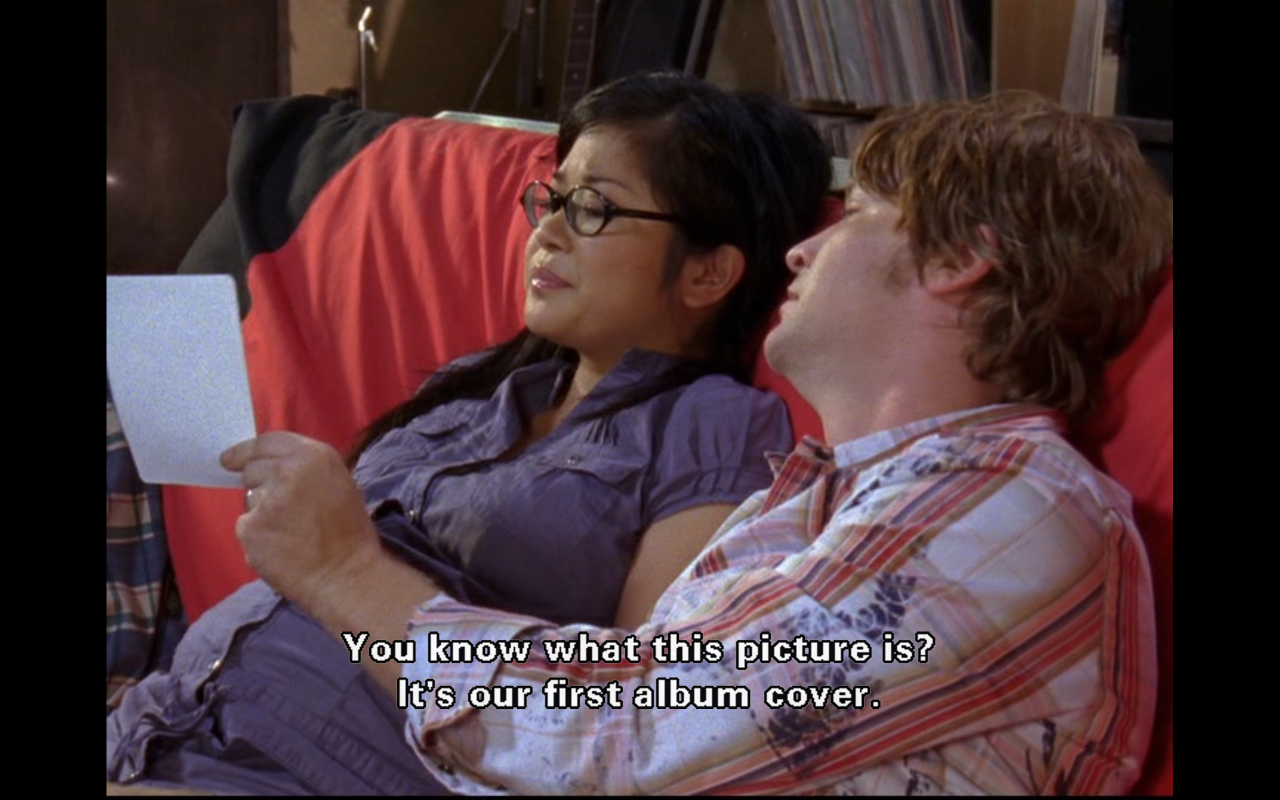 In the final episodes, Zack ends up agreeing to go on tour with another band, leaving Lane to watch over their babies. This is majorly infuriating, considering Lane is also a musician who some (read: all) would argue has way more talent than Zack.
In my mind: After the credits for the series final roll, Lane gets justifiably pissed. She works hard to care for Kwan and Steve and not go completely insane (because raising twins on your own is seriously no joke). She spends her evenings quietly writing new music, and sometimes records when she's able to find a babysitter. She and Mrs. Kim become closer than ever, and Mrs. Kim becomes her greatest source of support. Zack, being who he is, barely communicates while on tour. When he finally gets back, he finds Lane with her bags packed.
"This isn't going to work out," she tells him, and walks out with the kiddos.
He stays in the Hollow and gets a job and is good about paying child support and seeing the kids once a month or so. Maybe he gets with Lindsey or someone. Who knows. Who cares.
Then, Lane and the kids move to New York Or Los Angeles.
We all know that Lane's greatness is too much to be held within the confines of Stars Hollow. So she does what all the other greats do: She moves out to a big city to make a name for herself. If you can believe it, Mrs. Kim has saved a lot of money selling all those antiques while in that tiny Connecticut hamlet, and she gives Lane and the boys a large sum to help them get started someplace else.
 Lane proves to be the coolest, most supportive mom ever. She works hard at a music school for girls while also freelancing for Rolling Stone, but always manages to be there for her kids. She finds ways for them to get their creativity out, via everything from painting to sports to dance and of course, music. They never have to hide who they are. She wears a band t-shirt every day of her life.
She meets Dave again, who helps her start a new band.
One day, Lane is getting some work done at a cafe when "Man Who Sold The World" comes on over the sound system. She looks up and see Dave Rygalski himself walking toward her. This is his coffee shop, though he also still plays in a few bands. They exchange numbers.
Weeks later, Dave invites Lane to a show and introduces her to a few musicians and producers.
"She's the greatest drummer I've ever met," he tells them.
She meets the members of her next band and starts touring. She flies out Mrs. Kim to watch the boys, who teaches the kids music and how to make a mean tofurkey.
She joins a super all-women band called The Kims made up of Kim Deal, Kim Gordon, and Lane Kim
 While on the road, Lane meets Kim Deal (of The Pixies and The Breeders) after a show. They talk about the position of women in rock and Kim invites Lane to go for drinks and meet with another friend of hers, Kim Gordon of Sonic Youth.
They stay up all night and plan their new supergroup, The Kims. They are, of course, an instant success.
This could totally be where we first start the new episodes since Kim Gordon has been a guest star on the show in the past.
The Kims reluctantly agree to open up for U2.
Bono begs The Kims to open up for a U.S. performance at Madison Square Garden. Lane remembers her promise to Lorelai many, many years before to introduce her to Bono. She sends Lorelai and Luke and Rory backstage passes for the concert. The Kims rock the house. Lorelai finally meets Bono, who is kind enough to take a few selfies with the starstruck Gilmore.
And she lives more or less happily ever after.
 Lane's kids grow up to be awesome creatives in their own right (maybe a famous artist and the other an award-winning writer). Lane may or may not get married again, but I'd like to think that her happiness doesn't solely rely on this. She does, however, become the first Asian-American woman to be inducted into the Rock and Roll Hall of Fame. Hell. To. The. Yeah.