How far are the 2018 Olympics from North Korea? Not even that far, and here's what that means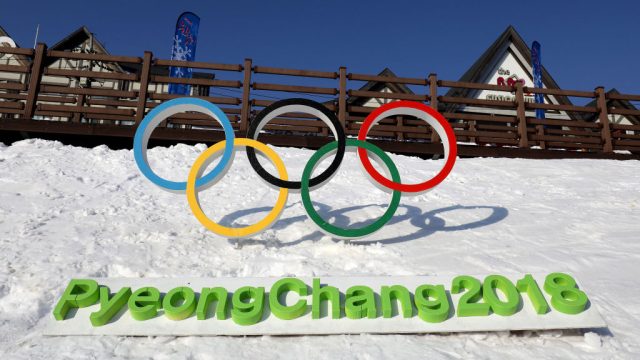 The 2018 Winter Olympics started this week, and they're already proving to be exciting. That's partly due to their location, which is Pyeongchang, South Korea. You might already be getting a clue as to why these Olympics are special, just from the location. "How far are the Olympics from North Korea?" You're probably wondering, and you're right to wonder if the games might be a speed-skate away from the North Korean border.
According to the Wall Street Journal, Pyeongchang is located just 40 miles away from the border, which is a Demilitarized Zone. That's about double the distance of some of the cross country skiers' races, and those women finish their race in about an hour and a half. In other words, if you're an Olympic-level cross country skier, you could get from Pyeongchang to North Korea in three hours. Or, y'know, you could drive it in about 40 minutes.
Because of the sporting event's close proximity to one of the world's most threatening countries, this year's Winter Olympics is innately political. But that doesn't have to be bad. In fact, hosting the Olympics in South Korea means that North Korean athletes will compete in the Winter Olympics for the first time in eight years, according to Vox.
While the fact that North Koreans will compete in the winter games is exciting, there's even more good news.
North and South Koreans will march together during the opening ceremony on February 9th. The two teams will march under the the Korean Unification Flag, according to CNN, which has the silhouette of the Korean peninsula along with the outlying islands in blue.
Though many view the march as a symbol of hope for North and South Korea's future diplomatic relations, South Korea's Foreign Minister Kang Kyung-wha has said that North Korea has indicated that it intends to move towards denuclearization, according to CNN.
At the very least, North Korea's participation in the Olympics marks an exciting opportunity for its country's athletes.
North Koreans rarely have the opportunity to leave their country, let alone compete for worldwide championships. Figure skating duo Ryom Tae-ok and Kim Ju-sik are singled out as the country's strongest competitors, but North Korea also has teams competing in ice hockey, skiing, and skating, according to BBC News.
Check out the partner skaters from North Korea that everyone will be talking about:
Yep, they can skate alright.
https://www.youtube.com/watch?v=Zp79QUnLwbU?feature=oembed
This year's Winter Olympics are sure shaping up to be one of the most exciting competitions yet. Regardless of how they impact North and South Korea's relationship, they will at least introduce the world to new — impressive — athletes.