Why is the SoCal fire called the "Thomas Fire"?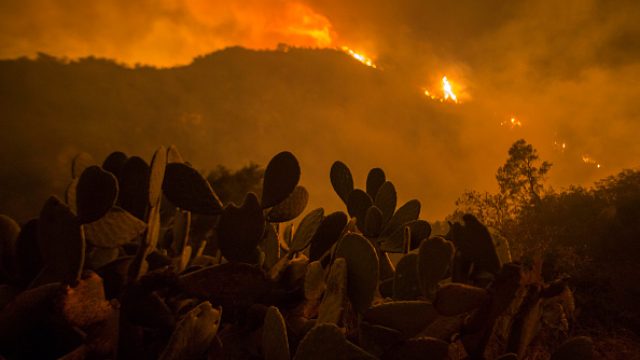 One of the largest wildfires in California history broke out on December 4th — and it's still raging. The Thomas Fire has been burning Ventura and Santa Barbara counties for 12 days now, and one firefighter has been killed battling it. But how did the Thomas Fire get its name?
The Thomas Fire started in Santa Paula, Ventura County on December 4th. The blaze ignited near Thomas Aquinas College, a small, Catholic-affiliated liberal arts college. The fire was named after its proximity to the school.Like the Thomas Fire, mostwildfires are often named after nearby landmarks. The group that first begins fighting the fire gets to pick what to call it, but fire dispatchers can decide if the name is too similar to other fires.
Thankfully, the Thomas Fire's namesake is safe. The college was evacuated after the fire began, and classes were canceled the week of December 5th. But the campus survived the blaze, and although the campus will remain closed until January, students were able to return to collect their belongings as of December 12th.
But the Thomas Fire is still growing. According to the California Department of Forestry and Fire Protection (Cal Fire), the Thomas Fire was 35 percent contained and had spread 252,000 acres as of the morning of December 15th. It is the fourth largest wildfire in modern California history. One firefighter, Cody Iverson, was killed in the fire on December 14th.
Hot, dry Santa Ana winds stoked the flames of the Thomas Fire, and these winds are expected to pick up until December 17th. Los Angeles and Ventura counties have been under a red-flag fire warning for 12 days since the fire began — the longest fire warning on record.
The destruction caused by the Thomas Fire is heartbreaking, but there are ways to help. If you want the support the victims of the California wildfires, you can donate to many different organizations. We hope that the Thomas Fire is contained soon and that all those affected remain safe.