How to ask a girl to prom — since there's no *one* right way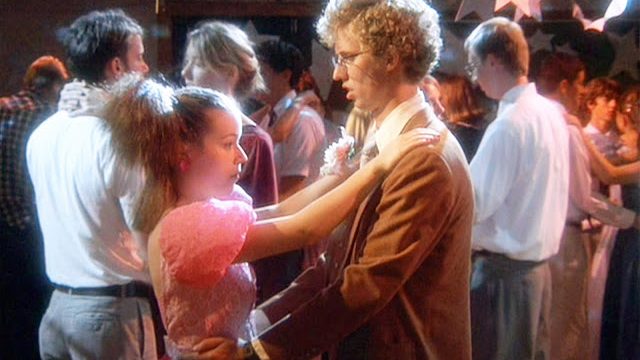 Prom season is upon us. If that realization puts a nervous lump in your throat, you're not alone. Yes, prom is supposed to be the best night of your teenage years/your favorite memory from high school/#magical (although, don't worry if it's none of that). All things considered, the buildup to that night can be stress-inducing. You have to think about the outfit, the fancy transportation, the ticket cost — and who you're going to ask to go with you. Asking someone to the prom is probably the most nerve-wracking part of the whole prom procedure. And if you need some guidance in this area, if you're wondering "How do I ask a girl to prom?", let us be your fairy prom-mothers.
You've probably heard the term "promposal" at least once during your high school career. If you haven't, a promposal is exactly what it sounds like: a proposal to ask someone to prom. Some people go all out for the promposal, enlisting the help of numerous friends, buying loads of props, or crafting an hour-long, town-wide scavenger hunt that ends with the entire cheerleading squad spelling "PROM?" in pom-poms on the football field.
If you're sweating bullets thinking you have to live up to all that — don't worry. Extravagant promposals are fun, but are in no way mandatory. Instead, think small, sweet, and meaningful.
For example, if the boy or girl you're asking to prom is one of your best friends, or someone you've been dating for awhile, think back to memorable moments in your relationship and use those memories for inspiration.
Take the person back to where you had your first date or prepare their favorite meal. Stash a "prom?" message under the table or beneath the bench where you shared your first kiss — and voilà! The task is complete and you have a happy date on your hands.
If your goal is to ask a person you're not that well-acquainted with, you might have to get a little more creative. Try to ask them face-to-face before resorting to texting or messaging — it's always best to keep things personal. Find the person at their locker at the end of the day or, if you're feeling brave, approach them during lunch. Yes, they'll be seated with friends, and this might make the interaction more awkward than anticipated.
But sometimes, you have to take a deep breath and get on with it. Otherwise you'll be wondering "what if?" for eternity (or at least until graduation)!
The most important thing to remember is to be as confident (not cocky) and respectful as possible. And hey, if you get rejected, it's not the end of the world. Don't pester the person again and again, because then you're toeing the line of harassment, and that's a huge no-no. Ask someone else or head to prom stag alongside your best friends. Even if you're dateless, you can still have the best time at prom.
Whether you plan a fun promposal or ask someone on a whim — you've got this. We have faith in you! Go out there and get 'em, tiger.