A Texas middle school is facing backlash for painting a misogynistic quote on the wall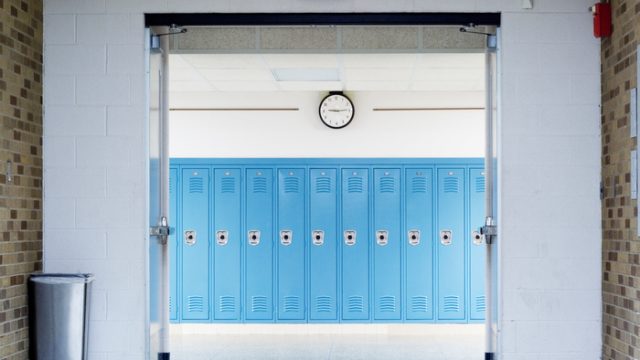 Administration officials of a Texas middle school are in hot water after a sexist quote was discovered on the wall above a row of student lockers. When a Houston ISD employee snapped a pic of the quote at Gregory-Lincoln Education Center, it quickly went viral.
Critics are slamming the quote for perpetuating gender stereotypes. They say that instead of shaming girls—middle schoolers, mind you—we need to be teaching boys the right ways to treat women. And we couldn't agree more.
Brace yourself, because the quote is a doozy. It reads: "The more you act like a lady, the more he'll act like a gentleman." Facepalm.
What makes this story even worse? ABC News reports that it has been on display in plain sight at the school for five years. FIVE years. Terrible.
"I think we're reinforcing stereotypes," Houston ISD parent Tish Ochoa told ABC News. "I mean, look at the climate in which we're living in. We're supposed to be teaching people to be responsible for their own actions. What is this teaching little girls?"
Preach, Tish. We couldn't have said it better ourselves.
The response on Twitter is similarly fierce.
https://twitter.com/udfredirect/status/1030552630911791104
Thankfully, in response to the backlash, the school has taken the quote down.
"Please be advised that the quote on the wall of Gregory Lincoln PK-5 Education Center has been removed," a statement sent from the school disctrict to ABC News reads. "Overnight, the wall decal letters were taken down, the wall was floated out, and new slab of drywall was installed and painted."
And in a statement to Houston ISD teachers, the district said: "The quote does not align with HISD values." Good.
We hope Houston ISD takes this opportunity to reflect on the values they're imparting on the young boys and girls of the next generation. We can do better.