"House of Cards" will officially resume production next year — with a MUCH shorter season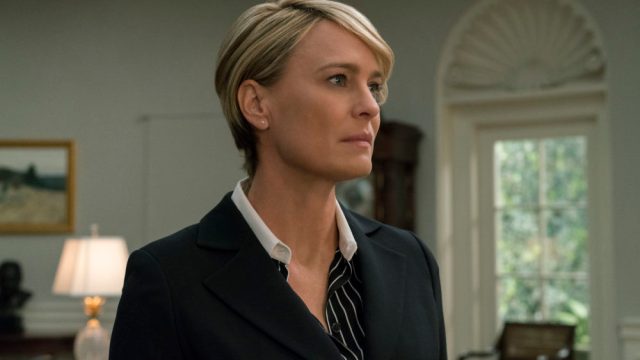 More than a month after Netflix flagship drama House of Cards halted production following allegations of sexual misconduct against star Kevin Spacey, the streaming platform has officially updated fans on the future of the hit series. Chief content officer Ted Sarandos announced today that production on the sixth and final season of House of Cards will resume in early 2018 for a shortened season — and with Robin Wright as its sole lead.
After Star Trek: Discovery actor Anthony Rapp revealed that Spacey made unwanted sexual advances toward him when he was only 14 (and Spacey was 26), Netflix cut ties with its star and halted production on the series.
Also shelving Spacey's Gore Vidal biopic, the streaming platform announced it would not air House of Cards if it kept Spacey on the series, telling Variety, "Netflix will not be involved with any further production of House of Cards that includes Kevin Spacey. We will continue to work with MRC [which produces House of Cards] during this hiatus time to evaluate our path forward as it relates to the show."
Since Rapp's allegations, numerous others — including eight House of Cards employees — have come forward with allegations of their own against the American Beauty actor.
With the fate of the final season up in the air, producers and writers on the series have been rewriting the season without Spacey and his devious character, Frank Underwood. Variety reported last month that one option producers had considered was killing off Frank Underwood — who also dies in the Michael Dobbs novel the series is based on — in order to shift the narrative to Wright's Claire Underwood.
"We're very excited we were able to come to a good creative conclusion to the show, Sarandos said, adding that Netflix was hoping to not only "bring closure of the show for fans," but also for the crew members left in the balance in the wake of the series' sudden hiatus.
Sarandos revealed that the final season would consist of eight episodes — down from the series' usual 13 episodes — in order to wrap up the political thriller. The Netflix executive didn't reveal when the series is set to air on the streaming platform, but seeing as production won't begin until early 2018, it's safe to say the show probably won't be back before late 2018 or even 2019.