Why yes, Claire Underwood is wearing a very Hillary Clinton pantsuit in the first "House of Cards" teaser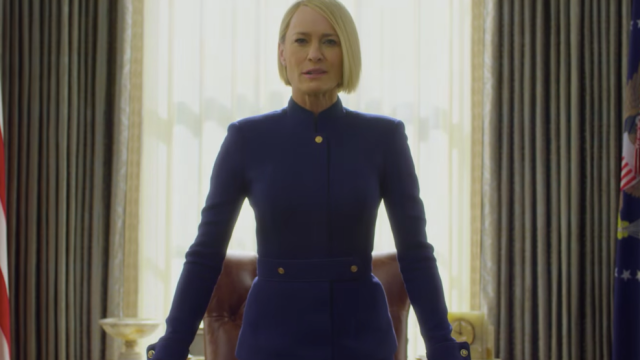 While we were all tuned into the Oscars, Netflix dropped the very first look at the sixth and final season of House of Cards and it's time to hail to commander-in-chief Claire Underwood. Towards the end of the nearly four-hour award show telecast, the streaming platform unveiled a short teaser that signaled some major refreshing change is ahead.
Rising from behind the Resolute Desk in the Oval Office — rocking a stunning Hillary Clinton-esque royal blue pantsuit, no less — we got a sneak preview at the House of Cards president and she is here to slay and take *no* prisoners. While Claire Underwood has always been the star of the series in our eyes, the character will finally be front and center during the eight-episode final season. The teaser features a bustling office and a commanding, powerful Claire Underwood — with not a single reference to Frank Underwood in sight. But then again, Frank, who?
Nothing but respect for MY president!
The upcoming season will be entirely devoid of Kevin Spacey as Frank Underwood as the actor was fired from the series late last year, following numerous allegations of sexual harassment spanning several decades. Following the actor's removal, the final season of House of Cards was re-centered around Claire, with Greg Kinnear and Diane Lane joining the cast in unspecified roles. While their characters are largely under wraps, it was reported that they'll be playing siblings.
House of Cards may be coming to an end, but Claire is making something abundantly clear,"We're just getting started." 
The eight episode final season is set to be released this coming fall and we are so ready to see Claire Underwood thrive and live her best (albeit sort of terrifying) life.