Congress reintroduced legislation to help narrow the gender wage gap—here's how it would work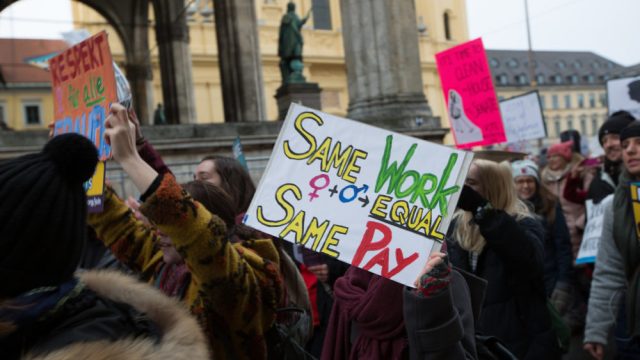 Although pay discrimination has been nominally illegal in the U.S. for decades, it's still an unfortunate reality that women get paid less than men, with the gender pay gap being even larger for minority women. However, in some promising news, today, January 30th, Congress officially reintroduced the Paycheck Fairness Act—a bill that could actually help close the gender wage gap.
CNBC News reports that Congressional Democrats have spent more than 20 years trying to pass the bill in question. If passed, it would strengthen the Equal Pay Act of 1963 by enabling employees to compare salaries without retaliation and enacting stricter penalties against companies that violate equal pay legislation, among other things. It would also provide training to help staff better recognize pay disparities and address them. According to ABC News, 240 representatives signed on to co-sponsor the bill. At a press conference, several of the bill's sponsors, including Speaker of the House Nancy Pelosi and Representative Alexandria Ocasio-Cortez, spoke in favor of it.
"We implicitly recognize as women that the pay gap and wage gap is an injustice that persists through secrecy and it's an injustice that persists to the present day," Ocasio-Cortez said in the conference. "We cannot ask for salary history and pay people depending on their salary history anymore, because it is time that we pay people what they are worth and not how little they are desperate enough to accept."
The Paycheck Fairness Act was reintroduced exactly 10 years after President Barack Obama signed the Lilly Ledbetter Fair Pay Act. According to the Equal Employment Opportunity Commission, the 2009 law overturned a Supreme Court ruling that restricted the amount of time employees had to file pay discrimination complaints.
In an op-ed for CNN, Ledbetter herself expressed support for the House's latest bill.
"Our lawmakers owe it to the young women just starting to work, to those who are starting to calculate when and whether they will be able to retire, and to those of us living shortchanged retirements to deploy all the tools we can muster to close the wage gap," she wrote.
Unfortunately, it might be a while before the Paycheck Fairness Act gets passed. After the House votes on the bill, it will have to earn a majority of votes in the Republican-controlled Senate. And, as HuffPost points out, GOP senators have blocked the bill four times since 2011.
In a report based on data from 2017, the Institute for Women's Policy Research found that it will take 41 years for the wage gap to close if progress continues at the same rate as it has since 1960. But the Paycheck Fairness Act would be a good start. If you feel strongly about this issue, contact your elected officials here.