Everyone is convinced Hopper will be saved from the Upside Down in Stranger Things Season 4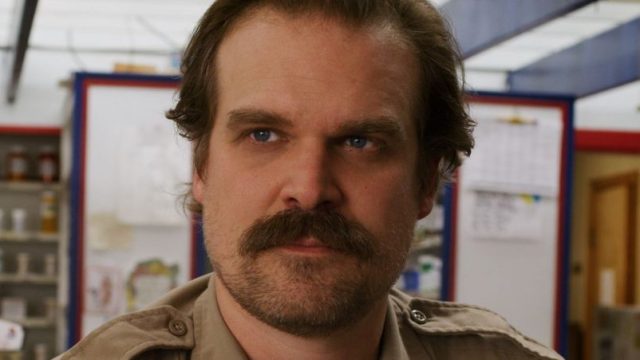 Some television deaths scar you for life because you know your faves are 100% KO'd. (Ned Stark ring a bell?) But in some cases, like that of Chief Jim Hopper in Stranger Things, rabid fans hold onto hope that the characters they love are still alive…maybe in the Upside Down, perhaps? After all, the golden rule of TV deaths is that unless you saw the receipts with your own eyes (read: a body), the death may not have happened.
With the September 30th announcement that Netflix's Stranger Things Season 4 is officially a go, fans are lighting up the internet with theories that revolve around Hopper, who, despite sacrificing himself last season in order to save Joyce and destroy the Mind Flayer, may not be as dead as we think.
In the last episode of Stranger Things Season 3, we watched the now-iconic kid gang split up. Joyce, Jonathan, and Will moved out of Hawkins in search of a better life, and they took Eleven with them after she lost her guardian. And not only did Eleven lose Hopper, but she seemingly lost her powers, as well. Doom and gloom doesn't even begin to cover how we were all feeling at the end of the season finale.
Thanks to the September 30th release of the new teaser trailer for the hit 80's-inspired Netflix show, Twitter is ablaze with multiple theories about Hopper's fate.
Will he be reunited with the gang (and most importantly, Eleven) before the 4th season is done?
The general consensus is, yes. Yes, he will. false
false
Some suspect he might have company, wherever he is.
https://twitter.com/udfredirect/status/1178704706274639872
https://twitter.com/udfredirect/status/1178731269842186240
https://twitter.com/udfredirect/status/1178716970314862592
Others are retracing their steps back to previous seasons, looking for any clues that point to Hopper being alive. For example, we need to know the identity of "The American," referenced in Season 3's final scene. And what did Hopper mean when he said he wishes he could "turn back the clocks?"
https://twitter.com/udfredirect/status/1178708117887971328
Listen, we have big expectations and dreams for Season 4. Is that so wrong?
https://twitter.com/udfredirect/status/1178704473818054657
For now, the release date for Stranger Things Season 4 has yet to be revealed. Until then, we'll see you in the Upside Down searching for Hopper (and avoiding the Demogorgon).