A rape survivor was awarded a historic $1 billion settlement — and here's why it's so important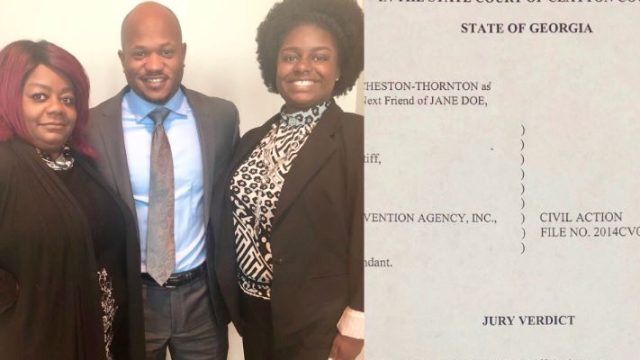 Even though cultural attitudes about sexual violence seem to (slowly) be changing for the better, many survivors never see justice. Victims of assault often feel shamed or intimidated into silence, and countless rape kits remain untested in labs all across the country. But one rape survivor, Hope Cheston, was awarded an unprecedented $1 billion settlement, sending an important message about the value of a victim's life and trauma.
Cheston was only 14 years old in 2012 when an armed apartment-complex security guard raped her outside of the building. Her mother filed a civil lawsuit against the security company, Crime Prevention Agency Inc., in 2015. On May 23rd, a jury valued her damages at $1 billion — the largest settlement a rape survivor has ever received. A judge had previously determined the company's guilt for failing to conduct adequate background checks, and Cheston's rapist, Brandon Lamar Zachary, is currently serving a 20-year sentence for statutory rape.
Cheston, now 20 and in college, says she wants to be identified so her story can serve as inspiration for other sexual assault survivors. In a tweet, her attorney, L. Chris Stewart, wrote that she "wants to be a spokesperson against rape."
"I feel like my case is just to show that you may not get it immediately, but you will get what you're worth," Cheston said in an interview with CBS. "This shows that people do care about the worth of a woman."
In a news conference on May 23rd, Cheston said that she felt vindicated by the decision.
"For the longest (time), I thought it would be pushed under the rug and no longer mattered...but come to find out 12 strangers feel like what I went through, and my story, and how I feel six years later is worth a billion dollars," she said.
https://www.youtube.com/watch?v=njt-OFxl-Gc?feature=oembed
Stewart noted that the company probably won't end up paying the full $1 billion to Cheston (as that amount is more than the company is technically worth), but he still stressed the immense significance of the decision for women, and especially for women of color.
"They said a little black girl in Clayton County who was raped is worth $1 billion. That was a big win for us," he said in the news conference.
While no amount of money can ever undo the hurt and pain caused by sexual assault, Cheston's case is a huge victory and shows that justice is possible. We applaud Cheston for her bravery in choosing to share her story.
If you or someone you know has experienced sexual violence, you can contact the National Sexual Assault Hotline at 1-800-656-4673.