Hooray for drugstore beauty: Maybelline just expanded their foundation range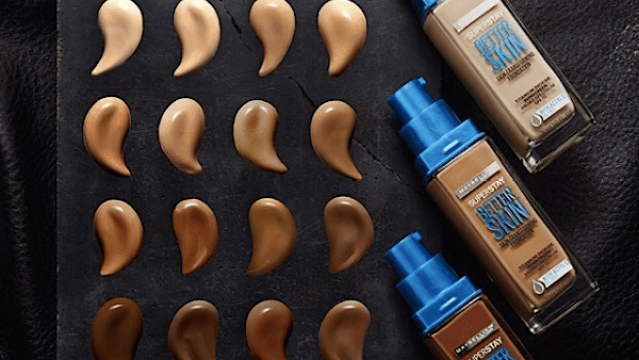 There is this myth out there that if you want to have good makeup, you need to spend an arm and a leg, but that's not actually the case. Drugstore beauty has made major waves in the beauty game over the past few years and often you can find close dupes to those expensive brands at affordable prices.
One of the biggest concerns for drugstore makeup has been the challenge in finding a wide range of color tones when it comes to powder, concealer and foundation, but Maybelline is changing that gap, too.
Allure reports the drugstore makeup brand Maybelline has just expanded their foundation range to include a wider array of skin tones and we're jumping for extreme joy!
https://www.instagram.com/p/BLpLIprDGmu
The drugstore makeup's Super Stay Better Skin Foundation line has been relaunched to include more shades, making it more inclusive to pale and dark skin tones. Before, Maybelline only had one shade that worked for darker skin tones, Coconut. Now, the company has added four new shades to help fill the gaps.
https://www.instagram.com/p/BJ0xEoAjl3l
According to Allure, the new shades of the oil-free foundation with SPF 12 now includes, "Almond (a sepia), Golden Honey (a warm tan), Sand Beige (a rich, well, beige), and Soft Tan (a cool-toned tan)."
Maybelline joins several other makeup lines, including Anastasia Beverly Hills, Kat VonD, and Urban Decay, who are working to make their foundation and skin lines more represented and inclusive of their customer base.
All shades of the Maybelline New York Super Stay Better Skin Foundation are available now at Target.com for $8.99.