21 Hoop Earrings You Need to Add to Your Jewelry Collection ASAP
Our favorite picks start at just $7.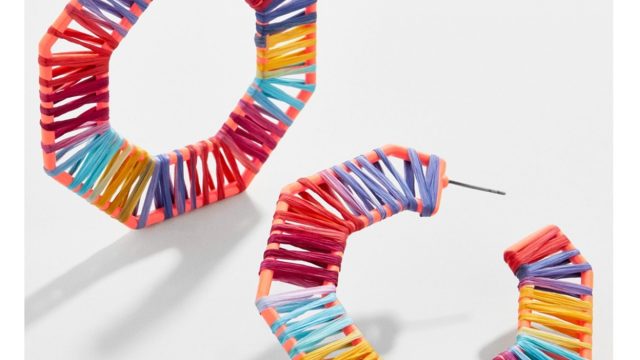 There are few things as versatile as hoop earrings. The style is available in every size, color, metal, and print you desire, and the look works well on every face shape and size. Whether you're a fan of subtle gold hoops or prefer to accessorize with beading, flower petals, or pearls, there's a hoop somewhere waiting for you to find it.
Below, we've rounded up several different styles that will be the perfect addition to your jewelry collection. Whether you're at the beach, running errands, or headed to a wedding, these styles range from $7 (!) to $120, so no matter your budget—we've got you covered. Shop these 21 best hoop earrings all year.
1. Best gold hoop earrings:
Fashion editors from all of your favorite magazines are obsessed with Mejuri for its luxurious-looking jewelry that's available at affordable prices. Case in point: these medium-sized gold tube earrings. They'll easily accessorize any outfit and will last a long time without turning green or going dull.
2. Best diamond hoop earrings:
Perfect for weddings and other special occasions, these diamond hoop earrings will have you looking like a million bucks without hurting your wallet. The twisted detail and accent diamonds make it look luxe and elegant.
3. Best chunky gold hoop earrings:
Chunky hoop earrings are having a moment, so if you're looking for an affordable option, try these. Reviewers love it for its lightweight feel and good quality.
4. Best chunky silver hoop earrings:
If you have a cool undertones, silver jewelry will pop against your complexion. These chunky silver hoops will look amazing on you and allow you to indulge in the trends.
5. Best small gold hoop earrings:
Whether you have multiple piercings or just love small jewelry, these gold hoops are classic enough to wear every day, while the textured details give it a stylish twist.
6. Best pearl hoop earrings:
Pearls don't have to be old-fashioned or dated, especially when you can find different types of pearl jewelry for people of all ages. Our favorite way to wear pearls is via bold, large hoops. It'll elevate your look and make everyone stop and stare.
7. Best big hoop earrings:
Looking for a pair of oversized yet reasonably priced hoops? We got you covered. Shop these delicate, large gold hoop earrings that reviewers love for their durable feel.
8. Best rose gold hoop earrings:
Rose gold looks great on all skin tones and undertones. Opt for a classic pair of hoops to add variety to your collection.
9. Best gold cuff hoop earrings:
Made of 14K real solid gold, these cuff hoop earrings require zero piercings to look and feel like a fashionista. The cuff wraps around the middle part of your ear and it won't fade, change colors, or warp out of shape over time.
10. Best dangling hoop earrings:
Stacked hoop earrings are the piece of jewelry you never knew you needed. It's still technically a hoop earring, but with the allure of a striking dangling earring.
11. Best colorful hoop earrings:
Take advantage of the last bits of summer by wearing bold and beautiful hoop earrings like these. The colors will instantly brighten your day and outfit.
12. Best paper clip hoop earrings:
Paper clip hoop earrings are for the fashion trailblazers who love out-of-the-ordinary style pieces. It's edgy, cool, and an unexpected twist on the classical hoop.
13. Best small silver hoop earrings:
Less is more with these small silver hoops. It's available in multiple finishes, including sterling silver and midnight silver. It's simple and subtle but will instantly make you feel more put-together.
14. Best huggie hoop earrings:
As the name suggests, huggie hoops perfectly wrap around your earlobes. They're a must-have if you have multiple piercings and love to stack earrings. Add some color to your jewelry repertoire with this gold and green pair.
15. Best abstract hoop earrings:
An easy way to elevate hoop earrings is by choosing an option that isn't gold or silver and has an interesting shape. This pair checks off all the boxes and pairs perfectly with everything from vacation outfits, floral fall dresses, and everything in between.
16. Best tortoise shell hoop earrings:
Tortoise-shell is a versatile pattern that can wear in so many different ways. Whether you want them to be the star of an otherwise basic outfit or complement an already bold get-up, the options are endless with tortoise-shell hoops.
17. Best half hoop earrings:
Available in four options consisting of bright yellow, neutral brown, green marble, and lavender marble, these half hoop earrings will instantly add personality and vibrance to your style.
18. Best chain hoop earrings:
How adorable are these delicate chain hoop earrings? We love that this style isn't like other traditional ones and can be worn on its own or paired with other earrings.
19. Best cartilage hoop earring:
These tiny cartilage hoop earrings have over 12 thousand five stars on Etsy. Reviewers rave about it saying "sooo cute! super dainty and amazing quality," "really like these! Plain, tiny and simple. Easy to insert," and simply "In love!"
20. Best beaded hoop earrings:
Available in three colorways, including a multi-color and aqua option, you can't go wrong with this beautiful pair of hoops.
21. Best multi-hoop earrings:
Between the affordable price and chunky style, these multi-hoop earrings are a steal.