In honor of Marilyn Monroe's birthday, I recreated her iconic makeup look that was way ahead of its time
After all of these years, Marilyn Monroe continues to inspire beauty and fashion looks, including my latest makeup recreation in honor of her birthday. Marilyn has always been my celebrity icon. I've always admired her beauty, vulnerability, wit, and strength. In high school, I became obsessed with her, and it was almost borderline creepy. I admired her during a time when I wasn't really sure who I was or who I wanted to be — and through her movies, journals, and images, I sort of discovered what beauty and fashion meant to me. She had her signature beauty looks, and in some weird way, they helped me find mine.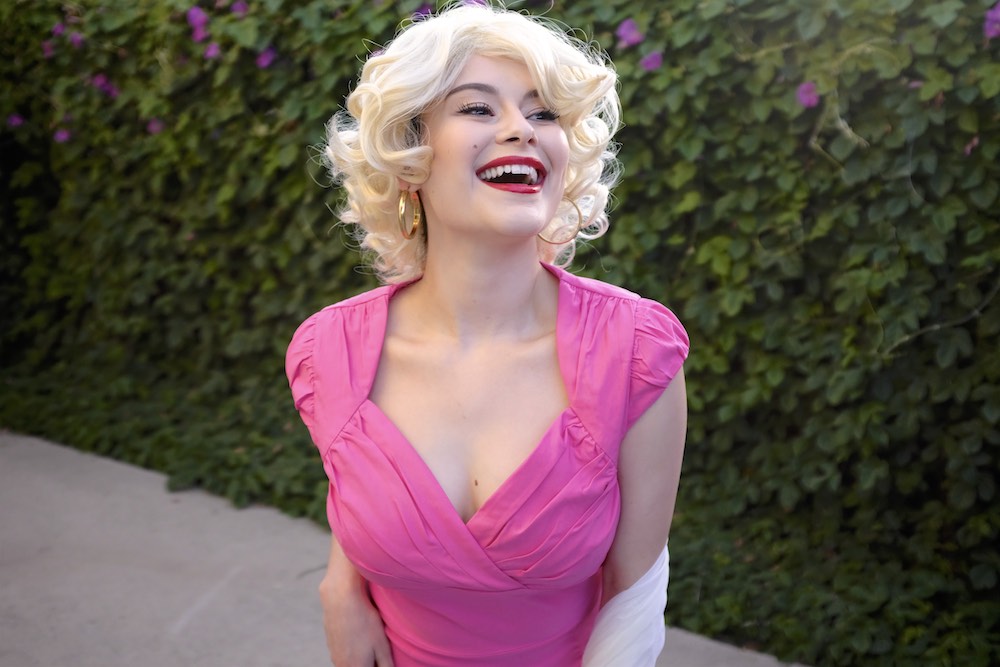 If you thought Marilyn's iconic makeup look was put together by just throwing on mascara and red lipstick, think again. Every step of her process served a purpose — from using red eyeliner to make her eyes appear larger to creating an ombré lip to give the illusion of bigger lips. It's rumored that it took the Seven Year Itch actress almost three hours to get ready, and after learning about her intricate beauty routine, I'm not surprised.
Marilyn and her makeup artist Allan "White" Snyder's attention to detail made her beauty look legendary.
Even though I recreated Marilyn's signature look, I really wanted to emulate her specific look from the 1953 film Niagara. Marilyn really steals the show — not because of her stunning looks — but because her acting skills were truly memorable. She commanded the screen.
This role highlighted a complex and three-dimensional character for its time — one that was smart, powerful, strong, charming, and even manipulating. This is the film that actually gave Marilyn her star status.
Here I am channeling the iconic actress: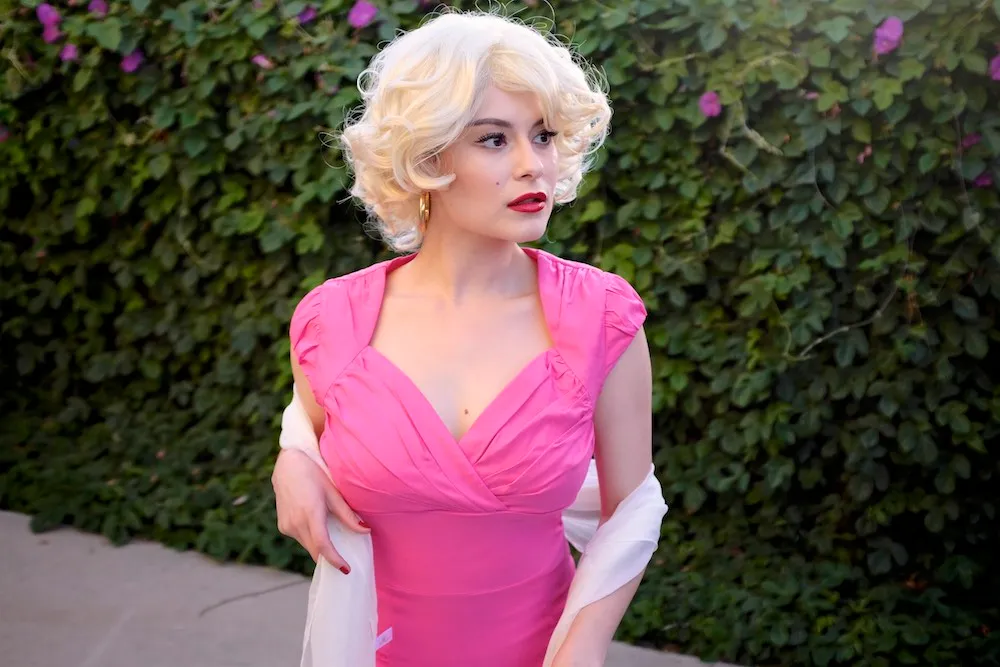 This is the moment I'm trying to mirror:
So if you're ready to turn yourself into one of the most famous actresses of all time, let's dive right in — but first, grab a few snacks and put on your fave Marilyn movie, because this is a long one!
Step 1: Moisturize with Vaseline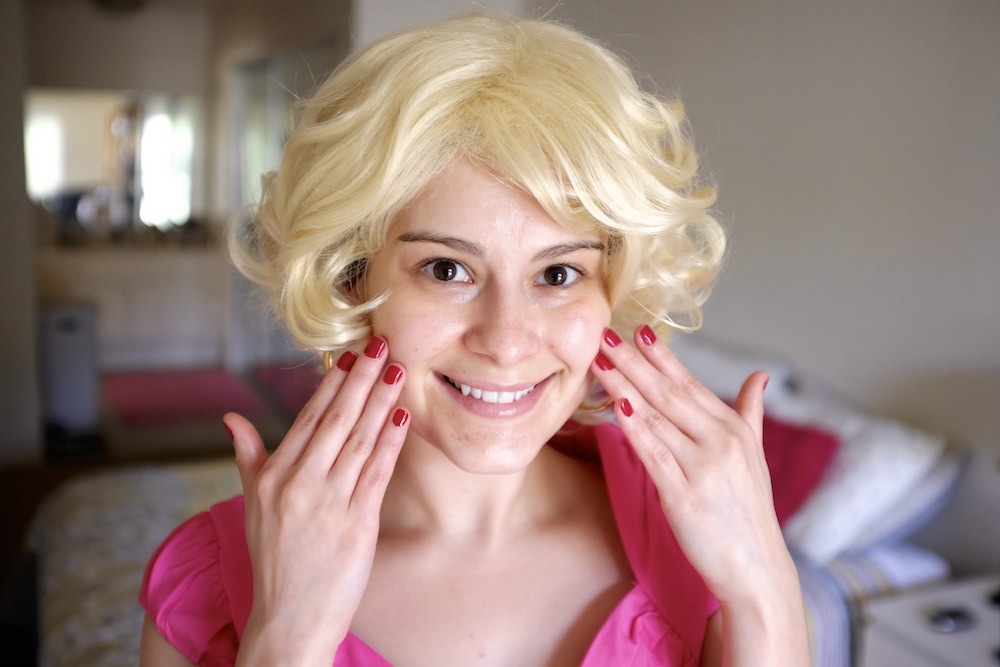 It's no secret that Marilyn loved using Vaseline. It highlighted her face, giving her a youthful glow, it created shine in all the right areas, and it was perfect for glossy lips. When doing research, I learned that she used petroleum jelly to prime and moisturize her face before applying foundation. So, that's exactly what I did.
Look at that glow! Behold the power of good ole-fashioned Vaseline.
Step 2: Foundation, contour, and blush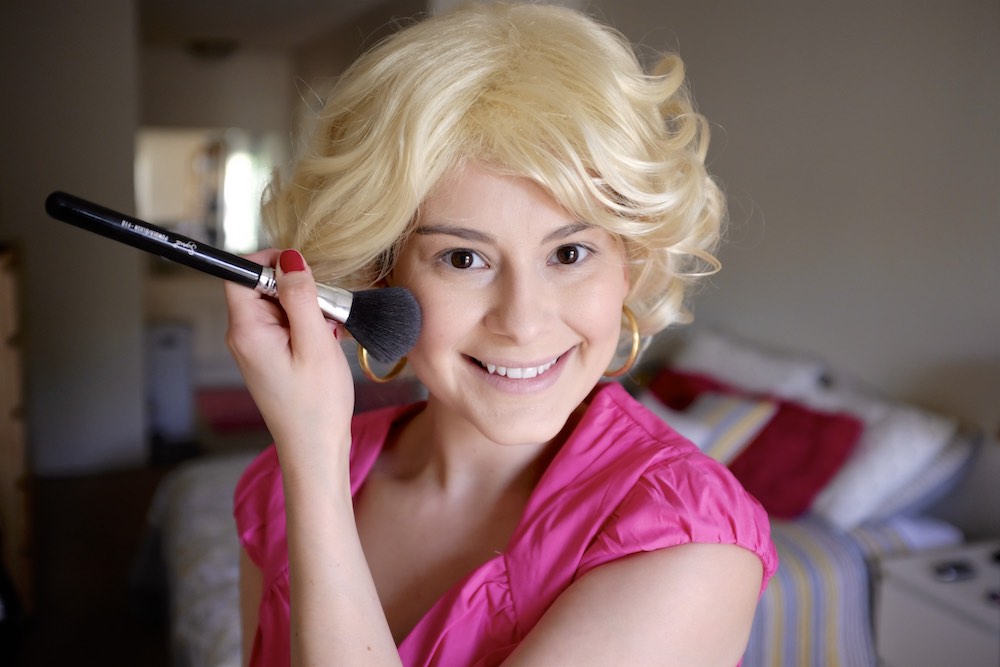 Okay, so applying foundation over petroleum jelly is really hard. To avoid streaking, I used Rimmel's Stay Matte Foundation, $4.99, and applied a small amount on my hand first. Then, I lightly put the product on my skin with a foundation brush. While Marilyn didn't really have a matte face (because she loved the dewy look), the whipped texture of Rimmel's foundation made it a lot easier to blend than my other foundations.
Next, I tapped whatever was left on my hand and lightly dabbed the areas that weren't blended with my beauty sponge. Again, Marilyn's face wasn't matte, so I didn't apply a lot of setting powder, just enough to lock in the foundation. For this, I used Bésame Cosmetics' French Vanilla Setting Powder, $22.
Before Kim Kardashian's makeup artist made contouring a huge beauty trend, Marilyn's makeup artist, Allan, had this trick down. Apparently Allan contoured Marilyn's face with blush and added bronzer for definition. For this, I applied Benefit's Hoola Matte Bronzer, $29, and Benefit's Galifornia Blush, $29.
Step 3: Mascara and false lashes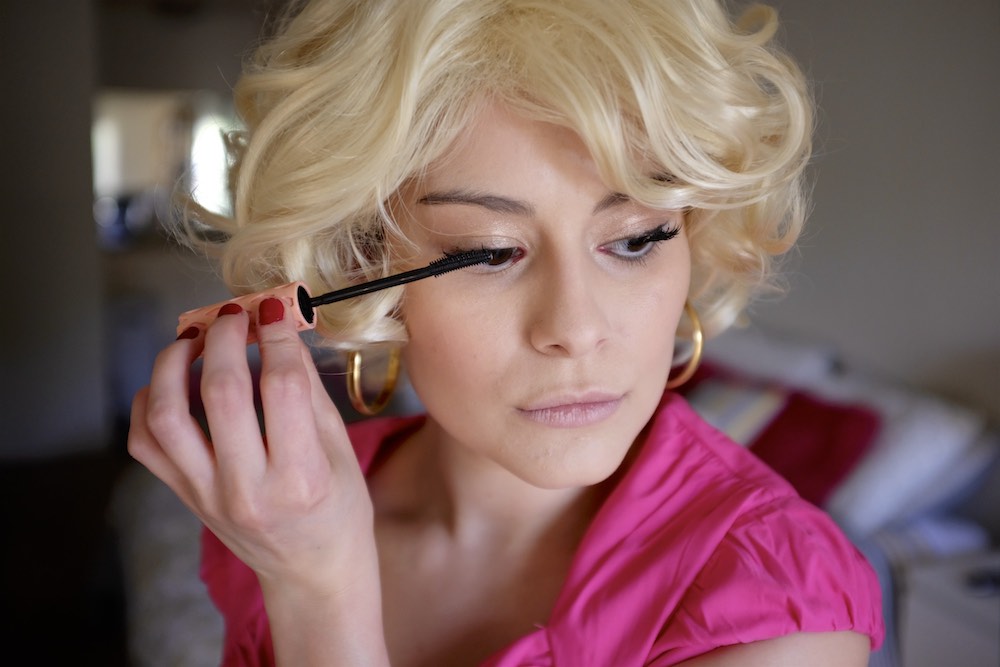 While Marilyn's eyes were a huge part of her beauty look, she actually didn't apply a lot of shadow or mascara. For eyeshadow, she used colors similar to her skin tone or stark white shades. Before applying shadow, I primed my lids with (you guessed it) Vaseline! — one of the actress' other tricks. After, I used Maybelline's Eye Studio Color Tattoo Metal Eyeshadow in Barely Branded, $6.99, and L'Oréal's Paris Infallible Eyeshadow, $6.99.
I noticed that Marilyn's lashes were slanted to the side — and it was done on purpose to elongate her eyes, giving them the illusion of an almond shape. For this, I wiggled the wand of my Benefit Roller Lash Mascara, $24, up and to the side.
If falsies aren't your thing, you can skip this part!
To get Marilyn's full and long lashes, I used Ardell's Natural Lashes, $3.89. I learned that Marilyn only used half lashes, cutting them in the middle to create a more "natural" eye look. Another trick was that Marilyn didn't line the falsies to her natural lash line, instead she extended the end past the outer corner.
Step 4: Eyeliner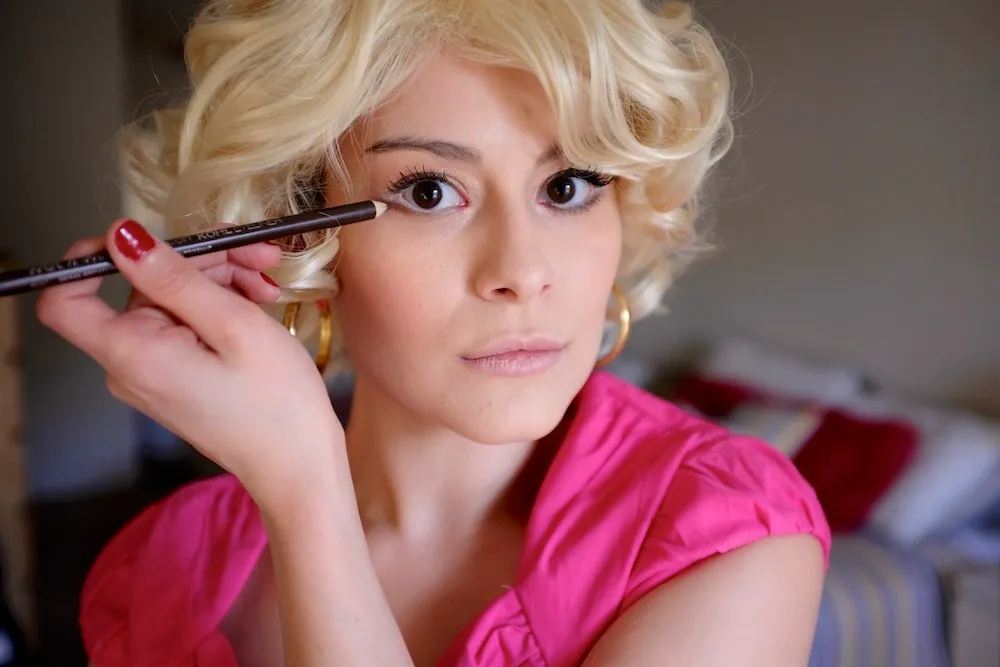 If you thought her lashes were intricate, just wait until you hear about her eyeliner trick — it involves FOUR different colored liners. Before we get into the lower lash line, let's get into the lids. For Marilyn's inner corners, her makeup artist used red liner — this made her eyes look bigger, more awake, and white. Even though this kinda looks crazy in real life, it doesn't look bad in pictures. For this, I couldn't find red eyeliner, so I used my red lip liner from Rimmel, $6.99. Then, I used my Wet n Wild brown eyeliner, $.99, and drew a line from my inner corner to the middle of my lids, and for the outer corner, I used my Wet n Wild black eyeliner, $.99.
For my lower lash line, I drew a slightly slanted line with brown eyeliner — almost like a shadow of the fake lashes, and I extended it all the way out as if it was connecting with my lashes. Then, I used Wet n Wild's white eyeliner, $.99, for my lower lash line and drew in the space between the line I drew with my brown liner. To complete my eye look, I applied mascara to my lower lashes.
Step 5: Lipstick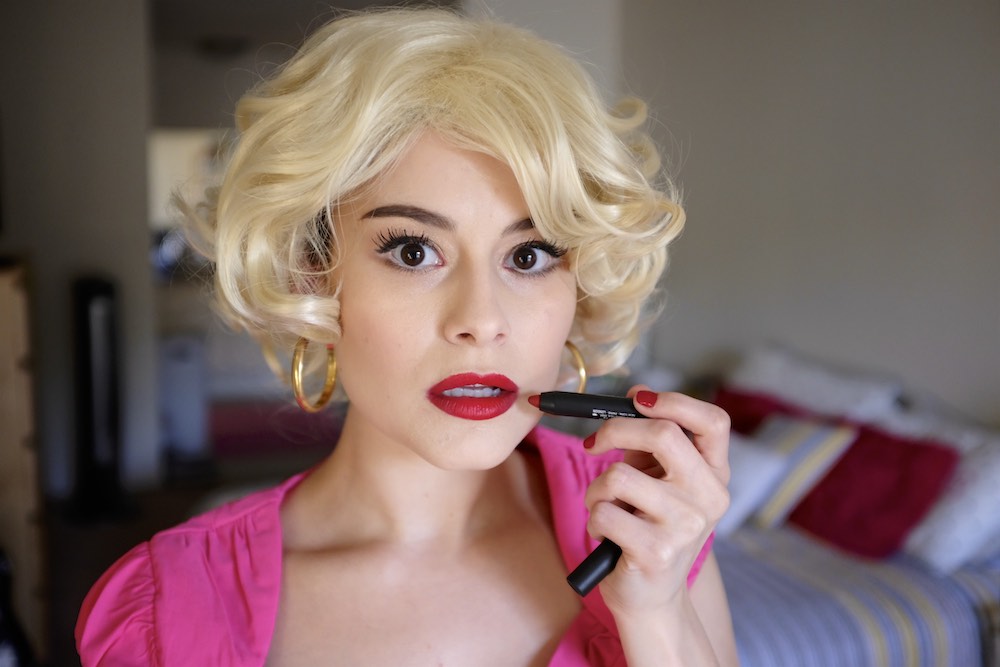 If you thought Kim's makeup artist created the trick of using 8 billion lip products to get the perfect pout, think again. Allan always used several lip products, including Vaseline, to create Marilyn's iconic beauty look.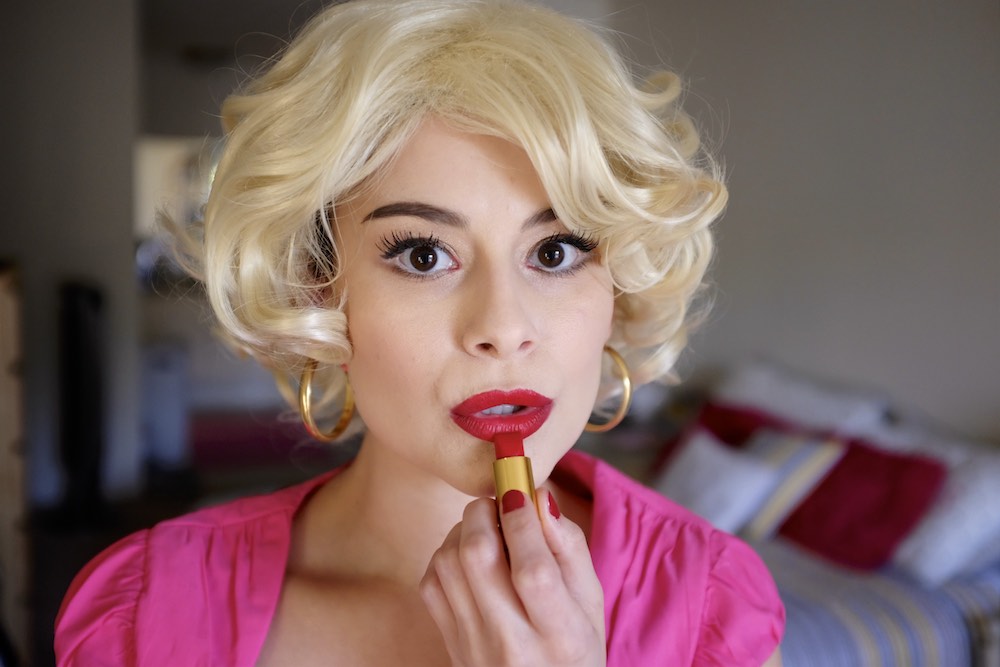 He usually started by lining her lips with a darker shade of red and then using a lighter hue in the middle. For this, I lined and filled in my outer corners with the Nars Velvet Matte Lip Pencil in Cruella, $27. For the middle hue, I used Bésame Cosmetics' Red Hot Red, $22 (which was actually inspired by Marilyn's favorite red lipstick back in the day). After, I applied a little bit of petroleum jelly in the middle section of my lips.
Step 7: Beauty mark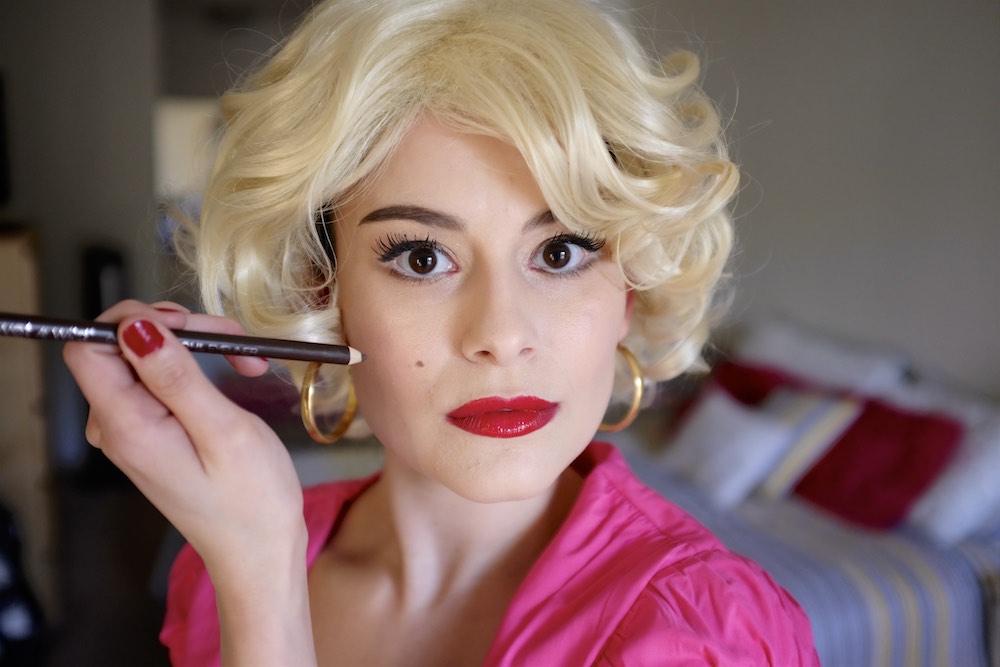 I can't have a Marilyn tutorial without adding that famous beauty mark to my cheek! For this, I used the same brown eyeliner I used for my eyes.
All done!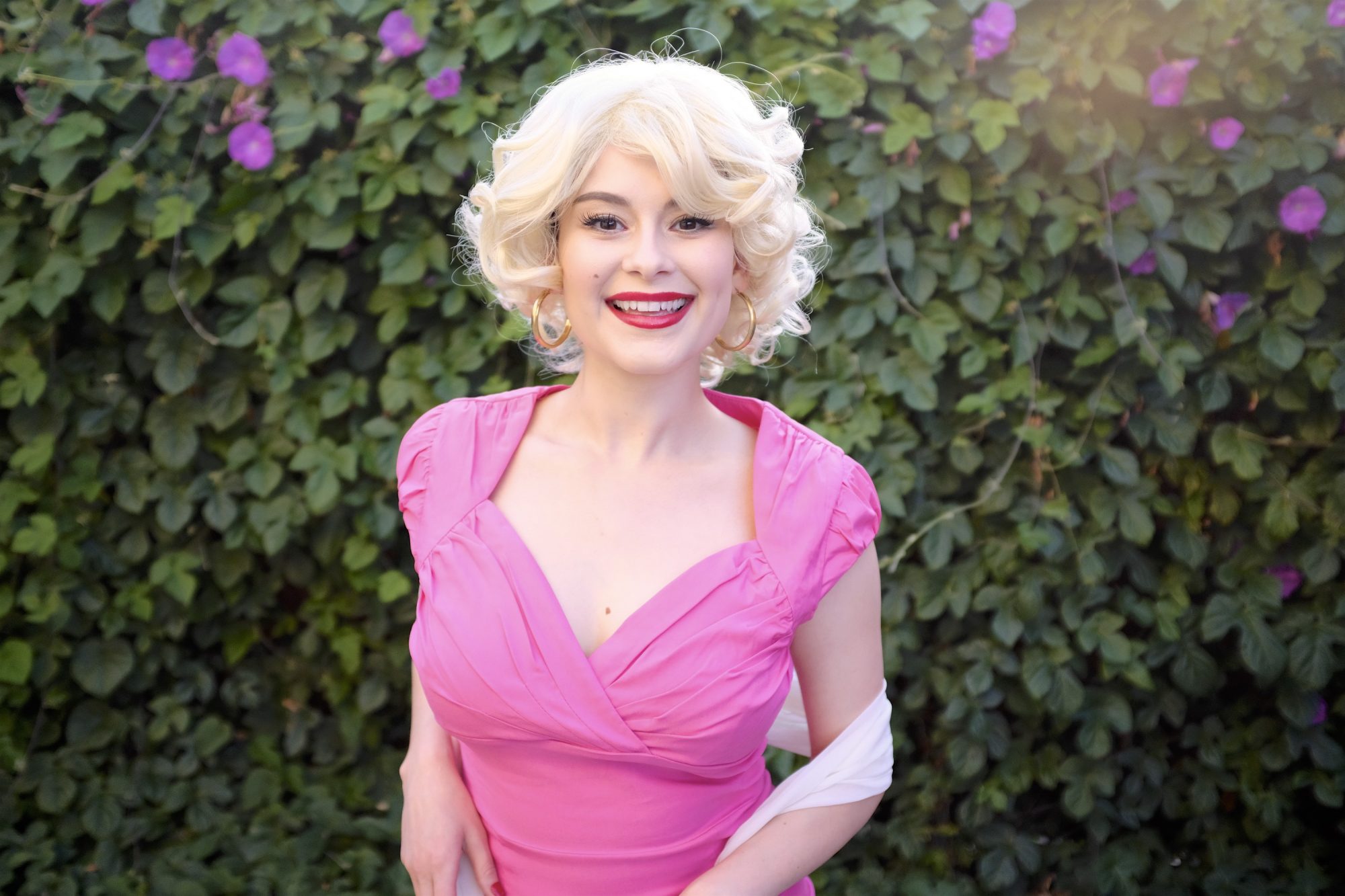 Now, go show off your incredible beauty skills, because after learning about her eye makeup tricks, I feel very much like an artist. What Marilyn Monroe look will you be rocking in celebration of her birthday?
Save