This is what back-to-school season looks like when your kids are homeschooled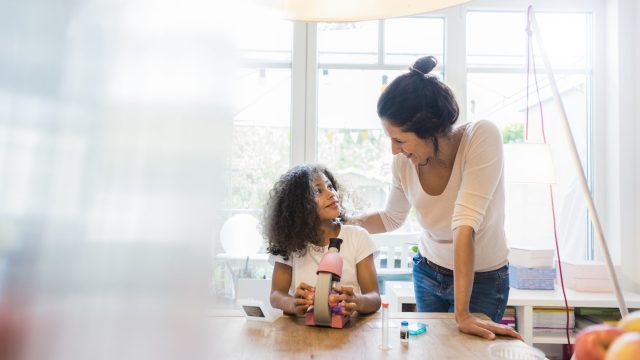 The term "back to school" has a way of eliciting a very specific mental image: Parents poring over itemized supply lists, searching relentlessly for clothing and uniform sales, clusters of shoppers hovering around the same narrow shelf of markers or lunch boxes, memorizing bus schedules, meeting teachers… There's a tacit sense of community that exists in the supply aisles between parents who are simultaneously stressing over and quietly relishing the idea of sending their children off to school.
Among them, however, is a small-yet-growing faction of moms and dads who are also preparing for the new school year, but sending their children no further than their own living rooms. Homeschooling families are steadily growing in number, reaching 2.3 million students in the U.S. as of spring 2016—a 300,000 child increase since 2010. Despite the stereotypical image that is often invoked when homeschooling is discussed—typically a deeply religious, conservative, white family—homeschooling actually includes a diverse range of participants from all different racial, economic, and religious backgrounds. In fact, one study from 2013 showed that 32% of homeschooled children were non-white. For now, there's no way of knowing how these numbers have been impacted by the growing concerns over things like substantial education for children with special needs or the sharp increase of in-school violence.
For these families, back-to-school prep can look similar to those who are gearing up for "traditional" schooling. After all, getting an education at home doesn't negate the need for pencils, paper, and calculators. However, some families have recognized significant differences in their summer prep.
"I use the summertime to plan for the upcoming school year, create my own school supplies list, create a course of study for each of my daughters…and create lessons for at least the first few weeks of the school year," explained Iowa author and mother Brigitte Brulz. "Since most stores do not offer curriculum resources, I purchase the chosen books and curriculum materials from various websites online, [such as] Amazon, eBay, Homeschool Classifieds, Rainbow Resource, or Homeschool Buyers Co-op."
For those who decide to go the increasingly popular digital route, online schools like Connections Academy and K12 send almost everything necessary for an appropriate curriculum directly to the home. While the books, software, learning props, and even some hardware are provided, parents are expected to supplement the rest of their student's necessities (which may also include motivational tools, like rewards for good work). In most online scenarios for younger students, the parents act as their in-home facilitators and must use the summers to familiarize themselves with the lesson plans and their function within their child's education. It's also a time to establish communication with their virtual teachers, as consistent communication will be required throughout the school year.
As the homeschooling mother of a developmentally delayed child, my family consulted with community educators and medical professionals about our options for her education. Together, we determined that temporary homeschooling was not only an ideal choice, but vital for a child living in an area with limited in-school resources for students with special needs. Education can be an obstacle for many families with children who require very specific learning methods and oversight that traditional schools are not yet equipped to provide. As homeschooling continues to rise in popularity, it becomes more important for retailers and companies that support education to be more inclusive of homeschooling environments—especially for families where homeschooling is more of a necessity than a choice.
"I applaud the businesses that offer teachers discounts, tax breaks, etc. to help offset their all too often out-of-pocket expenses, said Connecticut-based writer Heather D. Nelson. "However, most homeschool families are working off of one income, and on a shoestring budget. I so wish retailers would extend those teacher discounts and tax breaks for us homeschool families.
And for those retailers that require a student ID for certain incentives and discounts, it would help to understand that most who are learning at home simply don't have access to that, which former teacher Tangela Walker-Craft of Florida points out. "Retailers should accept other forms of ID for homeschool students," she said. Overlooking this aspect actually excludes children from the same resources, like free transportation and discounted items, that in-school students get, even though they're likely engaging with a lot of the same material and working just as hard.
For many, it's not just about gaining access to discounted supplies and cheaper movie tickets. It's about recognizing that responsibly administered homeschooling is a valid form of education, no matter the reason behind the choice. The more steps that businesses take to acknowledge in-home education, the easier it will be for the practice to become normalized within our society. "I would love to see a children's book featuring 'back to school' in a homeschool setting," suggested Michele Montierro of California. "When we first started homeschool years ago, my eldest daughter called the brick and mortar 'real school.' I found myself explaining we are a 'real school,' just in a different setting."