Homeless and LGBTQ youth are the masterminds behind this rad t-shirt company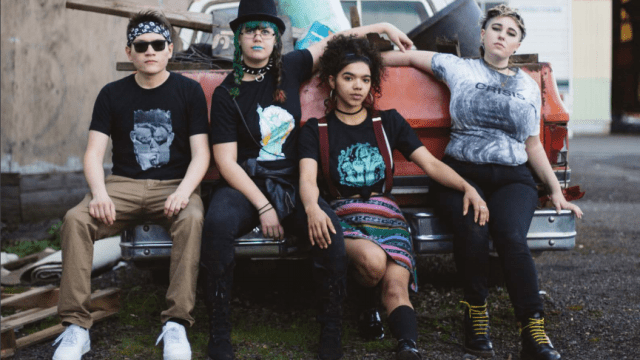 There's something really cool happening in Portland, Oregon. A new t-shirt company called dfrntpigeon has emerged with the aim to help homeless and LGBTQ youth express themselves by way of graphic design. According to Mashable, each t-shirt in the dfrntpigeon "Identity Collection" has been designed by one of six at-risk young adults.
The brand originally began as a visual arts program in 2016 under the Portland-based organization New Avenues for Youth. New Avenues for Youth is a nonprofit that provides counseling, career services, and meals for marginalized at-risk youths.
The dfrntpigeon program helps connect young adults with mentors, and with possible careers in the graphic design industry.
Sara Weihmann, director of social purpose enterprise for New Avenues for Youth, told Mashable,
"Our products aren't just fashion. They're powered by a larger social mission to help marginalized youth find a path to success, exit street life, and challenge the perception of youth homelessness."
Proceeds from the t-shirt sales are used to pay the two dfrntpigeon staff members and also to pay the young adults for their designs. Whatever money is left over is put towards other New Avenues for Youth creative arts programs.
The shirts are all handprinted by young adults in the program at the New Avenues INK screen printing company, which is owned by New Avenues for Youth. Not only are the youth designing the shirts, but they're learning about what it takes to produce and sell them as well.
These are valuable skills that can help launch them into a graphic design/fashion career.
Dfrntpigeon's manifesto reads:
"The strange, crazy, ugly ones. The freedom-fighters. Those who know what it means to eat, sleep and breathe survival. Who aren't defined by the hand they've been dealt. We are here to show that struggle made us better, not broken. We are here to prove that true beauty is imperfect. And when it comes to adversity? We don't just rise above it, we take flight."
This manifesto makes us want to team up with these kids and take on the world together!
The t-shirts in the Identity Collection range from $15 to $26. Buying a dfrntpigeon shirt is a wonderful and fashionable way to support Portland's marginalized youth as they find stability and success.