How I Bought That: $11,000 of Home Renovations During a Pandemic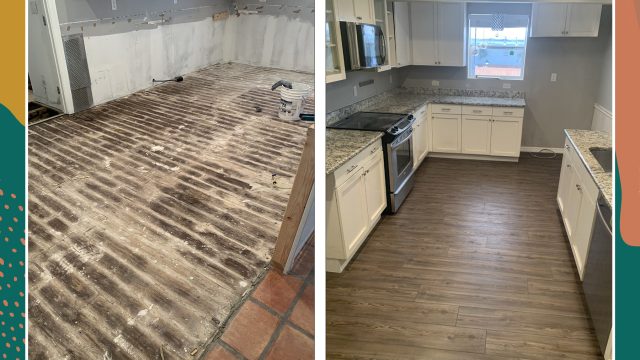 In September 2017, nine months after my boyfriend and I bought our first home, Hurricane Irma brought two inches of water in through our front door. Our house sits on an acre lot in Naples surrounded by Florida swamp, just a mile from a brackish bay. It's at the mercy of rains and humidity, and on wet days, our backyard resembles the Everglades. But while checking our floors for additional damage after the storm, we realized the subfloors in our kitchen had been exposed to water not just by Irma but likely by any past major rainstorm that had occurred. And, we learned, insurance didn't cover any of our flood damage. 
To compound things, our house had sat empty for about 10 years following the housing crisis, and we believe that when the previous homeowner bought it, she didn't address the already-rotting floors. In short, we had inherited a bit of a mess. 
When the floors in our spare bedroom eventually started to bow and warp underfoot, we knew that the water damage Irma had forced us to confront had truly set in. To fix it, we replaced the vinyl planks and rotten subfloor plywood ourselves during a weeks-long job that told us all we needed to know about the other 400 square feet that would have to be fixed. We toyed with the idea of replacing the rest of the subfloor ourselves, but we knew that removing kitchen appliances, cabinets, and granite countertops was more than we were willing to DIY on top of our full-time jobs. 
So we started planning to pay a crew, and in January, we got quotes. Yet by the time we were ready to schedule the job, the pandemic happened, causing some financial issues and a big delay. But we still made it work. We scheduled the job for the end of June, and by July 2, the floors were finished and I had cut a check. Now, when we walk through the kitchen, we don't hear the dishes in the cabinets clatter. There's no worrying about whether we'll one day fall through the bathroom floor. Most importantly, we don't have the dread of an expensive project hanging over us. Here's how we made it happen: 
How much it cost
Three of the quotes we got were in the $8k to $15k range; the fourth, which we immediately vetoed, came in at $28k. All told, we ended up paying the contractor $9,003 and spent an additional $2,267 on materials from Lowe's, including the flooring, plywood, and even the screws and caulk. We wanted to make sure we were paying for materials that weren't going to get marked up through our contractor, and this way, the flooring matched what we had installed ourselves in the spare bedroom. The grand total was $11,270, and we paid in cash.
How we paid for it
I make about $60k a year at my full-time job as a law enforcement spokeswoman and an additional $10 to $20k a year in side work as a freelance writer and editor. During the pandemic, two of my clients halted freelance work, but I managed to pick up a gig writing podcast scripts and a one-time copywriting job for a woman writing an ebook. Those two jobs combined brought in $1,000. I brought in another $4,000 writing for one of my major magazine clients, and another $3,000 from a monthly newsletter I write. I also used my $1,200 stimulus check and had about $500 of my own money saved up pre-pandemic in anticipation of scheduling a contractor to begin work.
My boyfriend, meanwhile, pooled what he could from tips as an airboat captain. He had set aside $500 for the project before March, when his hours were cut by more than half as tourism halted. Because of the pandemic's effects, he ended up having to use the additional $1,000 or so that he had set aside for the project to pay bills and the mortgage instead. 
To get enough money for the project, I socked away $30 from some furniture we sold on Facebook Marketplace. I also used $85 my boyfriend had given me for his half of our takeout and groceries here and there, which I stockpiled instead of putting it back into my account. During the two months I was working from home during the pandemic and cooking more often, we saved about $100 a week by not ordering takeout. Instead, we set aside that extra money to put toward the project. 
We considered buying flooring and supplies in advance of the actual project date to spread out the financial blow, but we weren't able to do that given the uncertain climate in March and April and the fact that my boyfriend's wages had been affected. By the time the fog began to clear and we scheduled the project for the end of June, we ended up just paying for everything at once.  
How I feel now about paying for the project
As a freelancer, I set aside 25% of everything I earn to put toward quarterly taxes required for independent contractors. But the pandemic delayed filing for the country and my own filing as my accountant scrambled to keep up, so I haven't yet done my taxes. I'm anticipating that I'll owe another $3,000 on July 15 between my 2019 filing and my quarterly taxes due the same day for the current year. If I'm right, I'll be able to afford that with what I've put aside for that very cost. But I won't know whether I've calculated correctly until then. If I find out I owe more on July 15, I might regret paying for the flooring project in cash versus paying it off on my credit card at my leisure and prioritizing my taxes instead. 
Paying for this project in cash also reinforced a lesson I've been learning over the last few years about how sweet it feels when you aren't hounded by debt. I hustled pretty hard the last five years to pay off my new car as well as thousands in college loans, credit card debt, and vet bills. Now, the only debt in my name is the mortgage, and the rest of what I spend on our housing projects doesn't get charged to a card and linger there, growing slowly with interest. Instead, because I did the hard work for this project in advance, I get to enjoy these floors without the cloud of debt hovering above me.