Celestial light fixtures are the home decor trend for those with their head in the stars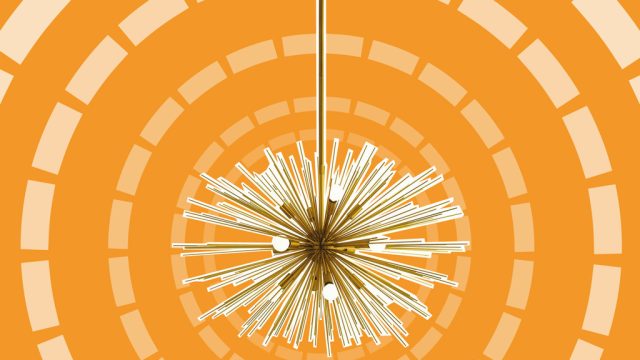 If you've been on the hunt for a light fixture that puts a twinkle in your eye, you've come to the right place. Pinterest's Home Report 2018 has arrived on the scene and brought with it celestial light fixtures that will make you swoon.
The 2018 Home Report is a compilation of trending ideas Pinterest users are currently saving to their home decor dream boards. From open floor plans to adopting the Swedish "Lagom" minimalist lifestyle, the Home Report is packed with ideas that will inspire you to go bold in your home in 2018.
One such trend is hanging celestial light fixtures throughout the home.
These statement light fixtures are a throwback to the mod era of the '60s. (A brassy starburst chandelier is a perfect addition to any chic dining room.) A mid-century modern aesthetic has seen a huge comeback in recent years: the clean lines of mid-century furniture and accessories are super versatile and often mixed with bold, boho accents or white walls and minimalist decor.
But as you'll see in the pins below, you don't have to be a mid-century lover to incorporate a starburst/celestial light fixture into your home. They honestly look great with all design aesthetics.
For example, the below space is classic mixed with contemporary, yet that starburst still looks divine.
Or if you're more into modern design, celestial light fixtures work great in those spaces too.
Scroll through the seemingly never-ending inspo pics on Pinterest to see celestial light fixtures in myriad different spaces and designs. This year is all about getting creative in the home and shooting for the stars — literally.