Holy meatballs, I met my idol Giada De Laurentiis
Growing up in my Italian-American home, my mother did most of the cooking, and I never felt confident enough to do more than help out occasionally. Not to mention in a household of six, food was made and then quickly eaten, so there wasn't this ceremonious pizzaz around mealtime. You got it while you could, and if you missed it, well tomorrow was another day. Being the sensible gay man that I am, I quickly picked up my life and moved 3000+ miles from my Philadelphia home to the sunny mecca of perfect weather and pretty people, Los Angeles. Homesickness set in quickly, and I was soon missing my mom-cooked meals. Realizing in hindsight I should have paid better attention to my mother's cooking, I did what any millennial would do in 2009 and turned to the Food Network. I skimmed the on-demand offerings, and naturally a program called Everyday Italian caught my eye. From the moment Giada De Laurentiis's baby blues met mine, I knew I had found the show and person to soothe my homesickness, and hunger pangs.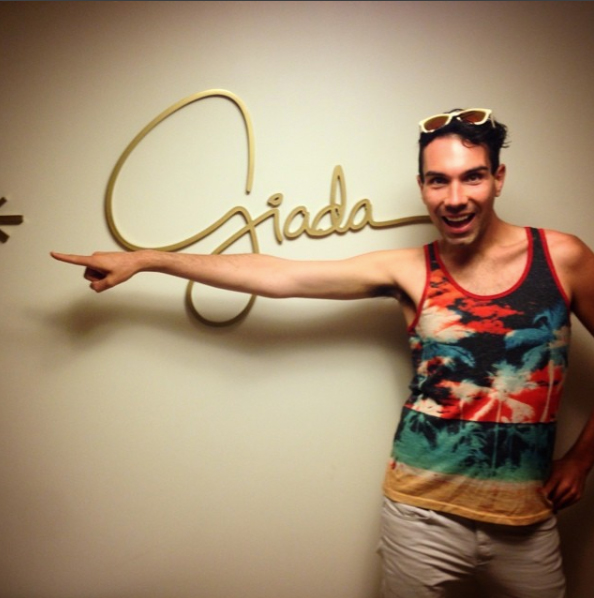 A few episodes turned into a few seasons (and then another series, and another) and before you knew it, I was not only whipping up Pumpkin and Goat Cheese Risotto but growing more and more confident within my own kitchen. I mean, Giada's brand really fits in with my own: Italian roots with a sunny California fusion, AND the flair (and hair) of a Britney Spears Las Vegas residency. It was done. I was a total Giada De Laurenttis stan. She discovered how to flawlessly be at the intersection of relatable and aspirational. You want to idolize someone but feel like what they're saying is something you can really grasp. For me it was more than a few cookbooks, a Mezzaluna knife, and numerous trips to her Vegas restaurant. It was about the sentiment and how her personality and culinary prowess made me feel.
In a humorous but telling turn of events, when I created a Grindr account, I struggled to find something that was conversational but also revealing of my personality. I went out on a limb and made my handle [email protected] That was the game-changer for me. I got sooooooo many messages about my username (and a lot of dates, so thanks, Giada). Most messages were just like "yaaaaas" or "LOLOL" since, like, Giada's basically a culinary gay icon, IMO. Others were not fans. (I mostly blame Barefoot Contessa-heads, but that's a different article.) This made me aware of how polarizing she could be. I realized this had to end. I had to find out for myself if Giada truly was the Italiano Goddess of Prosecco and Prosciutto I knew her to be.
I saw she was doing a book signing in town for her most recent book, Giada's Italy, and knew I had to make this happen; I had to meet her. We reached out to see if there was a press opportunity at the event and were told we'd be given 30 seconds for a photo opp. How could I possibly gauge someone's true self in 30 seconds, let alone my kitchen idol, Saint Spageeeeetteeee herself, Giada De Laurentiis? Then I figured it might actually be a better litmus test to see someone in their natural state of being for an isolated amount of time rather than some long, drawn-out, disingenuous situation. So when Giada Day arrived, I was ECSTATIC. I went to the location, followed the coordinator, and as I was walking up, I saw that iconic hair and heard Giada's voice echoing down the hall. But then my mind started racing. What if she sucked? I mean they say never meet your heroes.
Well, she didn't suck. She was exactly as she is on TV. I know what you're thinking. This was a press event. She was signing books. She needed to be "on." But that wasn't happening at first. We were literally squished in a corner of the store near the restrooms. Even so, Giada was present, acknowledging, and cracking jokes just like any regular person. She was obviously stunning, so we made very profesh small talk while I snapped some pics (because let's be real, I was getting my full 30 seconds here).
When it came time for the signing and Q&A, Giada was so real. She wasn't just like, "buy my stuff." She was fielding questions from the audience, suggesting recipe tweaks, and throwing out dinner ideas for couples. It was any Food Network fan's deep fried, gluten-filled fantasy come true. You're probably thinking that this was, like, no time at all to spend with someone. Trust me, it was enough. Plus, how else do you create an entire food empire, shoot over 12 TV shows that snatch Emmys, create product lines at major retailers, and open three restaurants that continue to thrive and break records in a frustratingly male-dominated industry, not to mention write nine books? I'll tell you: time management.
What meeting Giada taught me was not only is she that elegant and educated chef who also looks like a Anthropologie model, she's ALSO that relatable friend who cut her hand on Food Network Thanksgiving Live on national television. Her recipes have not only helped me through lonely nights missing my parents but also with throwing the perfect Cali soiree with my galpals. Her name has helped me secure dates with some fellas that led to hilarious stories and some sun-kissed trysts. Her guidance made me feel comfortable learning new skills in the kitchen, and her HBIC business successes inspired me to do things that I had never believed possible. Seeing her and meeting her in real life, albeit briefly, was so fulfilling. Literal food-for-the-soul. So naturally I can't wait to peel through the pages of my personally signed copy of Giada's Italy and see how many memories and laughs the stories and recipes will yield.
Giada's Italy is available now at most major retailers and online at Amazon.com