Hollywood is not impressed with Trump's response to the crisis in Charlottesville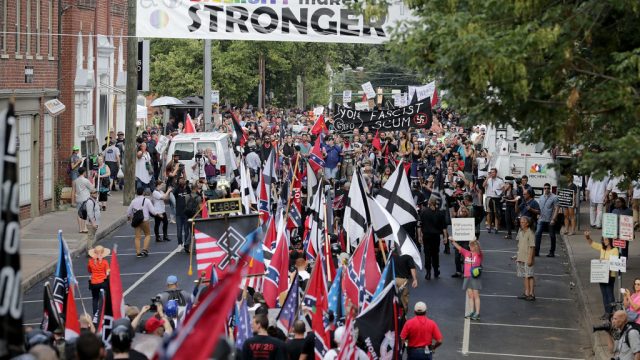 On Friday night and into Saturday morning, white nationalist groups flooded the University of Virginia campus and the streets of Charlottesville, Virginia to protest the removal of a confederate statue in Emancipation Park, calling the gathering a "Unite the Right" rally. On Friday night, they wielded tiki torches and chanted "we will not be replaced." On Saturday, donning T-shirts with Nazi slogans, and carrying firearms and signs with Trump's "Make America Great Again" campaign slogan, they marched into the city, where they were met with counter-protestors and police. Before the rally could even begin on Saturday, Virginia Gov. Terry McAuliffe  declared a state of emergency and asked the white supremacists to "go home."
Watching the events on Twitter and TV was horrifying, and many waited to hear what Donald Trump's response to the crisis in Charlottesville would be. Surely, the president would say something to unite people and denounce the display of white supremacy carried out, in some part, in his name. Right?
Alas, he did not. And he was immediately criticized for it on Twitter by celebs and politicians alike. Early in the day, Trump tweeted, "We must remember this truth: No matter our color, creed, religion or political party, we are ALL AMERICANS FIRST."
Later, in a statement from his golf club in New Jersey, even after a domestic terrorist drove a car into a peaceful crowd, killing one woman, Trump added that he condemned the violence from "many sides, many sides."
But there aren't many sides to white supremacy or domestic terrorism, critics fired back. Many wanted Trump to be more explicit in disavowing these sects of the far, radical right and to give people a sense that this would not be the new normal.
Here are a few responses from celebs and other politicians to Trump's lackluster statement.
false
Still others, like Kal Penn, for example, were totally unsurprised by the response from the Trump's administration.
In addition to his refusal to acknowledge white supremacy or disavow the support of the neo-Nazi groups, Trump continued to tweet throughout the day, sending condolences to the family of the 32-year-old woman killed by the car ("Sad!" he wrote) and and for the families of two police officers who were killed in a police helicopter crash a town away.
Trump wrote, "Deepest condolences to the families & fellow officers of the VA State Police who died today. You're all among the best this nation produces." He also made a statement saying that the administration is "willing and able" to help out. 
Although solidarity with law enforcement is not an unusual move, and an investigation is being opened by the Department of Justice into the car attack, it's still unclear which of the "many sides" Trump is on and who his administration hopes to help. His refusal to use the words "white supremacy" or "white nationalism," or to tell the various so-called alt-right groups that gathered in Virginia that they aren't "oppressed" and that America is a country for everyone, seems like a tacit approval of their actions.
Hopefully, if more people hold him accountable, Trump and his administration will start to take more explicit action in shutting down hate and domestic terrorism. Because this weekend's display was, if not unexpected, terrifying to watch.