10 Ways to Create New Holiday Traditions With Your Loved Ones at Home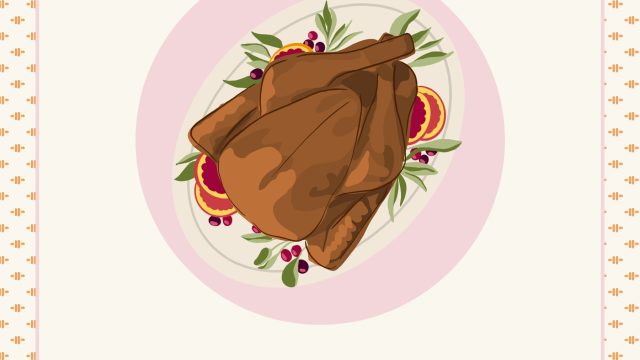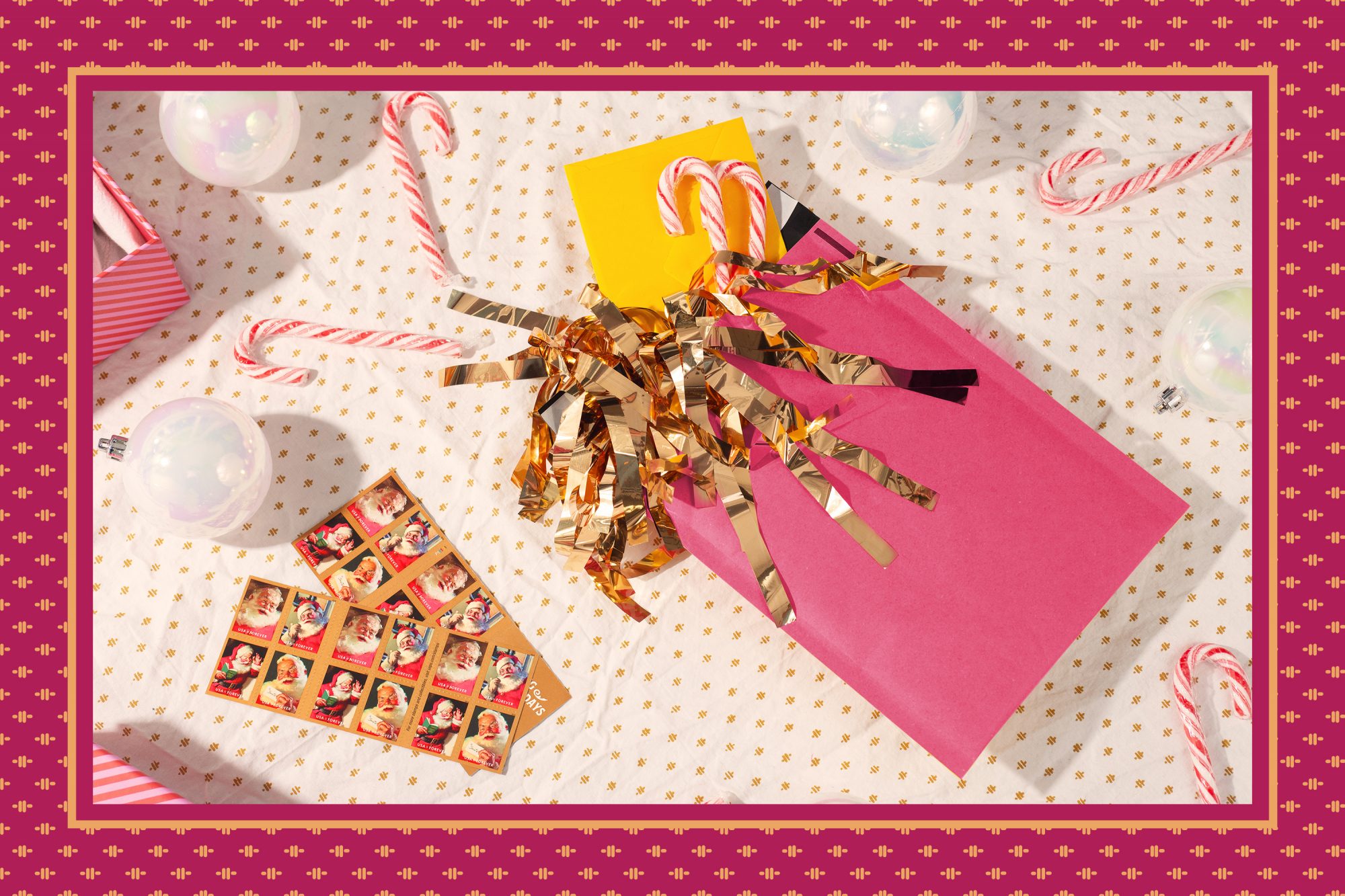 At HelloGiggles, we believe that celebrating can happen anytime, anywhere—even if that means switching out big parties for virtual hangouts, cocktail dresses for cozy sweats, or trips abroad for dinners at home. In At Home for the Holidays, we're showing you that just because this holiday season may look different than usual doesn't mean it can't be just as festive.
Who would have thought we'd still be in the middle of a pandemic during the holiday season? Months ago, there was the fear of missing out on summer activities like pool parties, rooftop bars, and cookouts. Then there was the disappointment of not letting our kids go trick-or-treating or having to postpone that costume party we'd been planning with friends. And now we're all trying our best to navigate celebrating the holidays while still social distancing, which means fewer gatherings around the tree, Hanukkah dinners, and work holiday parties. 
Of course, this is undoubtedly disappointing, especially since it can mean not being able to participate in holiday traditions with your loved ones. For instance, it might be the first year you won't make Christmas cookies with your grandma, or it'll be the first time you'll have to make latkes by yourself. However, "it is important to continue to have some sense of tradition, even if it looks different than it has in the past," says Kind Minds Therapy cofounder Sarah Roffe, LCSW, CCLS. It is important to "validate, normalize, and explore your feelings around these changes," she says. "Try to hold onto the hope and acknowledge that this is temporary; it is not permanent. We can feel grateful for what we have and also feel disappointed that we can't have exactly what we want or had planned. But let's try to celebrate anyway!" 
Below, we rounded up nine ideas you can use to make the holiday season more memorable during the pandemic, whether you're creating new traditions with your roommates or celebrating virtually with family.
1. Have a Friendsgiving with your quarantine pod.
Raise your hand if you've been quarantining with the same couple of people for months! Provided that you've survived this new dynamic, now is the perfect time to bond with your roommates by throwing a Friendsgiving party—especially if you can't get out of town or don't feel comfortable being a part of in-person events outside of your quarantine pod. 
We suggest dusting off your fancy dishes and calling a family member to learn how to cook a few treasured recipes. You can even make it a virtual event with other friends who may live out of state. Lisa Marie Chimento, director of corporate events at Kaleidoscope Solutions, even says that if you have friends who live close by who aren't in your pod, you can coordinate a potluck-style Friendsgiving with them and swap portions of food from a safe social distance. 
2. Give back to the community.
While you're feeling the spirit of thankfulness this season, make a plan to give back to the community by finding a food bank, helping deliver food with Meals on Wheels, or making an online monetary donation to a charity combating hunger. We're all adjusting to life during the pandemic, so donating your money or time is a great way to show solidarity. If you're dropping off food in person, just make sure to abide by the necessary safety precautions (social distancing, wearing a mask and gloves, etc.) and connect with the organization to learn more about their COVID-19 guidelines.
3. Share treats with your family while streaming a religious service.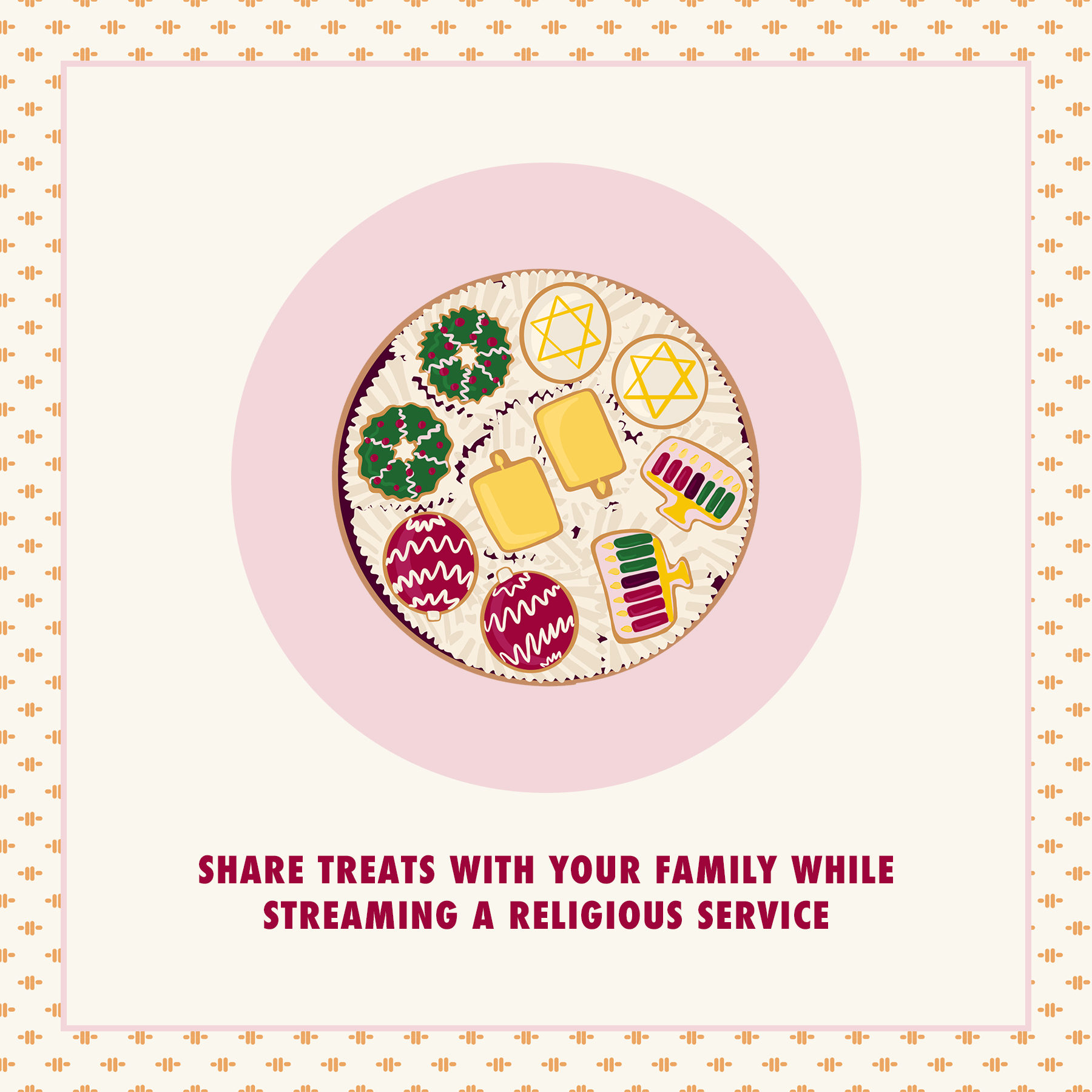 Attending a Christmas Eve church service or visiting a synagogue during Hanukkah is still possible during the pandemic—it just might need to be virtual. There's an online church finder tool where you can find virtual services from churches all over the country, or you can contact your local place of worship to ask about their virtual options, too. 
If you find a virtual religious service, make sure to schedule a FaceTime with your loved ones so it can still be a family experience. A great way to kick off the holiday celebration is to bake holiday cookies while video-chatting with your parents before joining a virtual service. You can enjoy eating the treats together during the service, and it'll feel like your folks are sitting beside you.
4. Have a virtual holiday movie and gift-opening hangout with friends.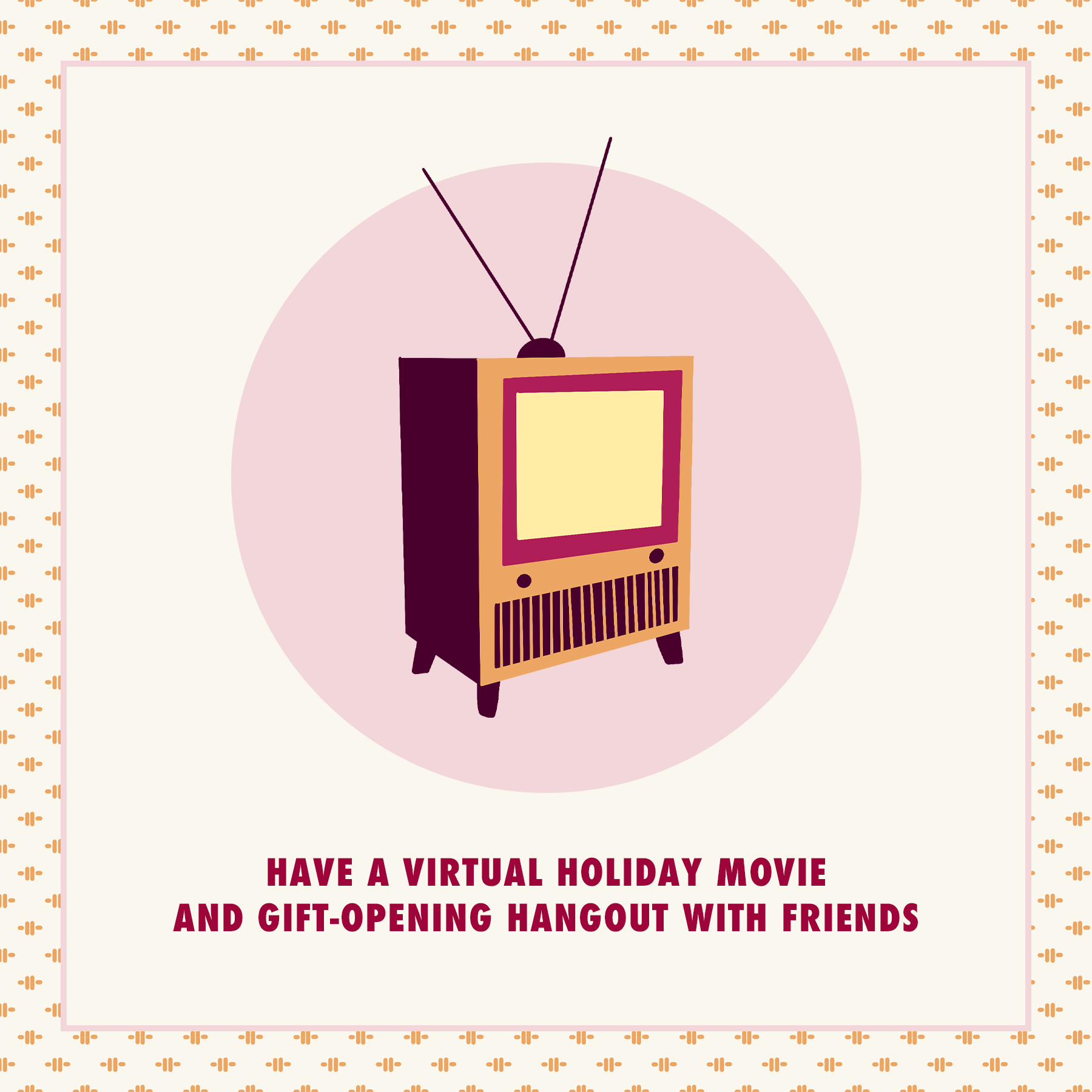 The best part about the holidays is the entertainment, right? Fortunately, streaming services already have a robust roster of movies, TV shows, and specials available just in time for winter. Throw on your flannel jammies and light your scented candles, because your plans are about to get a lot cozier. The only difficult part will be figuring out what to watch. The Great British Baking Show: Holidays or The Princess Switch: Switched Again? Um, both! 
If you're watching on Netflix, make sure you install the (free!) Netflix Party plugin and text everyone in your group chat about the movie plans so they can join in. Amazon Prime offers a similar option, too. Or you can always do it the old-fashioned way by FaceTiming a friend on your laptop while you both start the movie or show at the same time. The possibilities are endless. 
Afterward, you can do a virtual gift opening. Each person in the group can send someone else a gift in advance, and you can take turns opening the presents while guessing who bought what. It will keep everyone laughing and engaged for the rest of the night. 
5. Have a Thanksgiving family Zoom session where everyone can say what they're thankful for.
Virtual dinners don't include a communal dining table per se, but that doesn't mean you can't give thanks. It's so necessary—especially during such uncertain times—to acknowledge what you do have to be grateful for. This year, take turns on Zoom sharing your "thankful list."
Roffe also suggests adding a new component to your traditions to make them even more special. "In addition to saying what you are grateful for, share something you are hoping to have experienced or accomplished by this time next year," she says. This will not only help you show gratitude for the past but also optimism for the future.  
6. Have a virtual candle-lighting ceremony for Kwanzaa, Hanukkah, or Diwali.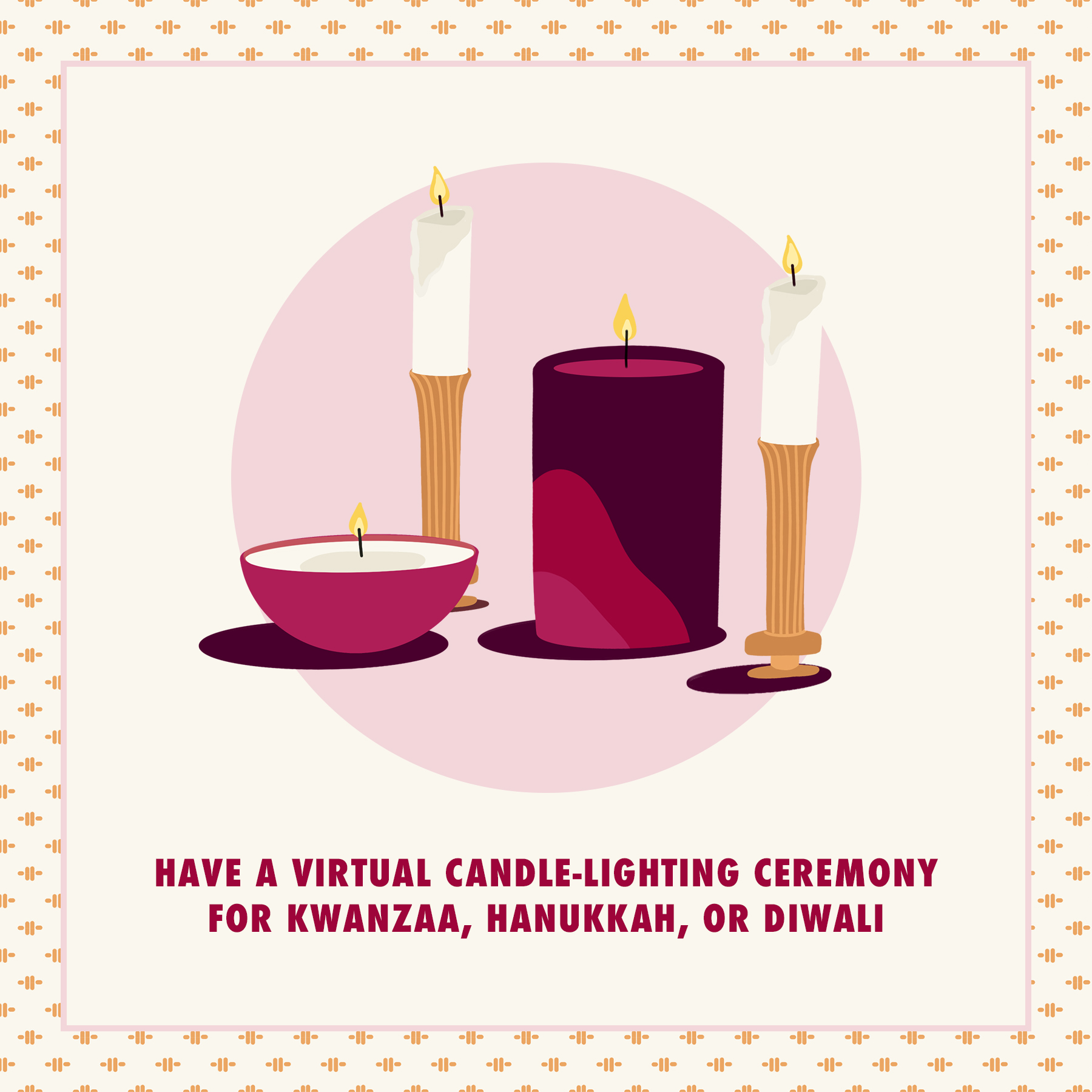 The great part of Hanukkah and Kwanzaa is that they last eight and seven days, respectively. You get to stretch the tradition out and reconnect with family each day, as it doesn't take long to hop on a Zoom sesh and light a candle together. By the end of the holiday, you'll probably have seen more of your loved ones than in many months prior.
7. Share traditional holiday recipes virtually with loved ones. 
Instead of trying to text individual recipes to your friends and family, you can create and organize a Google document to share online holiday recipes. You can categorize by ingredients, color-coordinate the document, or include a space for loved ones to leave reviews—it's completely up to you. 
Once the document has been made, share it with everyone so they can add their favorite recipes in the designated spots (desserts, appetizers, side dishes, etc.). Once the recipes have been added, you can schedule a Zoom call, and the whole group can discuss the dishes they plan to cook and reveal how the meals turn out.
8. Swap ornaments in the mail for a virtual tree-decorating party.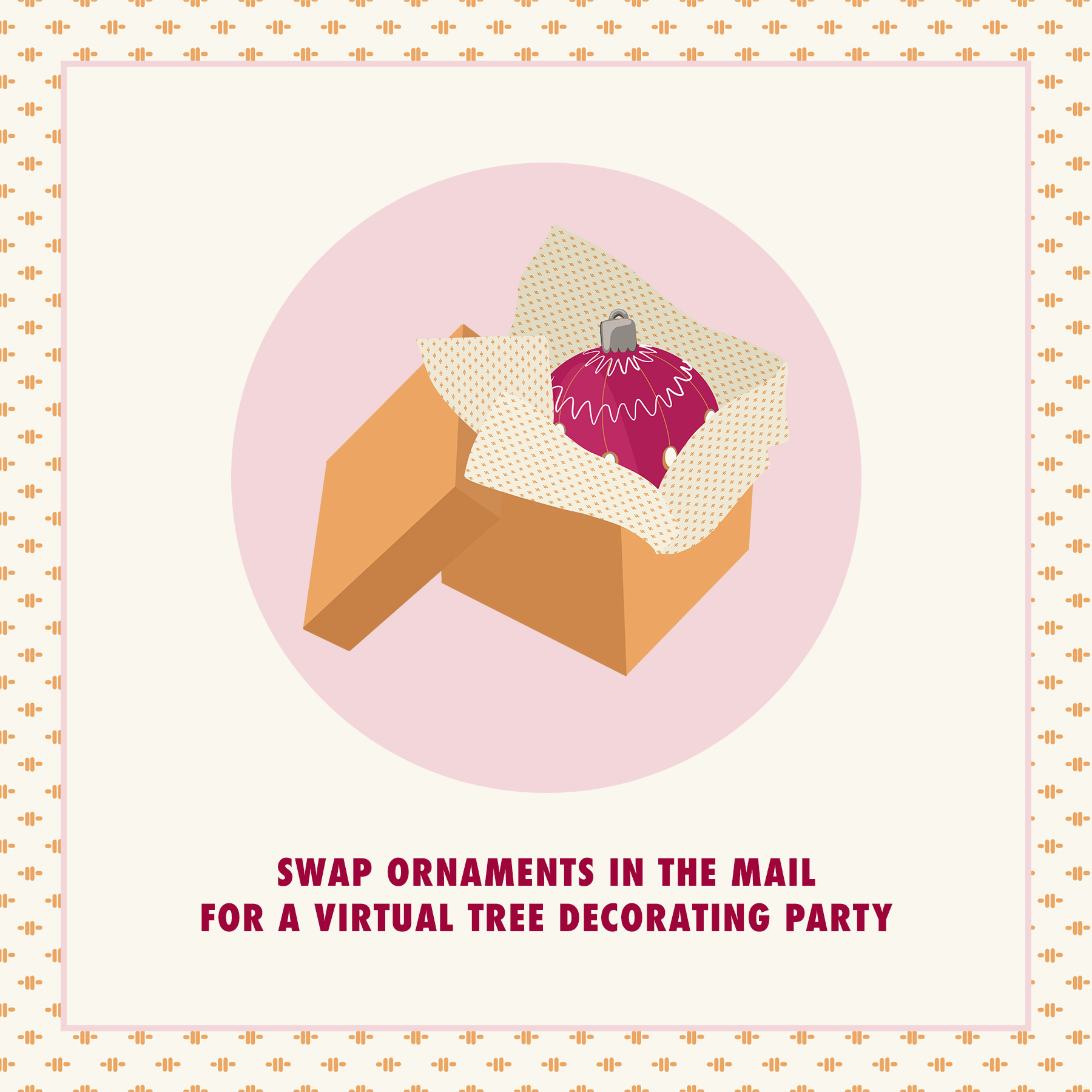 Just because your whole family won't be there to witness your exceptional tree-decorating skills doesn't mean you shouldn't take the time to make your home feel festive. To help connect with your family (and support the USPS), you can mail each other ornaments to help decorate your trees from a distance. Plus, when the ornaments arrive, you can decorate "together" while you Zoom or Skype with your family. And when you're done, you can still humblebrag on the 'gram about your tree-decorating skills.
9. Throw a NYE party with a virtual drink taste test and karaoke session.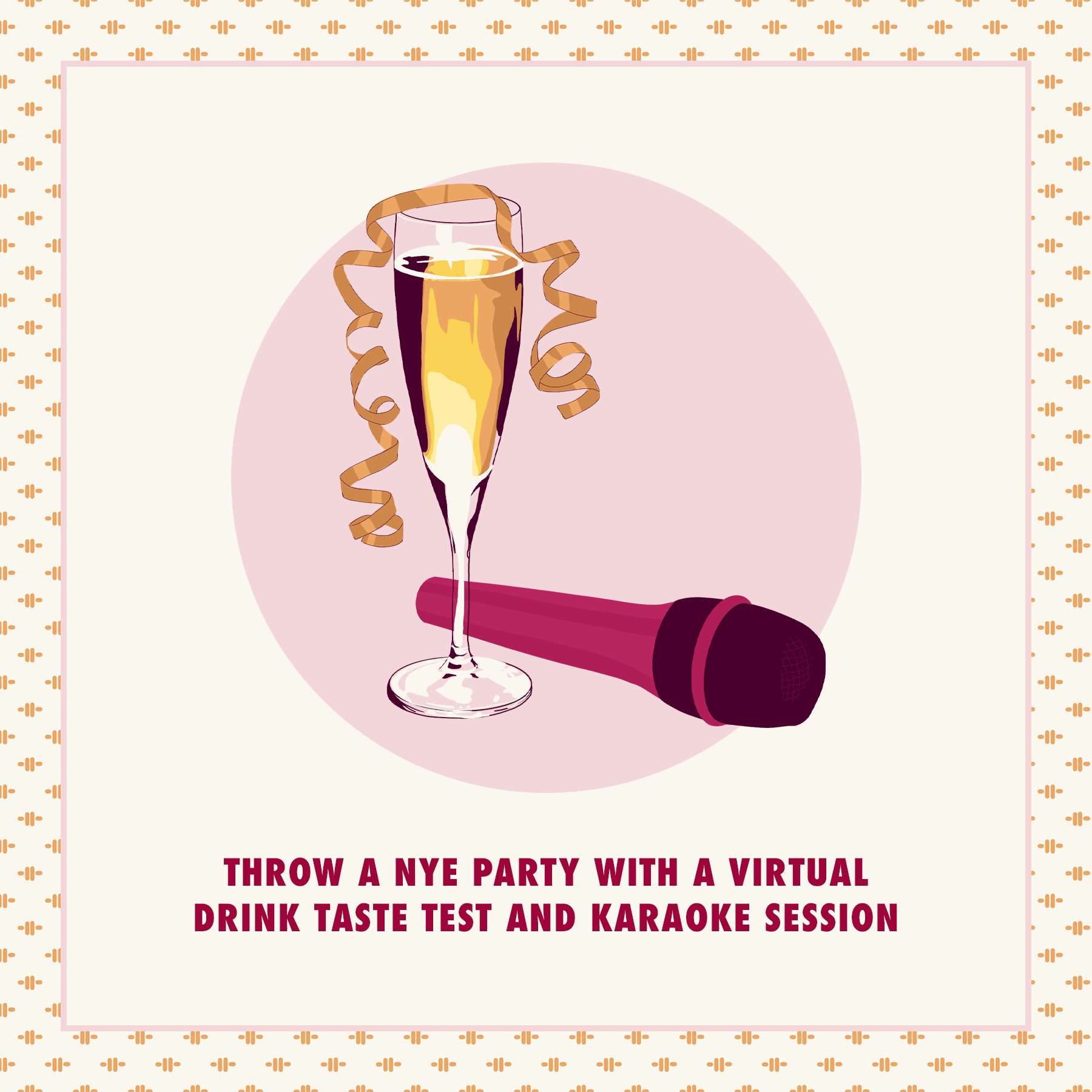 Pull out your cocktail shaker to test your mixologist talents on December 31st! Get some friends together virtually to host a taste test of new cocktail and mocktail recipes and see which one is best. On the night of, everyone can recreate the drinks in their own home and cast a vote to pick the winning drink.
Soon you'll be more than ready for a quick karaoke sesh before watching the ball drop. Everyone can pull up the lyrics on their phones as you sing a song of your choice into a hairbrush or a baking spoon (get creative!). The party doesn't have to be canceled just because of COVID-19.
10. Swap "resolutions" for "intentions" this New Year.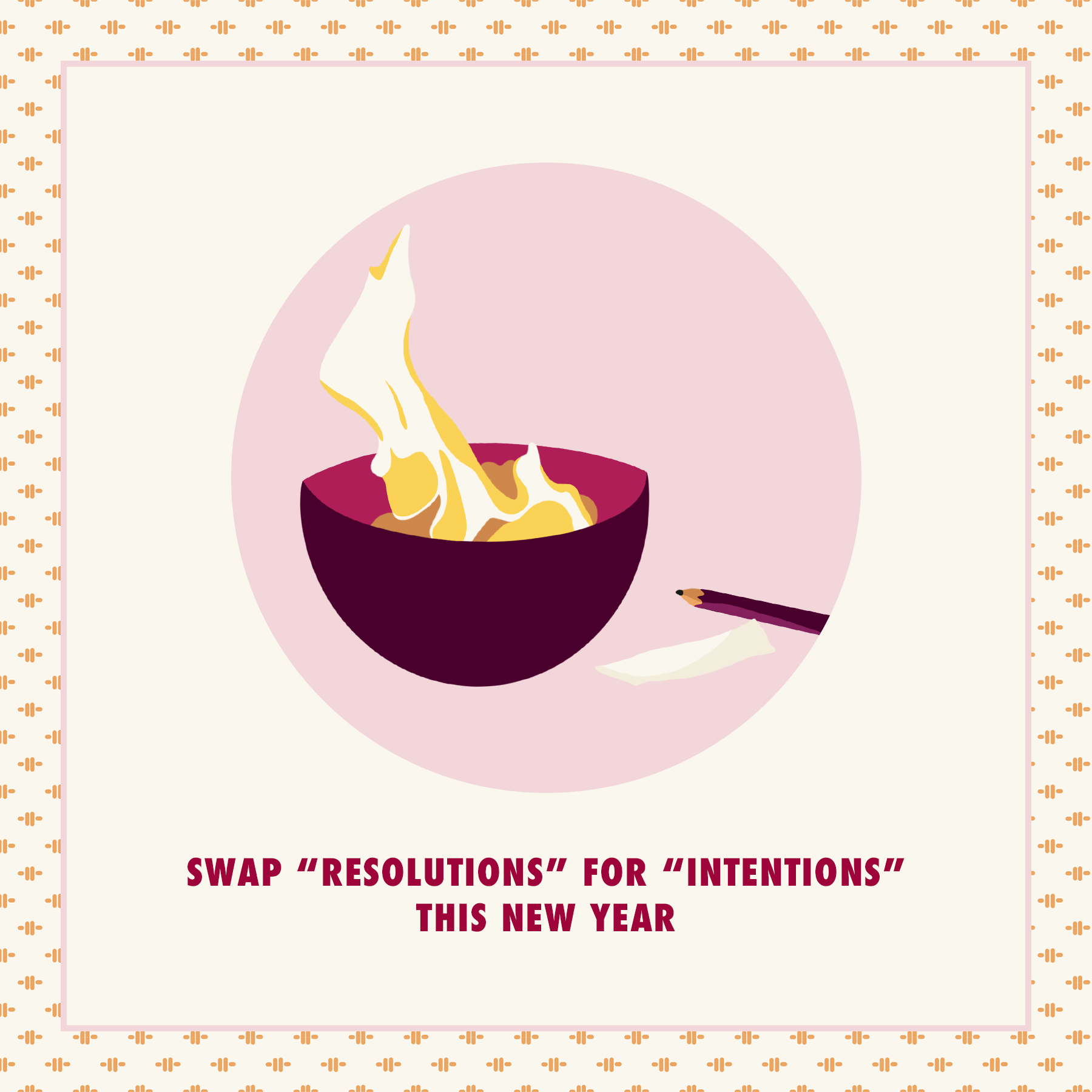 New Year's resolutions are so last year. New Year's intentions are the future—especially because, after the dumpster fire of a year we've had, we can still look toward the future with optimism. Start by writing down 10 intentions for the coming year. Just make sure to keep them long-term and flexible. For example, instead of writing, "I want to find a new job by March of next year with better pay," you could write, "I'm going to develop an abundance mindset rather than a scarcity mindset with money."
Hold a Zoom call once a month with your besties to review your intentions together—and, most importantly, remember how fortunate you are to be surrounded by the people you love (virtually or not). 
Feature Art Direction: Jenna Brillhart, Photo Styling: Caitlin-Marie Miner Ong, Photography: Jasmine Purdie