Our Top 10 Picks For The Most Festive Holiday Movies to Watch on Netflix
Adding these to our watchlist.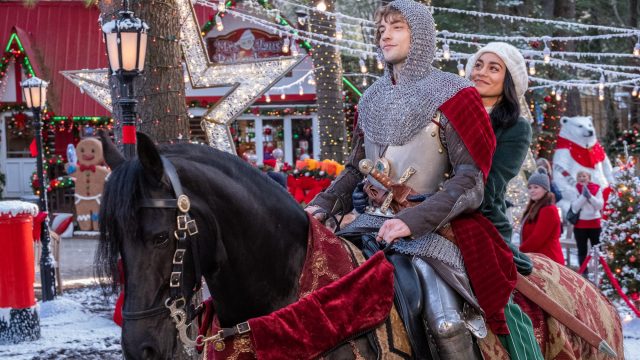 When the temperatures get colder and the days get shorter, nothing beats leading up to the holidays with a festive movie marathon. Some people wait all year for the new Lifetime or Hallmark holiday flicks, but personally, we love the options on Netflix—especially because you can stream them all year (who said holiday cheer has to be seasonal?).
From fan favorites like The Christmas Prince and The Princess Switch to family fun classics like Klaus and The Christmas Chronicles, these original Netflix movies are just the kind of comforting holiday magic we need to get us in the spirit, no matter what month it is. For a healthy dose of yuletide vibes, these are some of our favorite holiday movies on Netflix. When you're done with these, check out the slate of new Netflix holiday movies to be released soon.
1. The Christmas Prince
When an aspiring young journalist is sent abroad to get the scoop on a dashing prince who's poised to be king, naturally, sparks fly between the two. It's a sweet, somewhat predictable story that first established Netflix as a force to be reckoned with in the holiday rom-com space. In fact, the movie was originally so popular, that there are now two sequels you can watch to continue the story. We promise: You're going to want to watch all three.
2. The Knight Before Christmas
Vanessa Hudgens lends her talent to this precious tale about a medieval knight who is sent to modern-day Ohio via a bit of mysterious Christmas magic. There, he and falls for a newly single school teacher (Hudgens) who is disillusioned by love. It has everything a good Christmas movie needs: small-town charm, a kind-hearted lead, and of course, cozy holiday romance. 
3. Klaus
Adults and children alike can delight in this adorable animated Christmas movie that follows a jaded postmaster who is banished to work at a distant frozen outpost where he discovers Santa Claus is hiding out. The hand-drawn animation is visually exciting, and the retelling of the classic story of Santa Claus is the perfect addition to your holiday watchlist. This one was even nominated for an Academy Award in 2020, so you know it's good.
4. The Holiday Calendar
When a struggling photographer (Kat Graham) receives an antique advent calendar from her grandfather that turns out to be magic, her whole life changes. As the calendar seems to predict her future, she's lead to explore a new idea of romance (of course) and learn about herself in the process.
5. Holiday Rush
Single dad and radio DJ Rashon "Rush" Williams loses his job right as his four spoiled kids share their pricey Christmas lists. To keep Rush on the air in Pittsburgh, his producer and aunt plan to help him buy another station—but only if the Williams family can downsize fast and embrace a simpler life.
6. The Princess Switch
Vanessa Hudgens strikes again in this light-hearted tale about two women (a foreign duchess and an ordinary baker from Chicago) who switch places with each other and end up falling in love with each other's beaus. It's refreshing and totally escapist, with a story not unlike those that are so beloved on Hallmark. A sequel called The Princess Switch: Switched Again is planned to be released on November 19th, 2020, so don't wait to watch this one. 
7. Holiday in the Wild
You'll recognize Kristin Davis (AKA Charlotte from Sex and the City) in this romantic holiday movie with a cool far-away backdrop. She plays a woman who's marriage has just ended, and who decides to embark on a solo second honeymoon to Africa. While there, she and a pilot named Derek (Rob Lowe) rescue a baby elephant there and, well, we bet you can predict the rest. It's the kind of feel-good movie we can totally get behind. 
8. Christmas Inheritance
Ellen Langford is a spoiled, New York party girl who is also the heiress to a gift company's future. When she declares that she wants to take over as CEO, her father first sends her on a mission: deliver a special Christmas card to his former partner in the small town of Snow Falls. When a snowstorm strands her at the town's in, she finds romance where she least expects. It's cheesy in the best way possible—take our word for it. 
9. Let it Snow
A snowstorm hits a small midwestern town on Christmas Eve, bringing together a group of high school seniors. It's kind of like the Christmas version of The Breakfast Club, and soon, the group finds their friendships and love lives colliding. For this group of teens, by Christmas morning, nothing will be the same.
10. The Christmas Chronicles
A Netflix Original Film from 2018, this live-action, kid-friendly movie tells the story of two siblings as they embark on an all-night adventure to save Christmas after a mishap causes Santa to lose all his toys. With Kurt Russel as Santa Claus, plus a group of adorable reindeer and a group of pretty cute elves, it's the kind of Christmas classic you'll watch with your kids, friends, nieces, and nephews for years to come.