15 Holiday Makeup Ideas to Inspire Your Decked-Out Looks This Season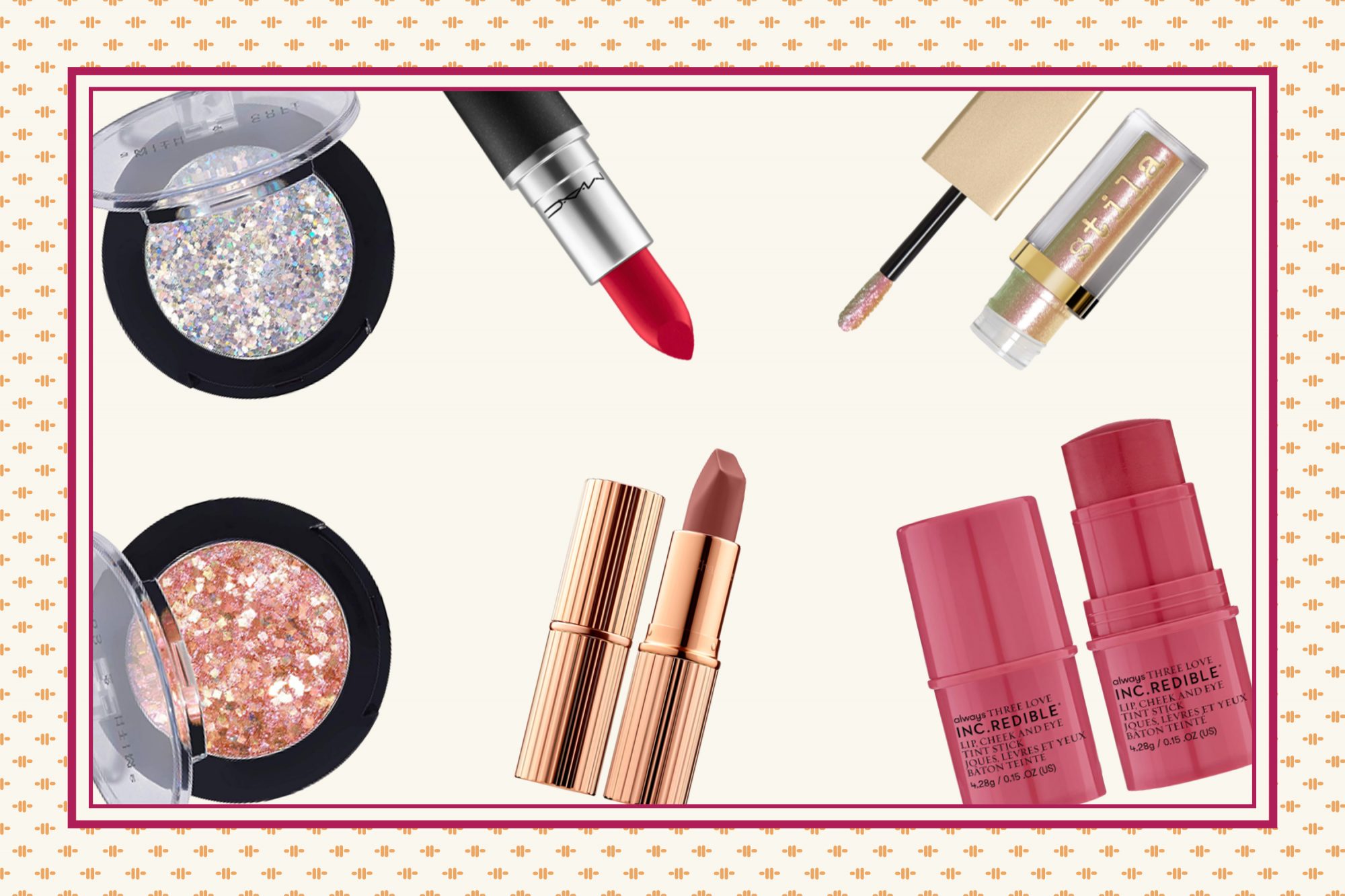 At HelloGiggles, we believe that celebrating can happen anytime, anywhere—even if that means switching out big parties for virtual hangouts, cocktail dresses for cozy sweats, or trips abroad for dinners at home. In At Home for the Holidays, we're showing you that just because this holiday season may look different than usual doesn't mean it can't be just as festive.
If there's ever a time to deck out your makeup, it's during the holidays. The festive season inspires all-out eyeshadows, bright lips, megawatt highlighter, flushed cheeks, holiday nail art, and glitter galore. 'Tis the season, after all, and it's time to sleigh.
Whether you're celebrating alone at home this year or safely hanging out with a small group of loved ones, you deserve to feel as if these holidays are just as meaningful as years before—and glamming yourself up can help you do just that. From a classic nude eye look you can wear year-round to a purple smokey eye perfect for ringing in 2021, here are 15 of the best beauty ideas from Instagram to inspire your holiday makeup looks.
1. Berry-Flushed Lips & Cheeks
You can never go wrong with a healthy flush of color to the cheeks and a just-bitten lip look—there's something about it that's so simple yet impossibly pretty. To get this look, you need only a lip and cheek stain to bring color to your whole face. Simply apply your regular foundation, a dash of mascara, and a bit of tint to your lips, cheeks, and—if you wish—your eyelids, too, for a monochromatic flush.
Shop it! Inc.redible Three Love Lip, Cheek, and Eye Tint Stick in Changes to Boho, $12, sephora.com
2. Geometric Holiday Eyeliner
Who says you need eyeshadow to create a strong eye makeup look? Not us. These high-quality eyeliners allow users to draw on highly pigmented lines that stay put all day. For best results, opt for an eyeliner that has both liquid and pencil options (like Tarte's Double Take Eyeliner), which will make it easy to create a beauty look with different textures and finishes. Pencils tend to have more of a matte finish, can often be used on the waterline, and work as a great primer for liquid liners, whereas liquid liners tend to be more pigmented and have shinier finishes. Choose your battle weapon.
3. Emerald Green Eyeshadow
Forget the statement lip—this year is all about the statement eye. For this look, first apply your favorite brown or taupe eyeshadow to both your lids and your crease, winging it out at the outer corners of your eyes for added flair. Then, brush on a layer of emerald green eyeshadow atop the lids and along the lower lash line. Add a pair of feathery lashes to make your look stand out even more. 
Shop it! MAC Dazzleshadow Extreme Pressed Powder in Emerald Cut, $16.15 (orig. $19), nordstrom.com; Kiss Lash Couture Naked Drama in Tulle, $6.99, ulta.com
4. Eggnog Eyeliner
Nude eye makeup doesn't have to be monotone or boring—it can be creative and a lot of fun. For the easiest color combo, take three nude eyeshadow pencils and draw them on your lids. Start with the darkest shade at your crease, and then use the lightest to draw on a thick eyeliner. For this eggnog-inspired holiday eye makeup, choose an eyeshadow pencil in a creamy off-white. Create a thick cat-eye from the inner corner of your eye, winging out. Finish with a sweep of brown shadow in your crease to create depth and added dimension.
Shop it! Nudestix Magnetic Matte Eye Color in Lilith, $26, sephora.com
5. Full-On Glam
Sometimes more is better—especially when it comes to holiday makeup. For this look, pair a silver, sparkly smokey eye with your favorite bright red matte lipstick (we suggest MAC's Ruby Woo), and don't stop to ask, "Is this too much?"
6. Chunky Glitter Eyeshadow
While big glitter chunks may seem intimidating, they're actually very easy to use if you follow the right steps. First, prep your lids with eyeshadow primer for added grip. Then, using either your finger or a flat-tipped brush, gently press your glitter eyeshadow over the lid. You can also use a cosmetic grade loose glitter—never craft glitter, which can cause cuts and irritation. Finish by spritzing on a setting spray to keep the glitter in place throughout your festivities.
Shop it! Smith & Cult Glitter Shot All-Over Glitter Crush, $22, amazon.com
7. Festive Hair & Classic Lips
Headbands are back and better than ever, and what better time to break out Blair Waldorf's go-to accessory than during the holiday season? Opt for one in a festive color and a rich textile, like velvet or satin, and pair it with a classic red lipstick.  
Shop it! Lulus Top it Off Red Velvet Knotted Headband, $14, lulus.com
8. Berry Pretty Lips & Lids
Purple is one of the few colors that's universally flattering, so don't fear the royal shade. For this look, you'll want to select multiple hues of purple, ranging from light to dark. Start by applying the middle shade over the eyelid, then blend your deepest shade into the crease and the outer corners. Next, dab your lightest purple shadow in the inner corners of the eyes for a pop of brightness. For more depth, tight-line with a fine-tipped black liner. Finish the look with a glossy berry lip for a subtle flush of color.
Shop it! L'Oréal Paris Infallible Metallic Eyeshadow in Violet Luster, $7.99 amazon.com
9. Gold Holiday Makeup
You're the star of the night, and this gold eyeshadow will let everyone know it. For a simple look, swipe a megawatt gold shadow (like Pat McGrath's EYEdols Eye Shadow in Enraptured) across your lids and call it a day. For a more intense look, finish with a heavy dose of black eyeliner along the waterline.
10. Pops Of Pink
If you want to experiment with some color without stepping too far out of your comfort zone, consider adding a pop of baby pink shadow to the inner corners of a classic cat-eye. The result will be cute and fresh.
Shop it! ColourPop Super Shock Shadow in Roy G. Biv, $6, ulta.com
11. Brushed-Up Brows
Festive makeup doesn't have to come in bold colors—it can be brought to life in subtle, natural-looking ways, too. For this pushed-up brow look (or soap brows, as you may have seen on TikTok), simply use a spoolie to brush your brow hairs upward. A brow-specific product, like Patrick Ta's Brow Shaping Wax, will ensure the hairs stay in place. Keep the rest of your makeup simple for an au naturel look.
12. Light-Catching Eyes & Peach Lips
The magic of iridescent eyeshadows, like Stila Magnificent Metals Glitter & Glow Liquid Eyeshadow in Wanderlust, is that the specks change color depending on how you see them. From one angle they could look a slight bit purple, while from another they can appear to be the prettiest of greens. Pair your sparkly look with a peachy lip, like Charlotte Tilbury's universally flattering Pillow Talk lipstick, for holiday makeup that's anything but classic.
13. Exaggerated Cat-Eye Makeup
Keep it simple but still make a statement with a larger-than-usual cat-eye look. For extra precision, place a piece of tape pointing upward from the outer corner of your eye to use as a stencil for your cat-eye, or use Lady Gaga's eyeliner stickers. If you want drama, add some fringed faux lashes to open the eyes up even more.
14. Mixed Metals
Mixing golds, silvers, and bronzes is the new-school way to wear jewelry, and the same concept applies to makeup. To achieve a look like this, simply take a metallic liquid eyeliner (we suggest Urban Decay's Heavy Metal Liquid Eyeliner) and draw whichever creative design you're into at the moment. Whatever you pick, we're sure it'll be a winning look.
15. Black-Lipped Baby
Forget what you've heard: Black lipstick can be incredibly classy when paired with a simple eye look. Fenty's Lip Stunna in Uninvited is the perfect liquid lipstick for this, as it'll stay put all day and won't dry your lips out. Wear it on its own or top it off with a clear gloss to make your lips pop even more.
Featured photo by Jasmine Purdie for HelloGiggles