8 holiday-inspired waffles that are just begging to be made this weekend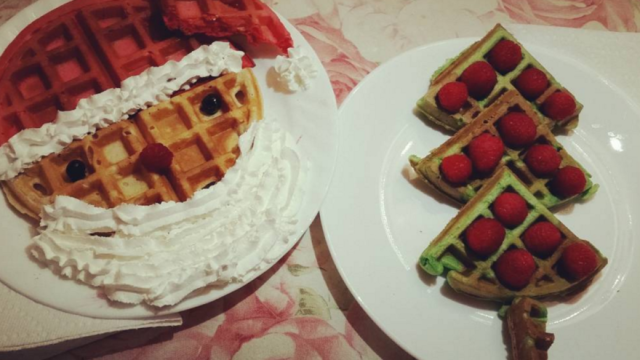 We don't know about you, but to us, weekends not only mean sleeping in, but they also mean breakfast. Yup, we finally have more time to actually make something to eat versus just pouring some cereal into a bowl. And these holiday-inspired waffles are begging to be made this weekend.
Yup, waffles! The big plus? They're not that difficult to make and you can test out your holiday creativity. If you thought Gingerbread Lattes and Peppermint Mochas were the extent of your mornings lately, think again.
Yes, waffles may seem intimidating to make, but they're actually quite easy. Plus, you can get creative with your waffle ingredients (hint: think Leslie Knope). Annnnnd, waffle makers seem to be on sale a lot, so once you buy one, it'll last you a lonnnng time.
Without further ado, here are some of the best holiday-themed waffles we've seen lately. With a bit of practice, you'll be a pro in no time and will want to throw brunch after brunch. Trust us.
1Gingerbread Waffles
Gingerbread waffles?! All we can say is: Yum. This recipe by EverydayGoodThinking.com will change the way you look at waffles forever — in the best possible way, of course. They also suggest eating them with a zesty lemon spread and/or gingerbread-flavored coffee. Count us in!
2Snowman Waffles
https://www.instagram.com/p/BNeFahzg44Q
If you're looking for a more three-dimensional waffle, look no further than this snowman waffle. Whether you want a breakfast activity to do with your kids, friends, significant other, or solo, it definitely makes breakfast more fun. Plus, you probably want to eat the "snowman" before he melts! You can use this recipe from Allrecipes for the waffles themselves.
3Christmas Tree & Reindeer Waffles
Okay, we just have to say it: People are so creative! I mean, how fun would it be to wake up to Christmas tree and reindeer waffles? Just make sure to have some food coloring on hand, as well as waffle-decorating accessories, like bacon and bananas. Here's a good Christmas tree waffle recipe by McCormick, that you can also use for the reindeer (minus the green food coloring, of course). And McCormick uses mini M&M's as tree ornaments. Clever!
4Santa Waffles
https://www.instagram.com/p/_Acd_vpguq
If you want even more holiday-themed waffles, try making a Santa waffle. Insta user @liz.bui even made part of the Santa waffle red. Ah-mazing! And look at her (healthy!) variation of the Christmas tree waffle! You can use this waffle recipe by The Pioneer Woman as your base. Hungry yet?!
5Cinnamon Waffles
Look how pretty these cinnamon waffles are — and heart-shaped to boot! You can use your favorite waffle recipe and either imitate the photo or make one of the above shapes. MrBreakfast.com has a great recipe for cinnamon waffles, and then you can decorate them to your liking.
6Cranberry Waffles
https://www.instagram.com/p/BMrg4d6BZG1
Cranberry waffles? Yes, please! This recipe's not only easy to follow, and you can find it in the Insta post above, but it's delish, too.
7Christmas Ornament Waffles
If you want a simple and elegant waffle, this is it. You can either add some mini ornaments on top or even make a circular waffle look like an ornament by decorating it with different colors of frosting. We like this recipe by Alton Brown of the Food Network as a base.
8Star Waffles
We love this powdered sugar star on this waffle. You can either make heart-shaped waffles or circular ones — the star will work either way. Mmm. And we like this recipe by Food.com.
Whatever waffle creations you make, don't forget to invite us over — I mean, don't forget to enjoy the process. That's what it's all about, right? After all, it's never too late to have #breakfastgoals!