8 Yummy Holiday Gifts for all the Foodies in Your Life With a Sweet Tooth
From chocolates and cookies to limited edition ice cream – just call us the sugar plum fairy.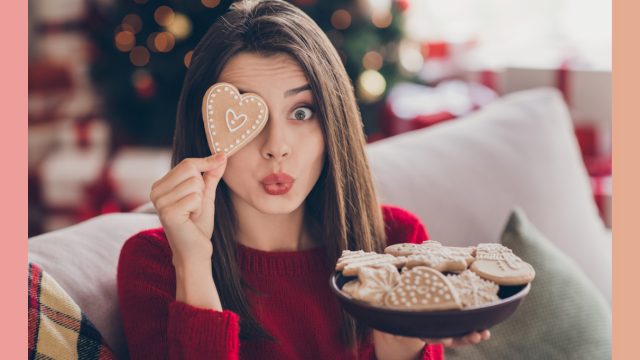 The product recommendations in this post are recommendations by the writer and/or expert(s) interviewed and do not contain affiliate links. Meaning: If you use these links to buy something, we will not earn a commission.
Chocolate and sweets are fail-safe gifts for friends and family of all ages, and an easy gift for coworkers, clients, and acquaintances that you don't know too well. After all, who doesn't like chocolate and cookies, right?
From stocking stuffer bean-to-bar chocolate and glossy jewel-like bonbons (that are almost too pretty to eat) to beautiful boxes with individually wrapped cookies and pints of coveted seasonal holiday ice cream flavors, we have the answer for every sweet guilty pleasure.
The holidays are all about indulging, and sharing these treats with friends is literally the sweetest way to spread holiday cheer. Here are the best gifts to get the foodies in your life who have a major sweet tooth.
RELATED: 30 Best Zodiac Tattoo Ideas
1
Stick With Me Sweets Christmas Bonbons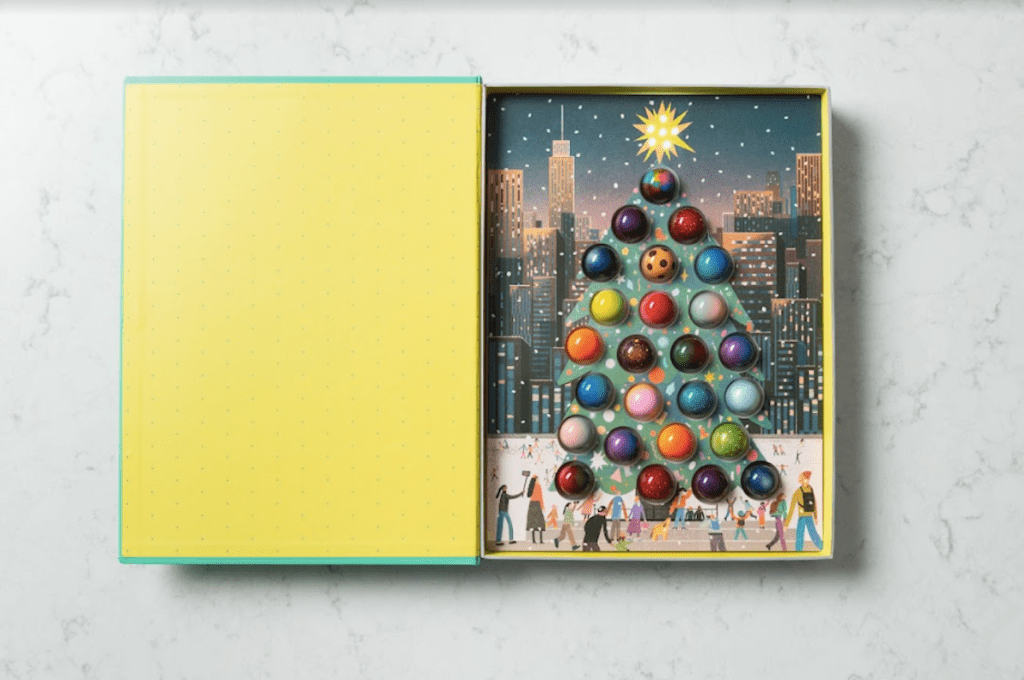 Chocolatier Susanna Yoon's colorful chocolate bonbons are like glossy gems — almost too pretty to eat. For Christmas, her 25-piece collection comes in a very New York-themed presentation, with each beautiful bonbon displayed like an ornament on the Rockefeller Center Christmas tree.
There's kalamansi meringue pie, black sesame praline passion mango, bourbon maple pecan, and liquid salted caramel for starters, and every flavor is equally delightful.
Price: $98 at swmsweets.com
Italy's most renowned chocolate brand is back with a cheerful countdown to Christmas. Venchi's classic advent calendar is less than $30 – a great value – with 25 individually wrapped squares of chocolate behind the doors of a fairytale forest landscape.
You can upgrade to the $99 prestige advent calendar for a wider selection of chocolates too.
Price: $28.99 at venchi.com
3
Dandelion Chocolate Advent Calendar
This absolutely gorgeous advent calendar is a classy work of art – you'll save the circular celestial themed box with illustrations by artist Harry Goldhawk long after all the chocolate is gone.
San Francisco-based Dandelion Chocolate is known for their two-ingredient (cacao beans and cane sugar) bean-to-bar single-origin chocolate, and they've collaborated with chocolatier friends from across the country to create special bonbons for the holidays.
They also have incredible hot chocolate mixes and virtual make your own truffle classes that make great gifts for the aspiring chocolatier.
Price: $160 at Dandelion Chocolate
4
Big Island Candies High Heel Holiday Keepsake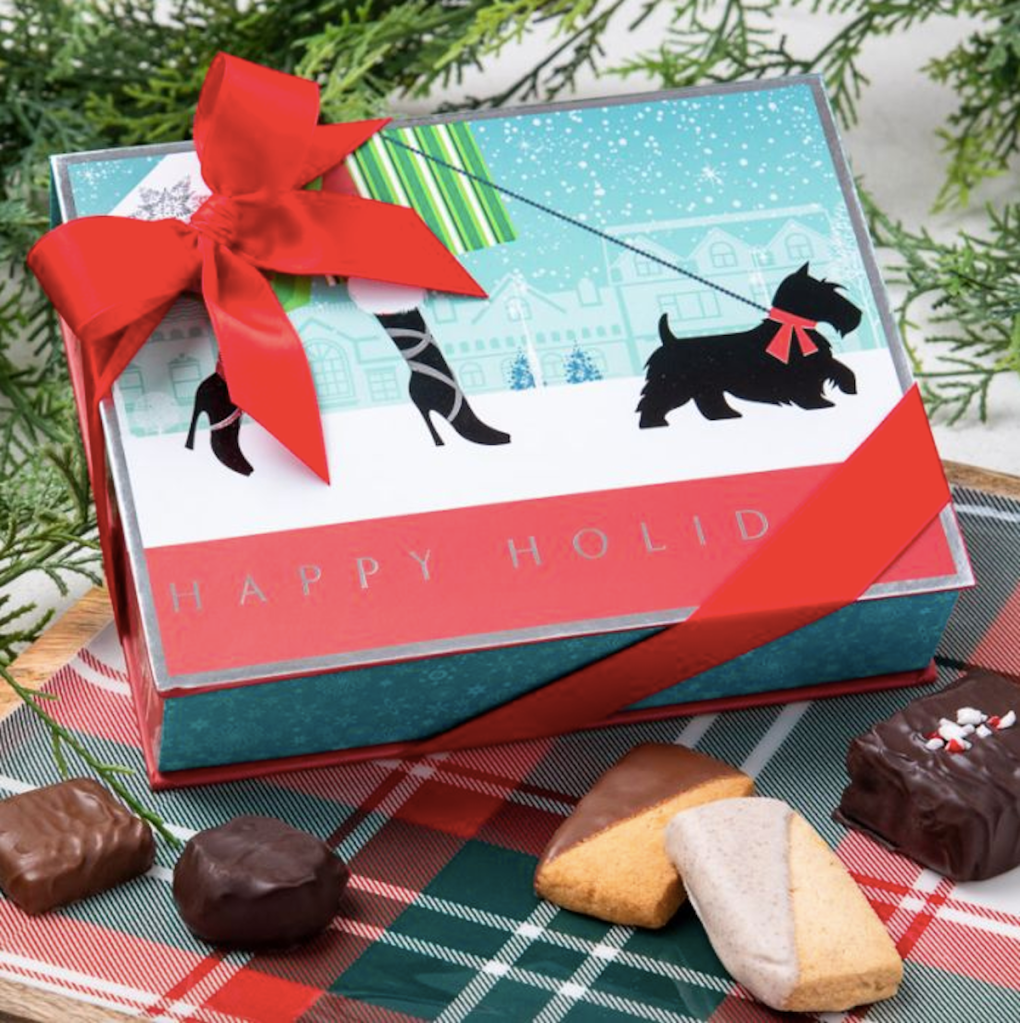 Our favorite Hawaiian cookie company is shipping nationwide – though we still recommend visiting the flagship factory in Hilo for free samples.
These macadamia nut shortbread cookies are hand dipped on the Big Island of Hawaii and for the holidays there are seasonal flavors like cinnamon white chocolate dipped macadamia nut shortbread, gingerbread cookies, and dark chocolate covered peppermint brownies. The pretty gift boxes feature individually wrapped cookies and brownies, so they're easy to share too.
Price: $25 at bigislandcandies.com
5
Lady M Confections Mille Crêpes Cake
You'll be the star of your holiday party when you arrive with Lady M's delicate mille crêpes cakes. These world-renowned cakes are the most elegant dessert you could imagine, layering 20 paper-thin crêpes with pastry cream so light it's like eating a cloud.
Butter Pecan Mille Crêpes is a new all-American flavor for the holidays, but fashioned with sophisticated French technique and the brand's signature Asian touch.
Champagne Mille Crêpes are a festive choice as well, or try the slice of the best cake, so everyone can choose their own flavor.
Price: $108 at ladym.com
6
Dear Bella Creamery x FINE & RAW Gift Box
For the vegan sweet tooth, this limited release collaboration between LA's best vegan ice cream shop and Brooklyn's favorite chocolatier checks every box.
It includes two chocolate inspired ice creams – hazelnut butter chocolate and espresso chocolate – plus waffle cone dark chocolate bars and a black sesame chunky candy bar inspired by Dear Bella founders Alice Cherng and Belinda Wei's Taiwanese heritage.
Price: $65 at dearbellacreamery.com
A mother and two daughters run the small but mighty Mindo Chocolate Makers based in Dexter, Michigan. They even have a workshop in Ecuador, where they work directly with organic independent farmers to source heirloom Nacional cacao beans.
Their new apricot cardamom bar recently won an international chocolate award, and they have tempting holiday flavors like gingerbread dark chocolate and peppermint rosemary milk chocolate bars, along with panela shining stars.
Price: $13.99 at mindochocolate.com
8
Jcoco's Craft Chocolate & Coffee Gift Set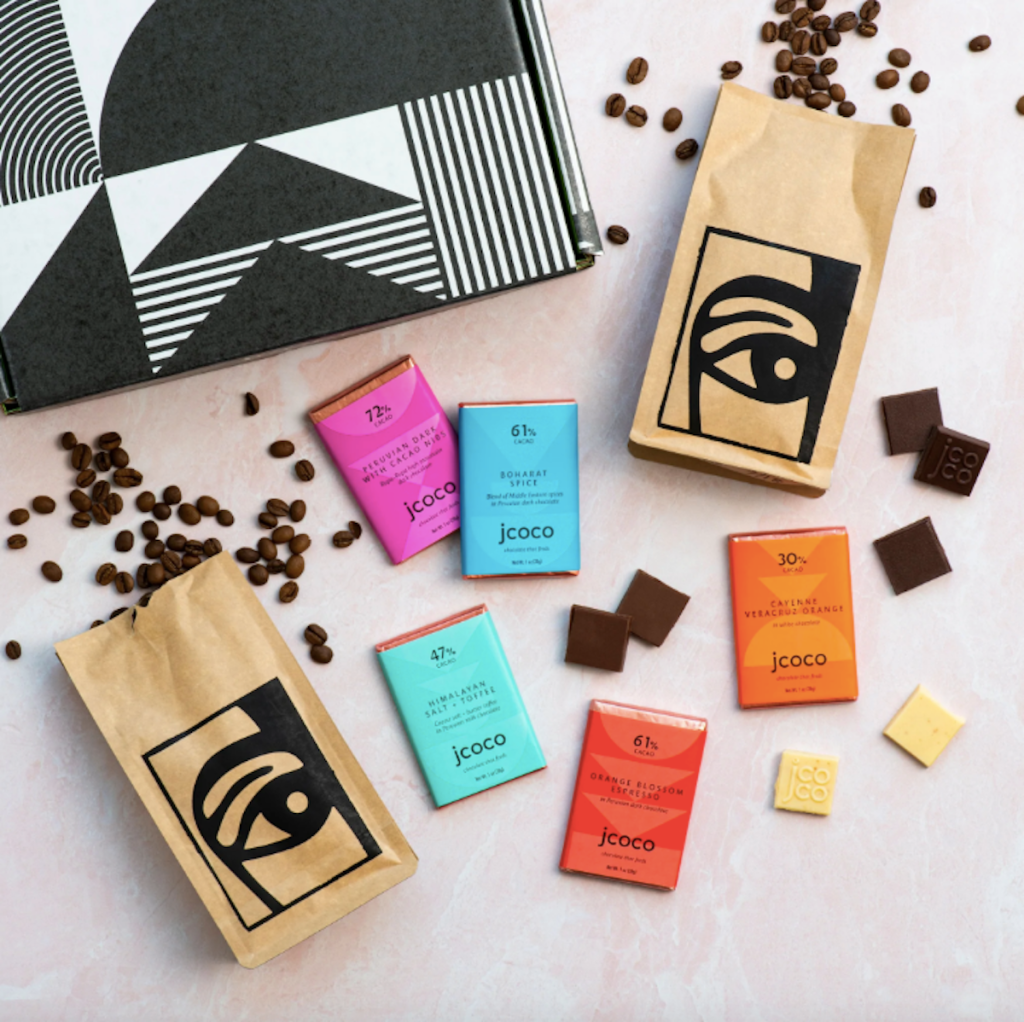 Chocolate is a perfect pairing with coffee, so this tasting gift set created in collaboration with the Black woman-owned coffee roaster Boon Boona is just the thing for your coffee-loving friend.
Five one-ounce Jcoco chocolate bars are perfect single-serving size and there are tasting notes and pairing suggestions for the best coffee and chocolate combinations.
Plus, Jcoco donates ten percent of net profits to those in need in partnership with its food security partners like The Food Bank For NYC, Northwest Harvest, and The San Francisco-Marin Food Bank, so you can feel twice as nice about gifting their chocolate.
Price: $46.99 at seattlechocolate.com
Amber Gibson is a Chicago-based journalist specializing in travel, food, wine, beauty and wellness with bylines in Conde Nast Traveler, Travel + Leisure, Healthline, Chicago Tribune, NPR, NBC, Saveur, Bon Appétit, The Kitchn, Business Insider, The Daily Telegraph and many more.
Read more