5 holiday ghost stories that will make you wait for Santa with the lights on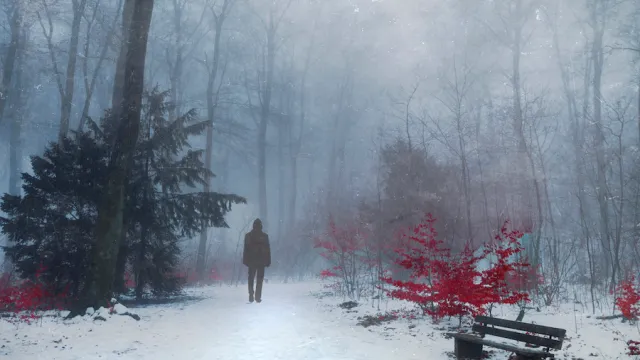 In modern times, Christmas is all about warmth, happiness, and spending quality time with family and friends. But about a century ago, spending time with family and friends often included telling ghost stories at Christmastime. Guests would gather around the hearth on a cold winter's night and try to spook one another with blood-curdling tales of the paranormal.
According to SmithsonianMag.com, telling holiday ghost stories is a tradition that dates back to the time before Christmas was commercialized during the tail end of the Victorian era. Centuries ago, the Christmas holiday tied in with the ancient pagan celebration of Yule. Yule was celebrated on the shortest day of the year, December 21st — a day when it was believed that the dead could easily interact with the living.
Pagan themes matched with the warmness of spending time with loved ones was the perfect mix for the tradition of telling holiday ghost stories to sprout. When you're inside, huddled around the warmth of a fire, what better thing to do than to swap scary tales?
We've researched and have found a few creepy Christmas-themed stories from the days of yore that will add a bit of spookiness to your holly, jolly holiday.
1Oh, Whistle, and I'll Come to You, My Lad 
This is a story from the classic Victorian ghost story writer M.R. James, who loved to tell a good scary story at his Christmas gatherings. Oh, Whistle, and I'll Come to You, My Lad takes place around Christmastime in the fictional English town of Burnstow. A snobby Cambridge professor decides to take a holiday to a seaside town where he discovers an old whistle with a Latin inscription on the side. Unable to read the Latin warning, the professor blows into the whistle.
That night, the professor is plagued with horrifying dreams about a mysterious figure in the distance he can't quite place. His dreams become reality when he finds that the unused bed next to his own in the bed and breakfast he's staying at was disturbed while he was out.
James's story was adapted for the BBC small screen and renamed Whistle and I'll Come to You. This adaptation led to the introduction of the A Ghost Story for Christmas BBC show, which airs annually on Christmas night.
2Horror, A True Tale 
John Berwick Harwood, another Victorian ghost story master, wrote this ghastly tale from the perspective of a narrator looking back on an event from her young adulthood. When she was 19, the narrator's family was hosting Christmas in the large hall of their home. Due to the influx of guests, the narrator had to give up her room to an elderly relative. The narrator took refuge in a spare bedroom — a spare, creepy bedroom.
While trying to sleep, the narrator could not help but feel something was lying beside her. Harwood described the girl's frenzied thoughts:
"And yet, what lay by my side, now wholly unseen? I strove to pray aloud, as there rushed on my memory a flood of weird legends...and I shuddered as I gazed on the blank darkness where I knew it lay. It stirred — it moaned hoarsely...I drew myself from it, shrinking away in loathing and terror of the evil thing — what, I knew not, but felt that something malignant was near."
Hooked? You can read the whole story right here.
3A Christmas Carol 
This compilation wouldn't be complete without mentioning the most renowned holiday ghost story, A Christmas Carol by Charles Dickens. First published in 1843, Dickens crafted a story revolving around the miserly Ebenezer Scrooge. Scrooge hates Christmas and cares only for the change in his pocket. On Christmas Day, while Scrooge spends his holiday alone, he is visited by the ghost of his former business partner, Jacob Marley. Marley is bound in chains and weighed down by money boxes. He warns Scrooge to avoid the same fate.
Later, Scrooge is visited by three other ghosts — The Ghost of Christmas Past, the Ghost of Christmas Present, and the Ghost of Christmas Yet To Come. They show Scrooge how he became the man he is, how his ways affect others, and how his peers celebrate his future death. After being visited, Scrooge decides to change his ways, and goes forward treating his fellow townspeople with kindness and respect.
If you're digging these Victorian-era Christmas ghost stories, we highly recommend you check out The Valancourt Book of Victorian Christmas Ghost Stories on Amazon. It's packed with traditional ghost stories that were told at the hearth during the holiday season. 
4A Christmas Ghost Story
A more modern tale by Danny B. Stewart for UtahStories.com, A Christmas Ghost Story is short, sweet, and seasonably heartwarming. During a late December snowstorm, a young boy treks out to the barn on his property while on a mission to feed the horses and check on a litter of kittens. Just before entering the barn, the boy falls and injures his hand. He wishes his mother was there to comfort him.
While he rests and feels sorry for himself, he hears soft music from his father's radio, yet his father is nowhere in sight. The boy turns the radio off. But then the radio turns back on by itself, and this time "Silent Night" croons from the speakers. Again, he turns it off. But again, it turns back on. A warm, hug-like sensation overcomes the boy and he feels better. After this experience, the boy searched for that same version of "Silent Night" to no avail. Perhaps it was the "Spirit of Christmas" providing him with comfort and joy.
5The Story of Krampus
This one is less ghost story, more myth, but it's perhaps the best-known of the weird Christmas-related legends. Half-goat, half-demonic creature, Krampus is the punisher of naughty children. Draped in chains and bells, he tags along with St. Nicholas during the Christmas season and beats bad kids with birch branches or stuffs them into his sack and hauls them away to his hidden lair in the underworld.
According to National Geographic, Krampus is supposedly the son of Hel, the Norse goddess of the underworld. His name comes from the German word for "claw," krampen, and his legend has been woven into centuries-old German Christmas traditions. Now, in modern times, the Krampus legend has been reborn into annual Krampus Runs, during which costumed men take to the streets to scare children (and adults) into being nice.
https://www.youtube.com/watch?v=QSKfdaCIuBM?feature=oembed
However, in our opinion, these events create the perfect opportunity for the real Krampus to visit town and go unnoticed. Just saying!
We think the tradition of telling ghost stories at holiday gatherings should come back in style. In fact, we're going to show up to Grandma's with an arsenal of creepy tales to keep the family entertained. Get ready fam — Christmas just got a lot spookier.