6 cocktails to pair with your fave holiday foods, because family + booze = a happy holiday season
Another year is almost over and 'tis the season of joy (or something like that). But let's be real. These are dark-ass times. As nice as it is to hear tidings of comfort and joy, sometimes you need something a little stronger to drown out Aunt Jamie asking why you're still single or Nana reminding you of her limited window to rear grandbabies. So fear not, I gotcha covered. For every heap of mashed potatoes, I have the perfect adult beverage strategically paired to mute the ignorance of your un-woke relatives, while deliciously balancing whatever comfort food you're serving up this holiday season.
Here's the thing about food and drink pairings: they're not supposed to be synonyms. You'd never pair a rich slice of chocolate cake with a mudslide cocktail. It's too much of the same overindulgence. A pairing subtly complements the other, sometimes providing a flavor not present, other times echoing a spice or sensation. This is a routine, long practiced with wine and food, between chefs and sommeliers, forevaaaaa.
I've read somewhere, but more importantly found to be true through trial and error, that wine coats the mouth, while liquor cleanses the mouth, and so these pairing are 100% meant to be enjoyed with the food item in question. Also, quick disclaimer: I have a drink recipe archive, but not a food one. I'm just like you and google most of my recipes, but I've made sure to link out to the closest recipe that will perfectly pair with these delicious tipples.
Roast Chicken & Champagne Cocktail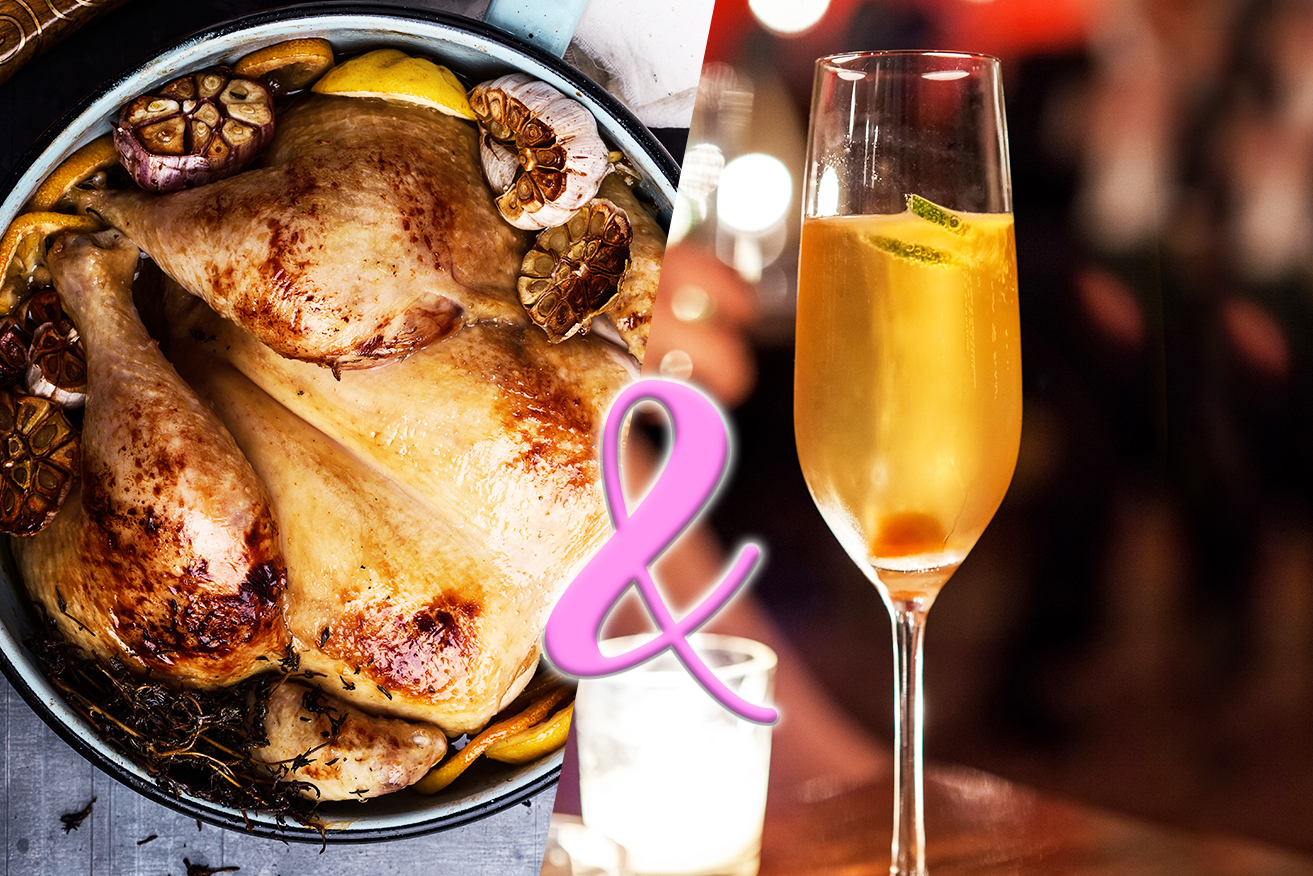 Who doesn't love a perfect poultry dish? (If you're cooking Christmas Goose, bonus points for you!) Roast chicken has a neutrality to it, but subtly encompasses the flavors of the herbs and spices it's cooked with. Rosemary, butter, crispy skin, sage, garlic—it could be anything. You'll want something effervescent with a bright cleanliness to play with whatever main flavor you bestow upon your roasted bird. The flexibility of the cocktail leaves room for the chicken's flavors to swirl with each refreshing sip.
CHAMPAGNE COCKTAIL
Sugar cube
Angostura bitters
Champagne
Lemon twist, to garnish
Place sugar cube in champagne flute and douse in Angostura bitters.
Top off with a brut champagne or sparkling wine, and garnish with lemon twist.
Roasted Vegetables & Beet Cocktail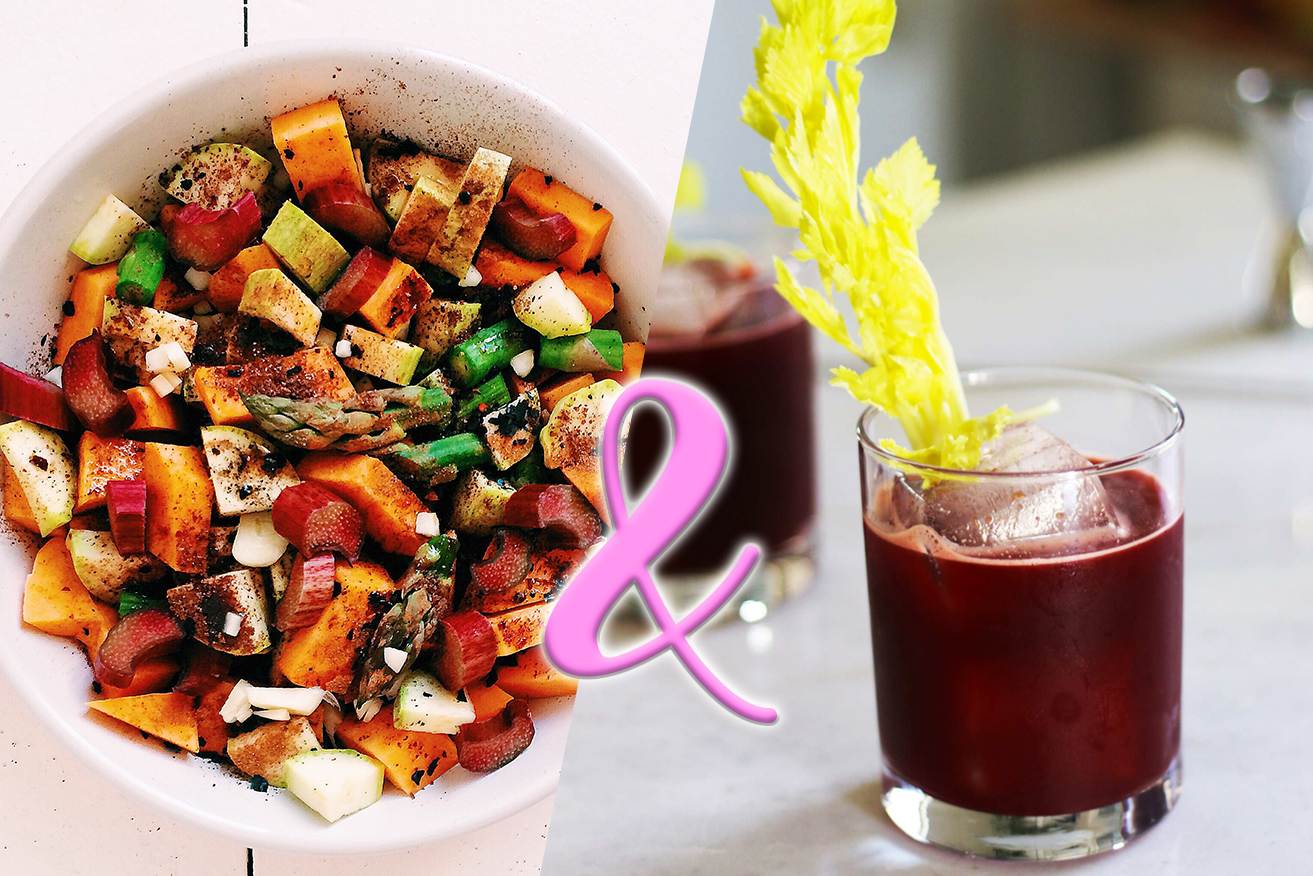 One of my favorite staples in winter cooking is roasted (specifically root) vegetables. Brussels, onions, kale, squash, carrots, sweet potatoes, the list goes on. With such a melange of flavors, I find it best to highlight one of my fave showstoppers—the beet. Beets can be useful in cocktails for a variety of reasons. They're sweet and earthy and welcoming, and paired with the right acid, they can be bright and play well with almost any dish, especially roasted root veggies.
BPM (BEETS PER MINUTE)
2 ounces gin
1 1/2 ounces beet juice
3/4 ounce lemon juice
3/4 ounce celery puree
1 ounce turmeric-ginger syrup
1/4 teaspoon of horseradish (1/2 if you prefer spicy)
Celery stalk with leaves, to garnish
Put all ingredients into a shaker with ice. Shake vigorously.
Strain into a rocks glass over a large ice cube.
To garnish, place the celery stalk standing up in the glass.
CELERY PUREE
Place eight long stalks of celery in a blender with a splash of water and blend until smooth. Strain the mixture, store, and refrigerate for up to one week.
TURMERIC-GINGER SYRUP
Take roughly 1/4 cup of ginger root and wash it thoroughly, leaving the skin on. Place the ginger in a blender, along with 2 1/2 cups of water, and blend until smooth. Strain the liquid into a stove pot, removing any pulp, and add 2 cups of cane sugar. Bring the contents to a boil and add 2 tablespoons of ground turmeric, then reduce to a simmer, stirring until dissolved. This will keep for two weeks in the refrigerator.
Mashed Potatoes & Shandy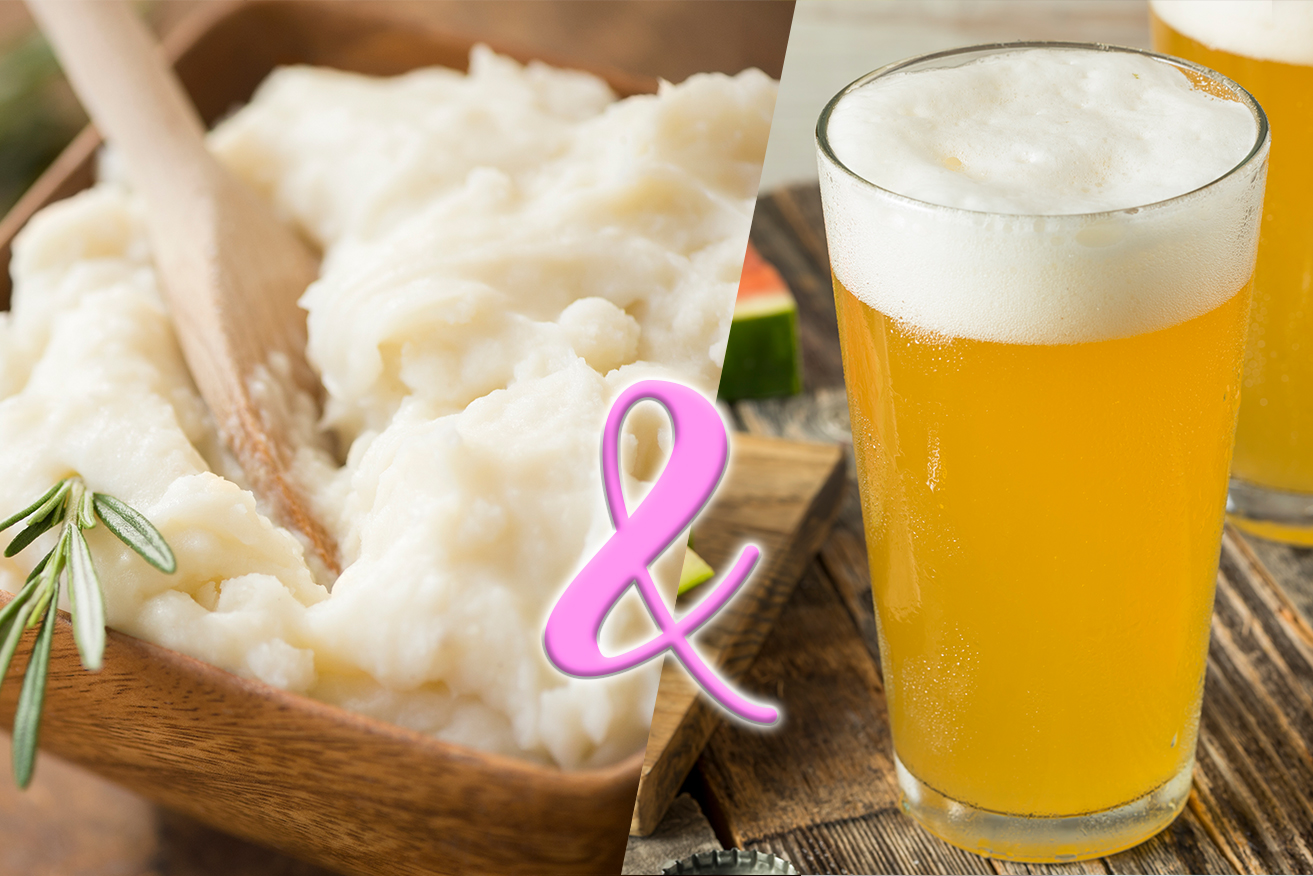 Mashed potatoes have to be everyone's favorite, right? Creamy, smooth, buttery, usually gluten-free. Even though this dish is typically just a side item, I often find friends loading up entire plates of mashed potatoes for themselves, especially as the weather gets chillier. As far as drinks go, something that's carb-adjacent that still possesses a light, fleeting tang will pair perfectly. That's right—they're not just for summer anymore, ladies. Pair your mashed with a shandy.
DAN'S SHANDY
1 ounce blanco tequila
Juice of one lemon
Pilsner beer, such as North Coast Scrimshaw
In a chilled tall glass, juice the lemon.
Add the shot of tequila.
Carefully top off with the pilsner.
Glazed Ham & Bourbon Honey Pineapple Fizz
Christmas ham is totally a thing, right? Salty and cured, tangy, sweet, savory, fatty—this pork's packing, honey! Ham has always been friendly with pineapple (Hawaiian pizza, anyone?) so I wanted to give a nod-of-the-hat to this piggy dish by incorporating some pineapple in the cocktail. The toasty, woodsy bite of bourbon is going to play effortlessly with the pleasing flavor profile of the ham. With just a kiss of honey's sweetness, this will be the perfect pairing for your Christmas ham, and honestly a pretty solid serve without any food on the table.
BOURBON HONEY PINEAPPLE FIZZ
1 1/2 ounces bourbon
1 ounce honey syrup
1/2 teaspoon fresh lemon juice
2 ounces pineapple juice
Club soda
Sliced lemons, for garnish
Combine all ingredients except soda water and garnish into a shaker with ice.
Shake vigorously.
Strain into a tall glass over ice.
Top off with soda water and garnish with lemon.
Sweet Potato Casserole & Negroni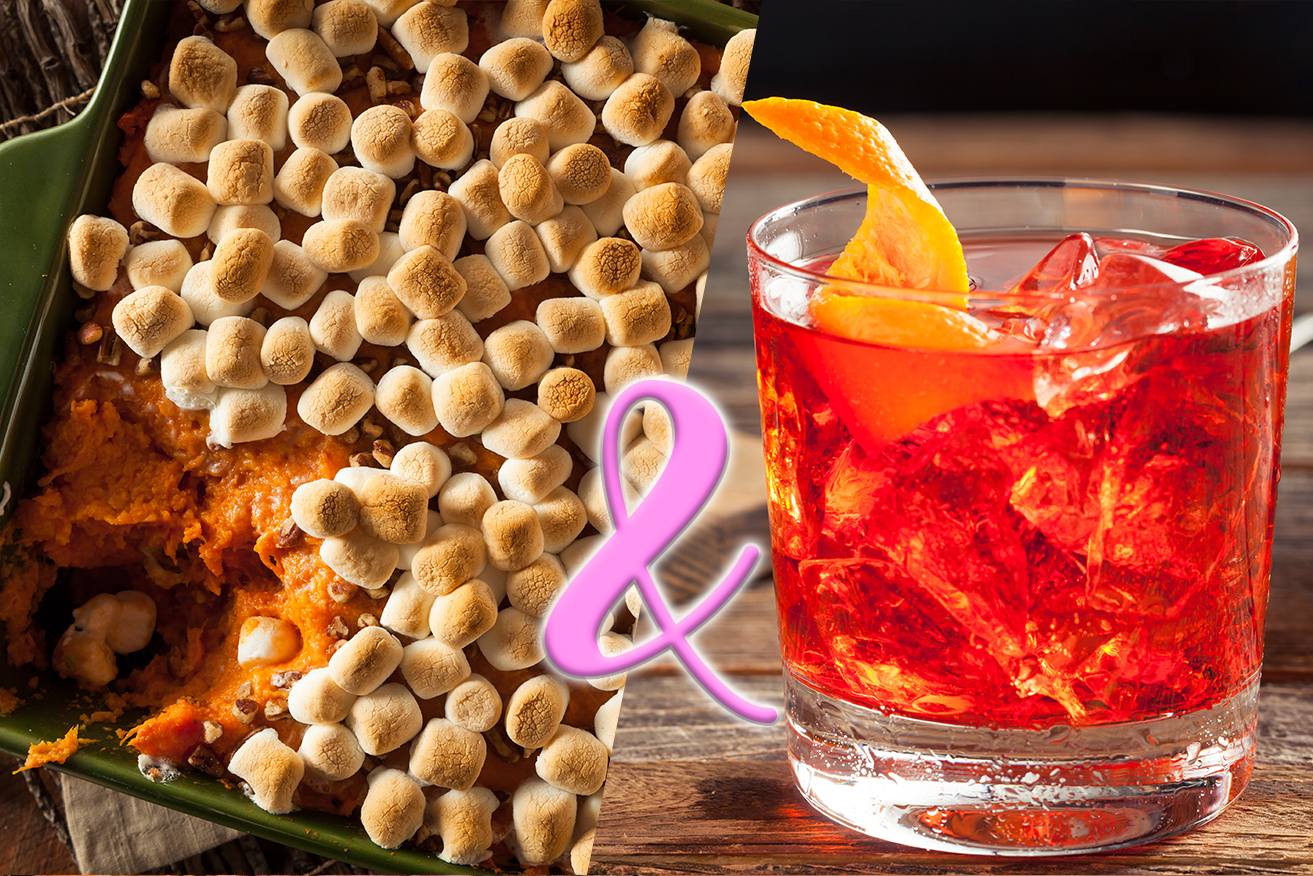 My personal favorite dish at any holiday was always the sweet potatoes. I mean, they're carby, filling, and sugary-sweet (plus, when I got older I learned that they're kinda healthy, too—what???). Whether you do a brown butter crumble on top or dump on a ton of marshmallows, it's a given that the overall sensation you'll get out of each bite is a sugar rush. To counter and ideally balance this intensity, we're going with a spirit-forward drink. The negroni is a classic cocktail comprised of gin, Campari, and sweet vermouth, and its 1:1:1 ratio is foolproof. Gin is botanical-heavy and herbaceous, Campari is bitter, and the vermouth works almost as a binder between the two.
NEGRONI
1 ounce Campari
1 ounce gin
1 ounce sweet vermouth
Orange slice for garnish
Stir the gin, Campari, and vermouth in a tumbler filled with ice swiftly for about 15 seconds.
Strain into a rocks glass over a large ice cube and garnish with orange slice.
Gingerbread Cookies & Brandy Milk Punch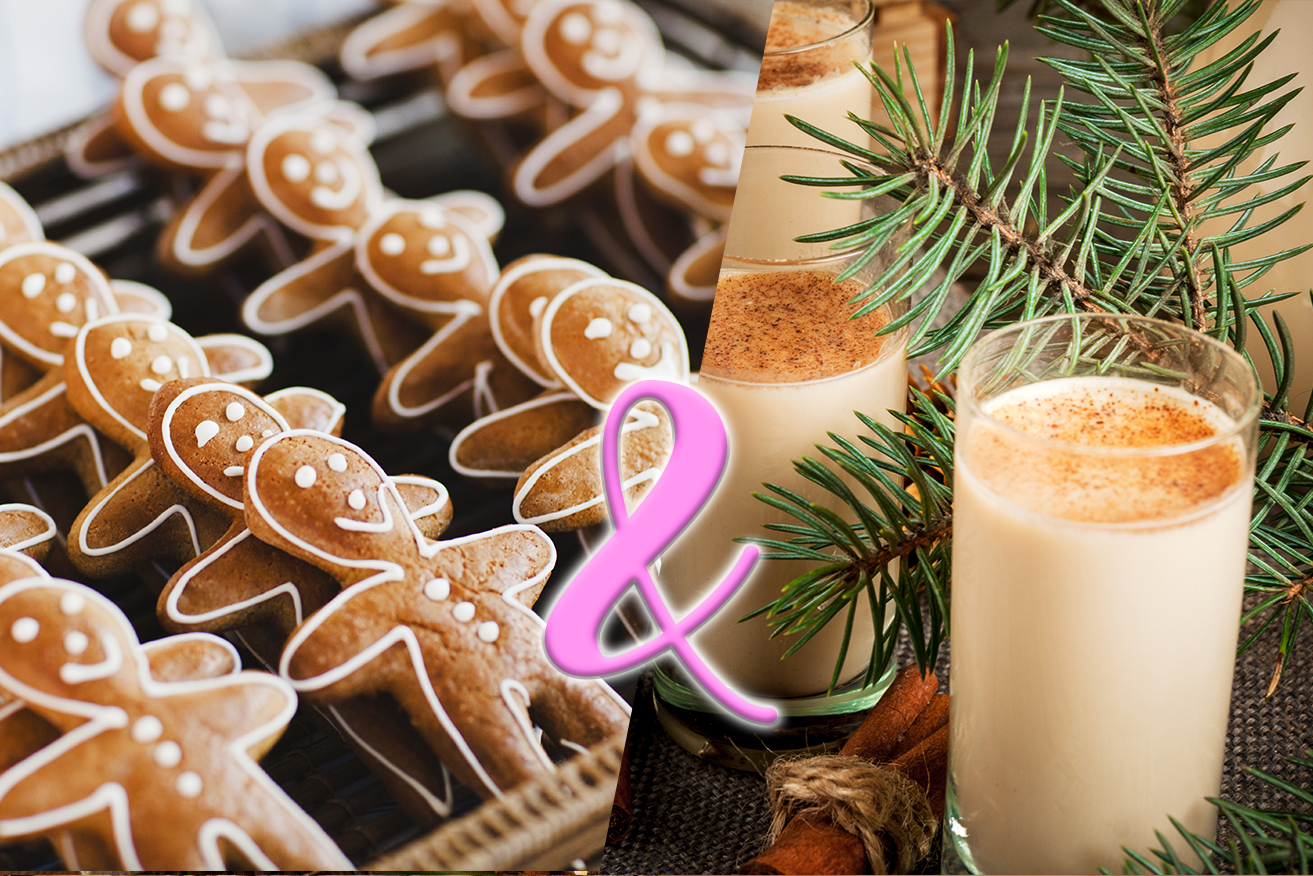 My favorite winter holiday dessert is gingerbread. Typically cookies, but I don't discriminate. A loaf? Gimme! A gingerbread house? I'll take it! Classic gingerbread person cookie? GET IN MY BELLY! For this purpose, I'm focusing on the cookies, and what goes perfect with any cookie? A tall glass of milk. Gingerbread is winter-spiced for sure, but cookies can run the gamut between dry as fuck and chewy, gooey, and greasy. Either way, the fatty, creamy neutrality of milk takes all the notes and curates a beautiful taste symphony. So a spiked milk punch is exactly where we need to be.
BRANDY MILK PUNCH
1 1/2 ounces brandy
1 ounce maple syrup
6 ounces whole milk
Ground nutmeg and cinnamon to garnish
Combine all ingredients except garnish into a shaker filled with ice.
Shake vigorously.
Strain into a tall glass.
Dust the top of the drink with ground cinnamon and nutmeg.
Bonus Pairing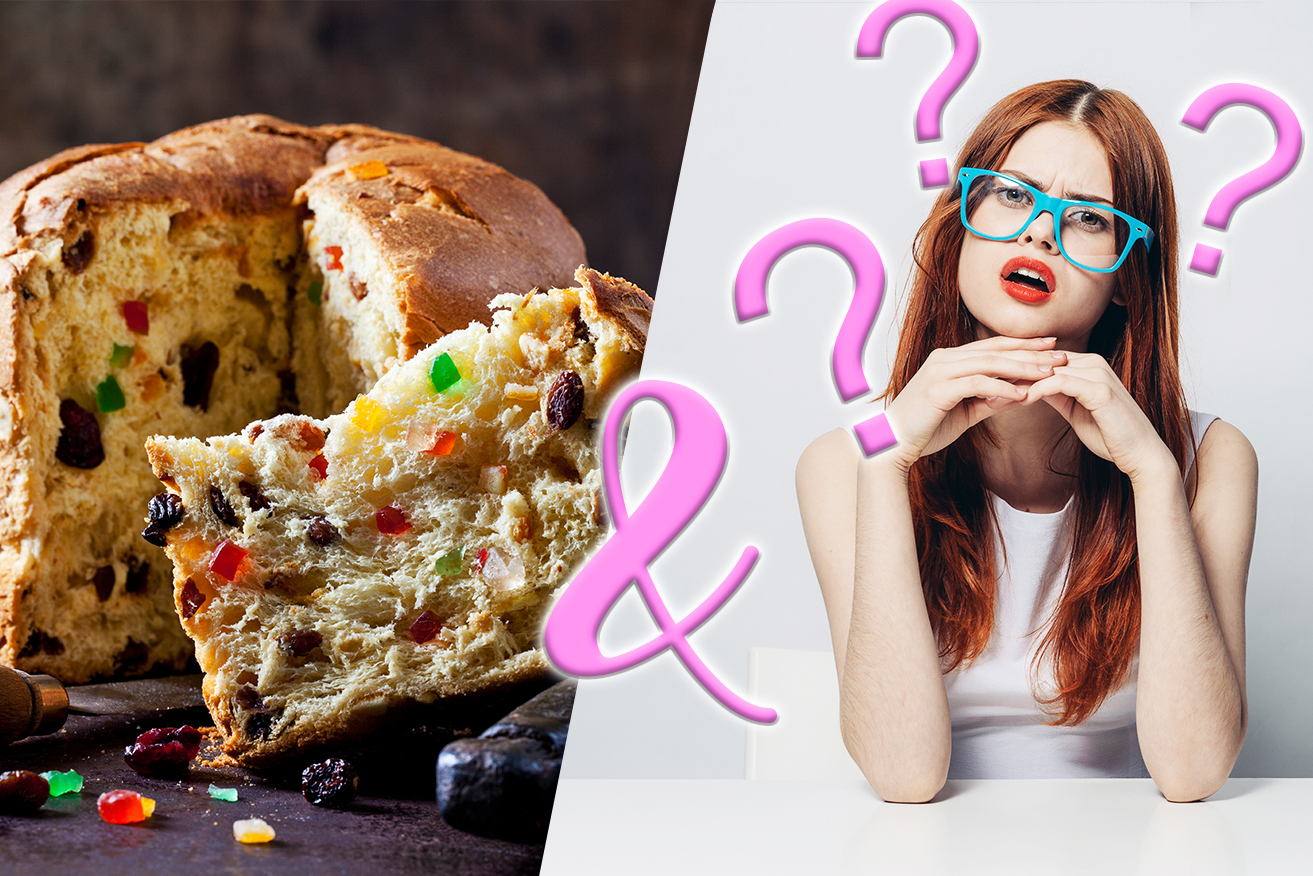 My Italian grandmother, Alda, was notorious for giving us a Panettone (Italian sweet bread loaf) at Christmas. If you don't know what I'm talking about, the closest relative would probably be the "fruit cake." What do you pair with this, you ask? A shot of frickin' tequila because that shit is N-A-S-T-Y. Trust me, you'll need your taste buds burnt off if you have half a chance of fake-enjoying this hard, dry, siren's song of a dessert.
I hope you enjoy these holiday food and cocktail pairings while you laugh and spend time with the loved ones who make you feel special this season.
Dan Magro is the author of Suck It Up: Extraordinary Cocktails for Everyday People available wherever great books are sold (and on iTunes). You can follow more of his cocktail creations on Instagram.