11 expert-recommended date ideas to try with bae this holiday season (that won't break the bank)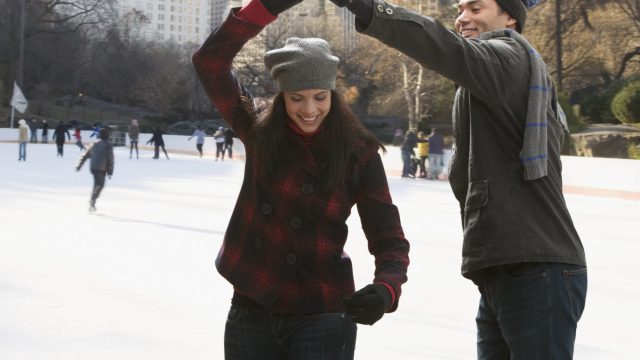 The holiday season can put a lot of strain on your relationship, whether you're aware of it or not. It's expensive, it's busy, and so many people are clamoring for your attention. When you barely have a moment for yourself, finding time for even one holiday date night can be quite the challenge.
For most couples, this is really unfortunate. Because according to recent data from dating app Hinge, most people value spending quality time with their partner. In fact, "quality time" was found to be the most popular love language, or way people like to show or receive love, among the app's users. It was twice as popular as words of affirmation, which came in second place.
If you've been putting your relationship on the back burner lately, you still have time to turn it all around. The holiday season is the perfect time to amp up your date nights and infuse more romance into your relationship. There are plenty of easy (and cheap!) dates that you can only experience during this time of the year. Whether you're looking to spend a night out or stay nice and warm at home, here are some date ideas from the experts at Hinge that you can try with bae this holiday season.
1 Take a holiday light tour
Holiday light tours and displays can be found anywhere. If you're in N.Y.C., experts at Hinge suggest taking a stroll through the magical neighborhood of Dyker Heights to see the "wacky, wonderful Christmas lights" it has to offer.
2 Go on an arts crawl
If you're in Tulsa, the Arts District is a great place to grab a steaming hot latte and stroll in and out of galleries during the First Friday Arts Crawl.
3 Go ice skating
An ice skating date in the middle of December is not cliché, it's classic. The best part is, most major cities have outdoor ice rinks around the holidays. Just do a little research to find out where yours is located.
For instance, Cambridge, Massachusetts's Kendall Square Ice Rink is a "quaint hidden treasure in Cambridge's major biotech hub." When the Zamboni hits the ice, experts suggest taking a break and warming up with a hot Belgian waffle from the stand right next to the rink.
4 Visit Graceland
If you love Elvis and Christmas, why not combine the two with a visit to Graceland this holiday season? The estate is decked out in holiday lights and decorations that you and your Elvis-loving bae are sure to enjoy.
5 Go to an indoor holiday festival  
The winter Chicago winds can make a stroll downtown feel less than lovely. But you can still enjoy the ice skating, icicle lights, and beautifully decorated holiday trees at the indoor Wonderfest at Navy Pier. According to Hinge experts, it's "170,000 square feet of unadulterated playtime."
6 Check out your local holiday market 
Philadelphia has a Christmas Village where you can shop for unique Christmas gifts from the many vendors there. You can even treat yourself to some tasty holiday desserts as you browse. While you're in the area, experts at Hinge also suggest heading to Macy's to see the free light show and capping off the night by going to The Continental to grab a seasonal martini. Pro tip: head toward the back and take the elevator to the roof—experts say you'll be greeted with a warm indoor fireplace.
7 Cut down a tree together
If you're in the Portland, Oregon area, you and your significant other can get into the holiday spirit by visiting Furrow Farm to cut down your own tree. It's a fun way to bond with your partner, and you can follow that up with some delicious hot cocoa.
8 Take an ice sculpture stroll
Head down to Boston's Waterfront to enjoy the Ice Sculpture Stroll, where you can take in the amazing sculptures, enjoy the festive music, eat delicious treats, and cuddle up close to your partner.
9 Have a picnic
If you live somewhere that doesn't get too cold in the winter time, a picnic may be just the thing for you. For instance, experts at Hinge say that it's officially whale-watching season in California. So scope out a spot, pack a lunch, and enjoy.
10 Go sledding in the park 
If you do live somewhere that gets a lot of snow, sledding in the park can be a great, cheap alternative to skiing. If you're in Salt Lake City, grab a sled and hit the hills at Sugar House Park.
If there's no snow in sight, experts suggest Ice Blocking down the hill instead—that's sure to be an interesting experience. Or you can keep it simple and just take a hike in beautiful Millcreek Canyon.
11 Check out your city's signature seasonal attraction
What's your city known for during the holidays? Experts at Hinge suggest finding seasonal attractions around your area to have a date night. For instance, Providence has its award-winning WaterFire sculpture installation. You and your partner can make a tradition of seeing these attractions every year moving forward.