This Super Cute Holiday Cocktail Hack Will Be the Hit of Your Party
This seasonally-flavored cocktail is worthy of Mrs. Clause's approval.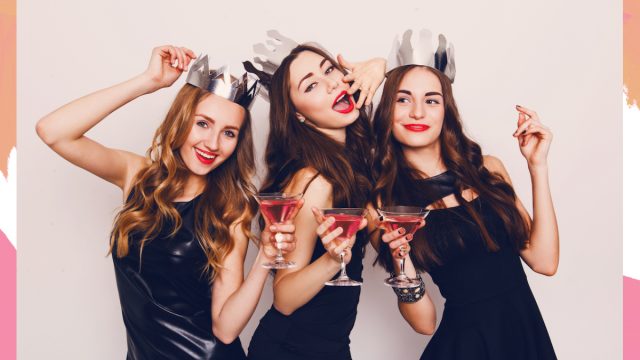 The hors d'oeuvres are prepped and plated, the holiday playlist is queued, and your home is decorated to the nines. All is merry and bright! The only thing missing is a holiday-themed cocktail in your hand — and we aren't talking about a glass of sparkling wine garnished with a sprig of rosemary and cranberries. No, you need a seasonally-flavored cocktail worthy of Mrs. Clause's approval.
Rather than going the ole beer and wine route, why not opt for something a little more festive and cheery…and Instagram worthy? Planning and throwing a holiday party can be time consuming and stressful (you don't need to tell us twice!).
That's why we're bookmarking this holiday cocktail hack by Instagram user @life_with_london for all our boozy beverage needs this holiday season.
RELATED:  The Ultimate Holiday Song Playlist Every Millennial Will Love
Topped with ice and cranberries, each double-bowl glass (also known as a margarita glass) features its own cocktail-filled ornament. That's right! Your actual drink is located inside the ornament.
(Tip: martini and coupe glasses are too shallow to hold both ice and the ornament, so larger drinkware like a double-bowl glass work best.)
Once ready to serve, guests can simply unscrew the top of the ornament and pour their cocktail over ice. They can also keep the empty ornament in the glass for decoration.
It's fun and different, but also super chic. This holiday cocktail hack gives you the chance to have a set drinks menu (you can also encourage your guests to bring their own beer or wine, if mixed cocktails aren't their thing).
Plus, it allows the host to make a batch of cocktails beforehand, so you can spend less time stirring and shaking and more time drinking and mingling.
Of course, you can make whatever kind of boozy drinks you and your guests will enjoy most. How Sweet Eats has a delicious Mistletoe Margarita recipe while country music legend Trisha Yearwood makes a mean gingerbread martini. You can also sip on a refresher such as a peppermint martini or go for something a little more classic like an eggnog cocktail.
Wow your guests with this cute holiday cocktail hack! These boozy bevvies are sure to taste like a merry good time.
Emily is a NYC-based freelance entertainment and lifestyle writer — though, she'll never pass up the opportunity to talk about women's health and sports (she thrives during the Olympics).
Read more