This magical Coca-Cola Ribbon bottle from Japan will completely blow your mind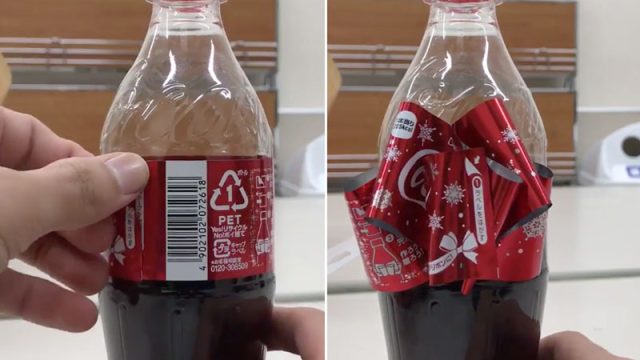 When you think of the holidays you probably think about sparkling lights, snowflakes, and perhaps a delicious hot drink warming your hands, right? Well, in Japan they're turning Coca-Cola bottles into ~presents~. Implementing a way-too-easy-to-use label trick, these Coke bottles basically look like pure magic. Although it sounds complicated, the pull tab design is really so simple and you'll marvel at the sorcery Coke has created with their limited edition Ribbon bottles in Japan. In fact, we're crazy jealous and wish they had these for the U.S. this season, too!
Behold, the magical Coca-Cola Ribbon bottle of our dreams.
We don't have Thanksgiving here so it's okay to be Christmasy
You, right now: Whaaaaaaa?!?!
This amazing GIF of the bottle magic first appeared on Reddit, and has since gone viral. And according to some of the other Redditorsin the comment section, this special Coke bottle actually existed in Western Europe during the holidays LAST YEAR. Which leaves us with only one question…
OMG can we please get these in the U.S., too?!?!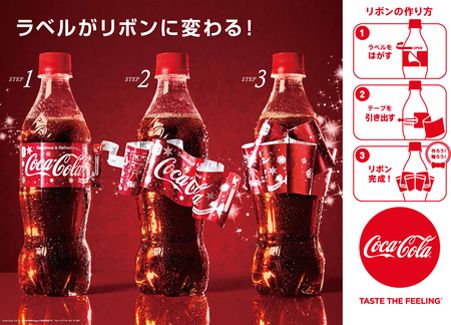 If you check out Coca-Cola's actual website, you can see a more detailed explanation (and even some fancy how-to DIRECTIONS) for the same Ribbon bottle that was for sale during the holidays in the U.K. last year. https://www.youtube.com/watch?v=ZLIdd828nvc
According to JapanToday, these fancy Coca-Cola bottles have been on sale in Japan since Monday (November 7th, 2016) and are part of the company's global campaign, "Taste the Feeling." And, apparently, Coke will further surprise customers who purchase these limited edition bottles with a pair of "fuzzy, warm socks to warm you up in the cold season."
BRB, running to Japan!
The only question we have left now, is if the Ribbon bottle will EVER make its way to the U.S. and if so, WHEN?! Because we would love, love, love to get our hands on one of these Coca-Cola Ribbon bottles. Like, STAT.