ZOMG: Hole, one of our favorite '90s bands, might be reuniting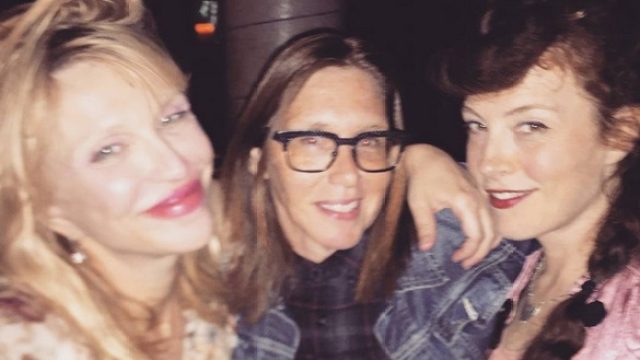 It's been quite a year for '90s nostalgia. We got Fuller House, a Backstreet Boys Vegas residency, and an All That reunion, and guys, it's only May (yes, that was totally an N*SYNC reference). And now, Courtney Love has made our nostalgic hearts beat even faster, because Hole — one of our favorite '90s bands — might be reuniting.
Over the weekend, Courtney took to Instagram to share a *very* important pic of herself with former Hole bandmates Patty Schemel and Melissa Auf Der Maur. Which is a beautiful thing all on its own — three quarters of Hole in one wonderful pic!!! — but with the teasing caption, we're freaking out over a possible Hole reunion. "[W]ith the girls, serving up a Hole lot of something," she wrote. "[M]aybe."
COURTNEY, SO CRUEL. So what about guitarist Eric Erlandson?! Even though he's not in the pic, Courtney tagged his name in the picture anyway, so we can't help but wonder if this maybe-reunion would include him, too. Of course, we can't get our hopes *too* high, because back in 2014, we *also* thought Hole would get back together. . . only to find out that the rest of the band wasn't exactly on board.
"We may have made out but there is no talk of marriage," she told the UK's Telegraph then. "It's very frail, nothing might happen, and now the band are all flipping out with me."
We're still holding out hope for Hole. Fingers crossed that this time, it's the real thing!