Some of this week's "Saturday Night Live" was actually *live from LA*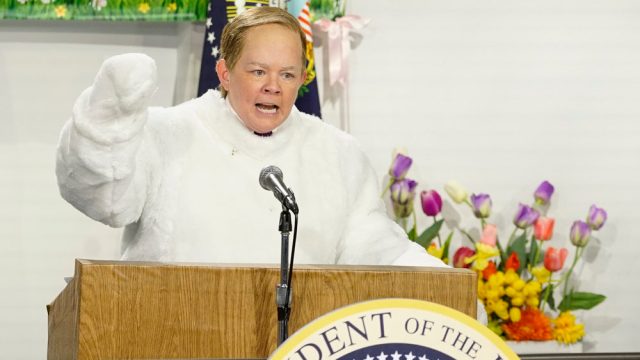 This weekend's episode of Saturday Night Live made history for the long-running show, and no, it's not because Harry Styles was the musical guest. For the first time in the show's 42 year history, SNL lived up to its name and was actually live coast to coast across the U.S. *and* Canada. While the coast to coast live event had been announced weeks ago, it actually benefitted SNL in more ways than one.
Like say, what happens when Sean Spicer makes a monumental gaffe and your favorite Sean Spicer impressionist can't be in NYC for the show and there isn't time for Melissa McCarthy to pre tape her appearance? Do it live from Los Angeles, of course.
https://www.youtube.com/watch?v=_RvfzFv3c6Y?feature=oembed
McCarthy's latest rendition of the beleaguered White House Press Secretary was not "Live from New York" as Alec Baldwin and Jimmy Fallon announced at the end of the cold open — it was actually performed in L.A. With the exception of no cast member appearances in the sketch, "Easter Message from Sean Spicer" mostly went off as it has in previous weeks, with no indication that it was filmed anywhere other than Studio 8H. McCarthy confirmed that the sketch was done in L.A., Instagramming, "Spicey gone wild!!! #LiveFromLA".
According to Vulture, McCarthy also participated in the dress rehearsal from L.A. While this isn't the first time the show has done a telecast like this, it's incredibly rare, as nearly all the live sketches are performed within 8H.
More and more  high profile guests are popping in to play members of the Trump Administration so this new approach could make it possible for guests to appear in more episodes, especially with their subject is under constant scrutiny, like Spicer.
As always, Melissa's Sean Spicer was incredible and we hope she can continue to make her hilarious appearances on SNL.