PSA for muggles: You can enroll in Potions, Herbology, and more Hogwarts classes online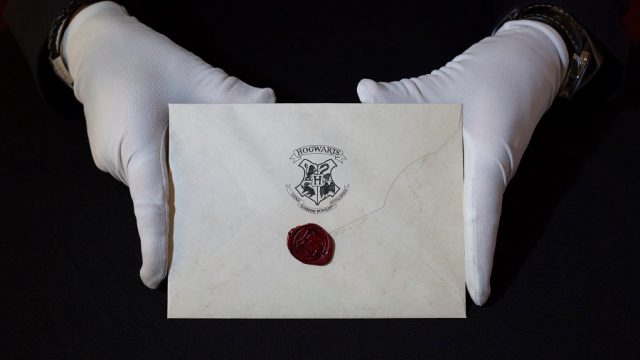 Ever dreamt of enrolling in a Defense Against the Dark Arts class at Hogwarts School of Witchcraft and Wizardry? If you're a true Harry Potter fan, the answer is obviously yes. And luckily for all the Potterheads out there practicing social distancing due to the coronavirus (COVID-19) pandemic, you can now enroll in seven "Hogwarts" classes online. Hogwarts Is Here is an online social network created by dedicated Harry Potter fans in 2014, and there's never been a better time than now to enroll in Hogwarts classes.
Hogwarts Is Here is basically a cross between a MOOC (massive open online course) and an RPG (role-playing game). You enter as a first-year student, learning all of the spells Harry, Hermione, and Ron learned in The Sorcerer's Stone. And you join the race for the coveted Head Boy or Head Girl title you've always dreamt of claiming. Here's how it works.
First thing's first: When you sign up for Hogwarts Is Here, you join a house, just like when Harry first arrives at Hogwarts.
Unfortunately (or fortunately), the sorting hat does not determine your fate—you choose a house yourself. So if you've ever argued with friends about how you're totally a Gryffindor, now you don't have to take a quiz to prove it—you're automatically in. Once you've joined a house, you can hang out in the common room and meet fellow Gryffindors, Ravenclaws, Hufflepuffs, or Slytherins. Unsurprisingly, Gryffindor is the most popular house choice, followed by Ravenclaw (which has the most house points).
Once you've enrolled at Hogwarts, you can purchase textbooks from Flourish and Blotts and sign up for classes. There are two ways to take classes at Hogwarts: go full Hermione and enroll in the entire Year One course schedule, completing assignments and receiving grades from professors; or take the Weasley twins' route and peruse courses at your own pace, read books in the library, and generally mess around in the castle. If you want to help your house earn points (and ultimately, win the House Cup), you'll need to enroll in the courses and complete the assignments for grades.
Course options include all of the classes you daydreamed about attending while you sat in algebra class in high school.
You can take Potions, Charms, Transfiguration, Astronomy, History of Magic, Defense Against the Dark Arts, and Herbology (for all you Nevilles out there).
Every course includes nine lessons and involves lots of reading, writing essays, and taking quizzes and exams. Each professor in every class nominates two students to take on the role of Head Boy and Head Girl after the course has been completed, based on academic performance and commitment. So, if you really want some bragging rights, work for this title.
Once you've completed the Year One courses, you can continue progressing through the rest of the seven years until you're officially a graduate of Hogwarts School of Witchcraft and Wizardry.
If classes aren't your thing, you can nix the MOOC portion of Hogwarts Is Here and focus on the RPG portion instead, by joining or creating role-playing groups. Current role-playing groups include games that take place in The Great Hall, on the Quidditch field, and in common rooms.
Visit Hogwarts Is Here to learn more about how you can finally immerse yourself in the Wizarding World.
As information about the coronavirus pandemic rapidly changes, HelloGiggles is committed to providing accurate and helpful coverage to our readers. As such, some of the information in this story may have changed after publication. For the latest on COVID-19, we encourage you to use online resources from CDC, WHO, and local public health departments, and visit our coronavirus hub.