Hodor from "Game of Thrones" and Mayim Bialik travel to the future in this funny SodaStream ad
Find yourself missing Hodor? You're not alone. Luckily, your favorite Game of Thrones character has been busy hanging with your favorite Big Bang Theory cast member. Oh yes — Hodor and Mayim Bialik are promoting SodaStream.
Known outside of Winterfell as Kristian Nairn, he actually says a few more words (but not too many) in this fun SodaStream ad. For those unaware, a SodaStream is a machine that'll allow you to make your own favorite bubbly beverages at home. For seltzer lovers, it's pretty much a must-have. And since it helps eliminate the use of plastic bottles, it's also environmentally friendly.
The ad takes place in the year 2136, and focuses on the "Homoschlepiens."
https://www.youtube.com/watch?v=vb0uu4ughHk?feature=oembed
In the ad, Bialik stumbles across the Homoschlepiens and realizes that while water was around them, they refused to drink it. Why? Well, because it didn't come in a plastic bottle. Nairn stars as the "alpha male." Also, the object of Bialik's affection.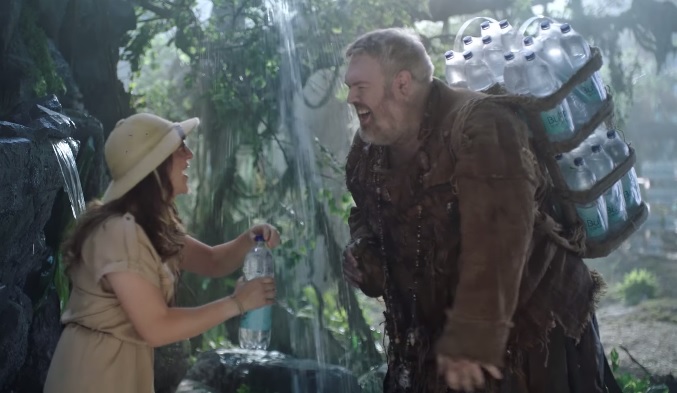 During the study, Bialik and Nairn end up forming an intriguing friendship. (And yes, the ad does include a little bit of bottle flipping. Because, of course.)
The ad is a lot of fun, but takes an even more humorous turn after the students that Bialik shared her "adventure" with claimed that it simply didn't make any sense.
Really, the ad has a point — we really do depend a lot on plastic bottles these days. And we think this approach might help people realize that by getting a device like the SodaStream (or, just by using a multi-use water bottle) we can help make a big difference.
We'd love it if SodaStream made these two regulars, since they've definitely got a lot of chemistry.