This brand just dropped a Hocus Pocus collection that'll transform you into a Sanderson sister
There's no contest when it comes to Halloween movies: Hocus Pocus is a beloved classic. Who doesn't love those zany Sanderson sisters and their wickedly witchy ways? After all, if you're like us and have been bingeing all 30 of the airings of the movie on Freeform this month, not only can you recite all their hilarious lines, but you're also probably very much in the Halloween spirit.
And now, you can show your love for the iconic film (and its upcoming sequel!) with a line of comfy loungewear from fan-favorite brand Her Universe at Hot Topic.
From velour pullovers to bewitching glow-in-the-dark apparel, this spooky collection just might put a spell on you and having you saying, "I'm beautiful! Boys will love me!"
Shop the Hocus Pocus apparel at Hot Topic.
Hocus Pocus Sanderson sisters acid wash top
Light the black flame and summon the Sanderson sisters with this super soft V-neck tee that features the silhouettes of Winifred, Sarah, and Mary in all their fabulousness.
Hocus Pocus velvet bell sleeve dress
Need a last-minute Halloween costume? This burnout velvet dress not only looks the part of a sinister witch, but features a subtle print that includes designs of Billy's headstone, the black flame candle, the sisters on their brooms, and more.
Hocus Pocus velour lace-up hoodie dress
Now, this is the kind of comfy loungewear that's perfect for filling up on Halloween candy and watching spooky movies with your girlfriends. The maroon hoodie features several embroidered designs, from the Sanderson sisters flying on their brooms on the chest to "I put a spell on you" and "Amuck! Amuck! Amuck!" written down the arms. It may even inspire you to throw a Hocus Pocus-themed party.
Hocus Pocus bell sleeve hoodie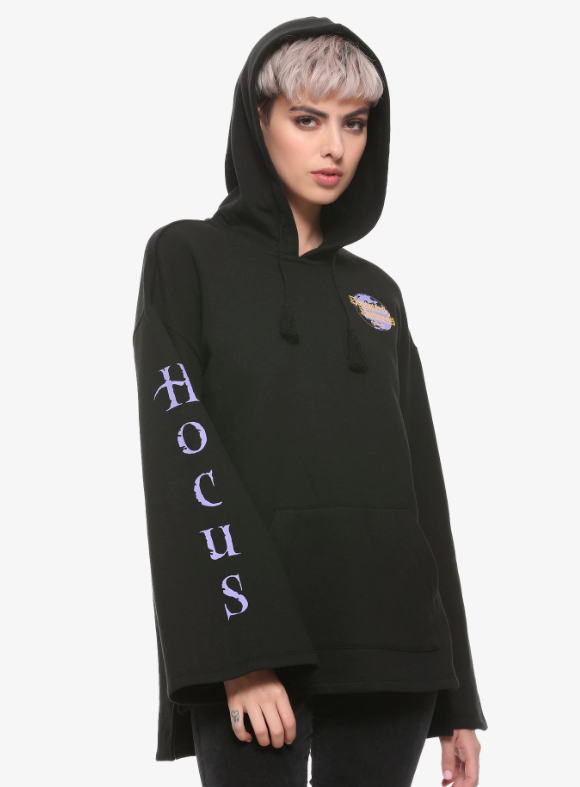 Keep warm and cozy in this bewitchingly cute hoodie that gives an ode to the dear witches of Salem. The chest design reads "Daughters of Darkness, est. 1693" while the bell sleeves spell out "Hocus Pocus" for decidedly spooky vibes.
Hocus Pocus glorious morning pajama pants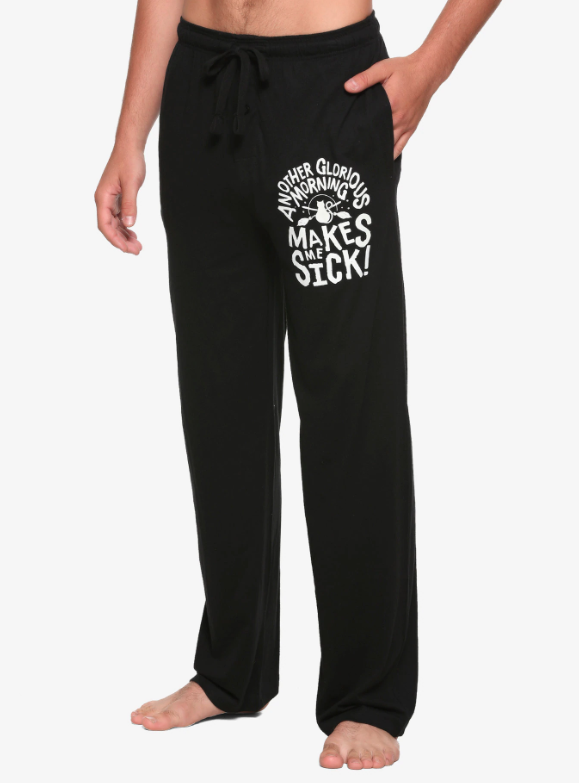 Okay, this might be our favorite item in the collection, if only because its gives a nod to one of Winifred's funniest lines. Any non-morning people can totally relate.
Hocus Pocus Billy Glow-in-the-dark long-sleeve T-shirt
The tombstone of Winifred's unfaithful lover comes to life in this festive glow-in-the-dark tee. We love the way the lace-up elbows on the sleeve replicate Billy's sewn-shut lips.
We think we found everything we need to lounge on the couch with Hocus Pocus and leftover Halloween candy (okay, the Halloween candy we bought just for ourselves).