20 Spellbinding Hocus Pocus Quotes That Make Perfect Instagram Captions
"I put a spell on you, and now you're mine!"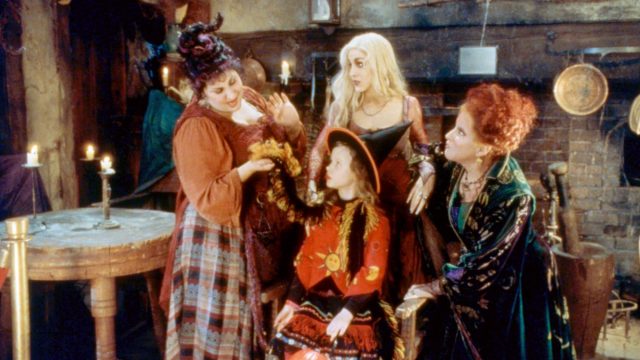 In our opinion, Hocus Pocus is the greatest Halloween movie of all time. It's one of those films that shaped our childhood, and we probably wouldn't be who we are today if it weren't for the sassy, hilarious, and scary Sanderson sisters. It's safe to say that that trio of witches put a spell on us—and the young Max, Dani, and Allison too. Even though the iconic film is more than a quarter of a century old (it came out 27 years ago!), Hocus Pocus is still relatable as ever and continues to be a treasure trove of funny quotes, memes, and jokes we can't get enough of. Not to mention, they make pretty excellent Halloween Instagram captions.
Recently, we found out that Hocus Pocus 2 may be in the works thanks to Disney+, and our favorite witchy sisters will be reuniting for charity later this month—proving that legends really never die.
In preparation for this year's spooky season, we encourage you to pass the pumpkin spice and round up your crew for a viewing party, or set your DVR for one of the 30 showings of Hocus Pocus that will be on Freeform this month. Then, relive a bit of your childhood with these hilarious, iconic quotes from Mary, Sarah, and Winifred.
1. "Sisters, we've been gone 300 years.
What to say you're finally reunited with your girl squad after a long hiatus. This feels especially relevant this year.
2. "Life is sweet, be not too shy."
The kind of motto we can get behind.
3. "Spending a quiet evening at home."
What we say when someone asks what our weekend plans are after a long work week.
4. "I am beautiful! Boys will LOVE me!"
Talk about feeling yourself.
4. "Oh, look. Another glorious morning. It makes me sick!"
A Monday morning mood.
6. "ON TOAST!"
What we say when the waiter asks how we like our avocado.
7. "I AM CALM!"
Enough said.
8. "Thank you. I really like yours too."
When someone compliments the outfit you worked so hard putting together.
9. "Oh, come on. It's just a bunch of hocus pocus."
Or so they say…
10. "This is…This is terribly uncomfortable."
Us when we try to squeeze into a pair of jeans we bought five years ago.
11. "I put a spell on you, and now you're mine!"
Text this to your crush.
12. "What is this place?" "It is a prison for children."
Us when we pass by our old high school.
13. "Think soothing thoughts."
2020 mood.
14. "Why, why, WHY, was I cursed with such idiot sisters?"
When you're trying to plan something with the group chat, but no one can agree on a date.
15. "I shall always be with you."
When you're leaving for work and have to say goodbye to your dog.
16. "It's a full moon outside. The weirdos are out.
Us when someone asks us to go out past 8 p.m.
17. "Dost thou comprehend?!"
When you're explaining something to someone and they STILL don't understand.
18. "Hang him on a hook and let me play with him!"
Us whenever we come across a photo of Harry Styles.
19. "I found it quite lovely!"
When your crush sends you a meme you already saw eight months ago.
20. "Couldn't you forget about being a cool teenager just for one night?"
When you want to do something silly but your friend won't participate.