The history (and future) of the November 14th supermoon is purely fascinating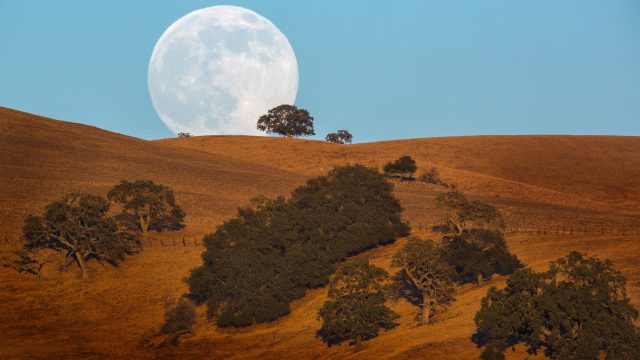 Something BIG is coming our way next week – in fact, this "something" hasn't been this big since 1948. It's the November 14th supermoon, everyone! Also known as the "Beaver Full Moon," November's full moon is the closest full moon to Earth in 2016. But what's even cooler is that it's also the closest moon to Earth in almost 70 years. According to NASA, you won't see a moon this bright and close to Earth again until November 25th, 2034. So… get your butts outside!
The November supermoon is one of three supermoons occurring at the end of 2016. Last month, we witnessed October 16th's Hunter's Moon, and next month, we'll see December 14th's Cold Moon.
Issue 35 of The Witches' Almanac reports that the tradition of naming full moons was first recorded in The Shepard's Calendar sometime during the early 16th century. 
According to Space.com, November's full moon was given the colonial name Beaver Moon because "it arrives at the time of year (in the Northern Hemisphere) when hunters would set traps before the waters froze over, to ensure they had enough warm furs for the winter."
The Native Americans referred to the November full moon as the Frost Moon, according to The Old Farmer's Almanac. In the modern era, the November full moon is known colloquially as the Scorpio Full Moon because it is the full moon of Scorpio Season.
You can learn other cool facts about the naming of the Beaver Moon, and about full moons in general, below, from Kelly at The Farmer's Almanac's.
https://www.youtube.com/watch?v=bAuJiv9_FVk?feature=oembed
So what's the deal with the Beaver Moon causing so much cosmic drama after keeping to itself for almost 70 years? Bob Berman, an astronomer at the Slooh Community Observatory, will tell you all about it when you tune into Slooh's live video stream of the supermoon. Old Farmer's Almanac editor, Janice Stillman will also discuss the folklore srrounding the Full Beaver Moon.
That stream will begin at 7pm on Sunday, November 13th.
What Berman can tell you is that the peak of the November supermoon is going to be at 8:52 AM (EST) on the 14th. You might want to set an alarm so you don't miss it. Sorry West Coast-ers, it's early – but it's worth it. You definitely won't be disappointed if you crack your eyes open for just a second to peek outside. Otherwise, you'll have to wait another 20 years to see it at its absolute fullest size again!
But, don't worry. The Beaver Moon will also look ginormous on Sunday and Monday night, so there's really no way you can miss it. If you live near the coast, be aware of higher tides than usual for a two- to three-day span.
Ultimately, make sure your peepers are open next Sunday and Monday. This is surely a historic moment you do not want to sleep through!