Hillary Clinton's unused election night confetti is now part of an awesome art project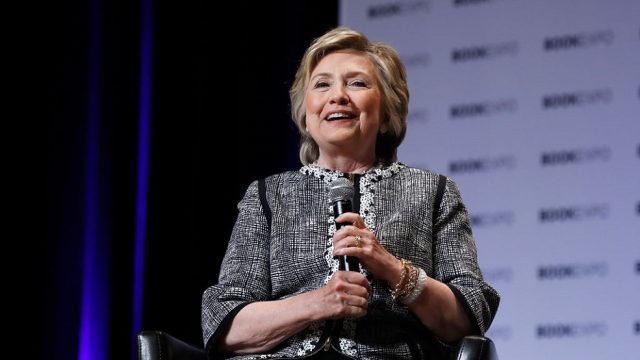 While we're glued to the television during big elections, there are numerous people behind the scenes setting up celebrations. But sometimes those proposed celebrations never get to happen. That's why we're glad that Hillary Clinton's unused confetti was repurposed into something else of beauty.
Clinton's victory was meant to be commemorated at the Jacob Javits Center in New York. On the scene was artist Bunny Burson, a fan of Clinton and her vision for America. But as the election ended with Trump's win, the confetti — expected to reign over Clinton — remained in their cannons.
Burson grabbed some of the unused confetti and decided to use it for a snow globe project that showcases the power of women.
The globe has the words "And Still I Rise" written in the center. Grounded with the repurposed confetti, the piece of art is breathtaking.
Those who live in or close to St. Louis can see the art in person. It's currently being featured at Bruno David Gallery until August 12th.
In an interview with Mashable, Burson noted that each piece of confetti stands for something much greater — including women's rights and human rights. (So inspiring.) She also made sure to get proof that this was confetti from election night, even going so far as to get a statement from the company that manufactured it.
The name of the piece, "Still I Rise," is based on a Maya Angelou poem. The powerful poem includes statements like, "You may shoot me with your words, You may cut me with your eyes, You may kill me with your hatefulness, But still, like air, I'll rise." Pretty perfect, if you ask us.
We have a feeling that everyone working on and supporting the Clinton campaign would love the fact that a small piece of history has been repurposed to symbolize something far greater.