Hillary Clinton says young women can do these 4 things if they want to stay politically active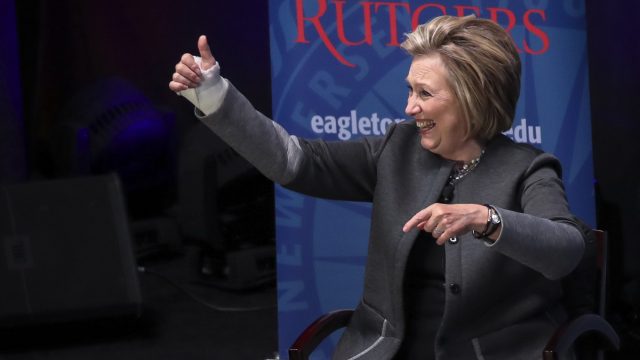 As a former Secretary of State, senator, first lady, and the first woman to be nominated for president by a major political party, Hillary Clinton has been inspiring women to be more politically active for decades. And based on a talk Clinton gave at Rutgers University's Louis Brown Athletic Center on March 29th, she has no plans to stop anytime soon.
During the talk, moderator Ruth B. Mandel, director of the Eagleton Institute of Politics at Rutgers, asked Clinton how women can sustain the newfound political engagement that's been so prevalent since the 2016 presidential election. Needless to say, Clinton had plenty of thoughts on the topic — and her advice surely had young women sitting across the 8,000-seat auditorium feeling inspired.
"Right now we are experiencing an unprecedented moment of political engagement on the part of women. How do we sustain that, and how do we sustain the institutions that are supporting that engagement?" Mandel asked Clinton. "How do we keep from regressing in the face of backlash?"
"I'm so encouraged and actually optimistic about the number of women — particularly young women — who are running for office," Clinton responded, before launching into her answers to the question — which were all related to turning thoughts into action, and not letting yourself get discouraged. 
Here are the four pieces of advice Clinton gave to young women in the audience who want to remain politically active.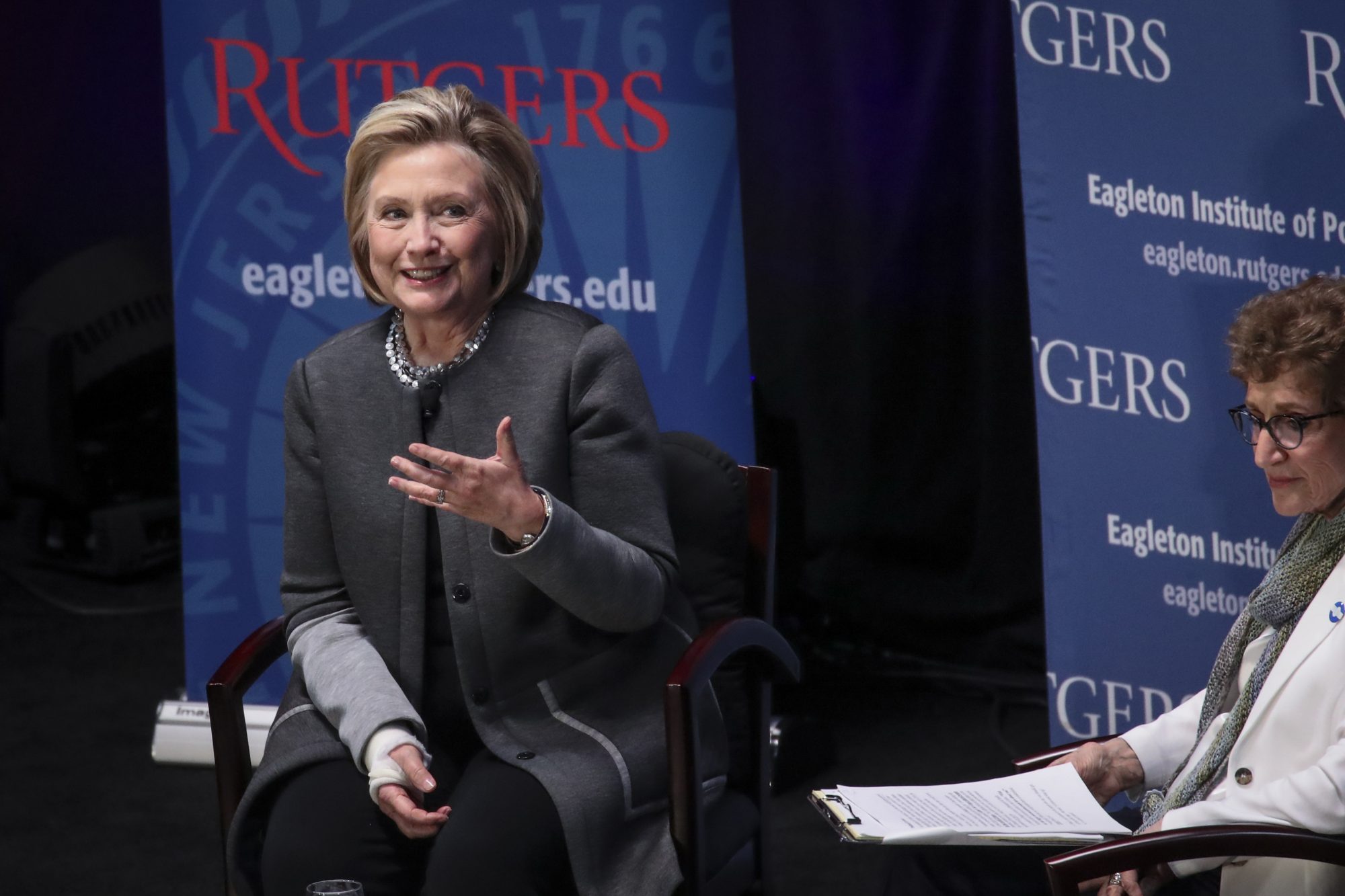 1. We have to convince more women to get into politics
Clinton explained the importance of getting more women involved in politics — and of encouraging them to push through criticism.
Furthermore, she thinks the increasing number of women in politics is amazing — and we have to keep up the momentum.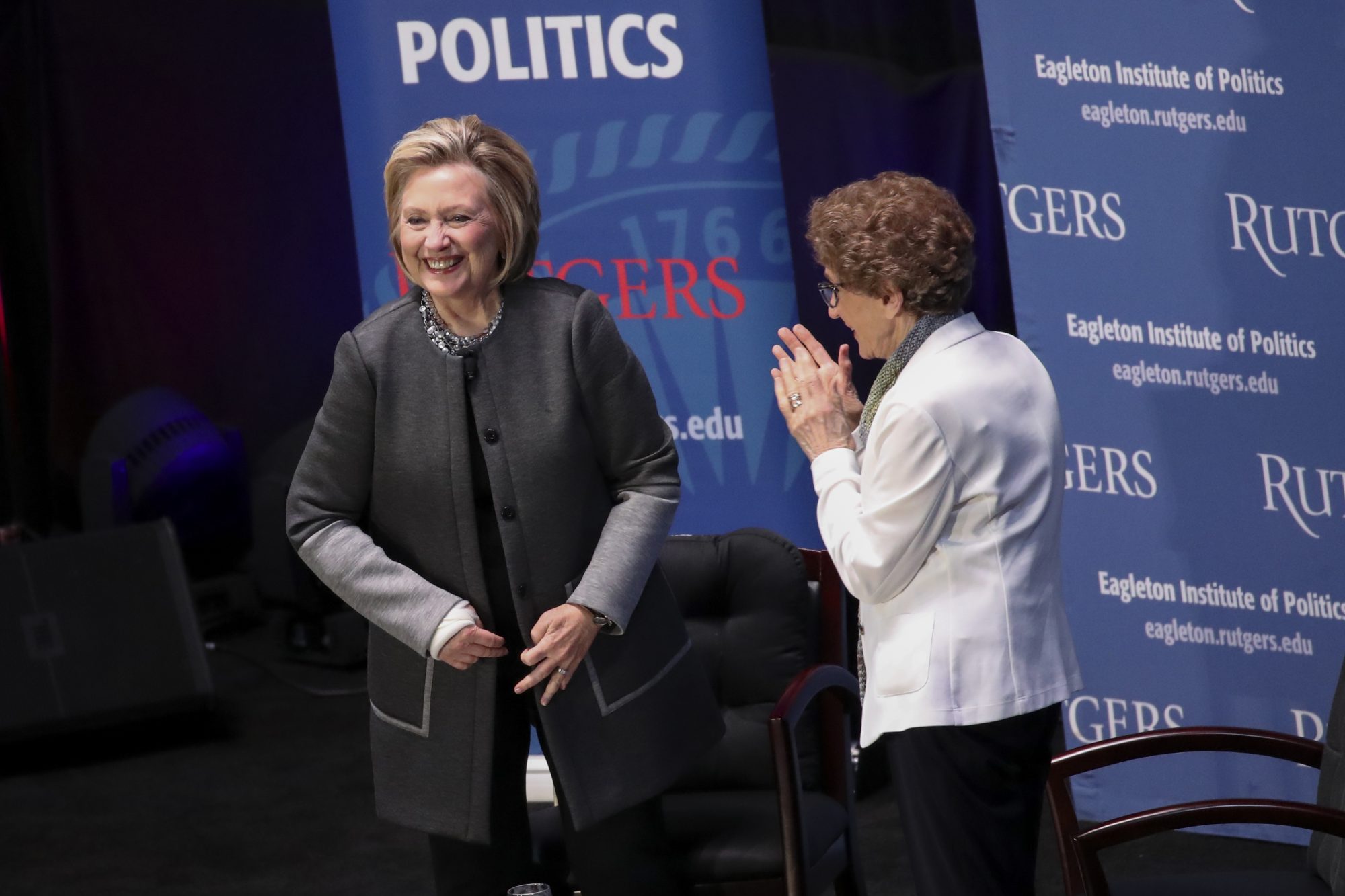 2. Even if you don't want to be a political candidate, you can still get involved in politics
"Not everybody wants to be a candidate. It's not for everybody. You saw Lona up here," Clinton told the crowd, in reference to Lona Valmoro, her longtime scheduler. Valmoro, a Rutgers alum who introduced Clinton and Mandel at the event, has worked for Clinton for 15 years.
"Probably the most important person to any candidate is her scheduler," Clinton continued. "So there are roles for people who never want to be a candidate that I hope many of you will consider."
3. Don't let backlash discourage you
No one knows the feeling of undeserved backlash better than Hillary Clinton — and she emphasized the importance of pushing through that.
4. Turn your passion into action, even if you're new to politics 
If you want something to be done about the issues you're passionate about, you have the power to get to work and get stuff done. "The biggest challenge we face is keeping up our momentum, of sustaining the energy that I have now seen across our country," Clinton said, giving the examples of the Women's March and the March For Our Lives. She then explained why we must use our momentum to create tangible action.
Hearing Hillary Clinton give this advice in person was so empowering, and I know I wasn't the only one who left the event feeling fired up.