Hillary Clinton just made her first post-election speech, and we are having feelings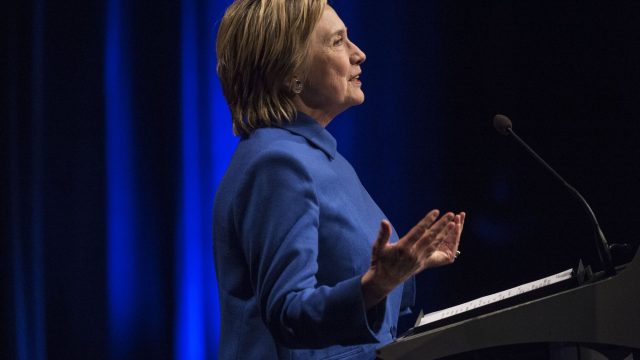 Ugh, this must've been so hard: Hillary Clinton made her first public speech since her concession speech following last week's election while attending the Children's Defense Fund's Beat The Odds Gala in Washington, D.C. She delivered a moving speech, being honest about how much her loss to Donald Trump on election night affected her. Donald Trump became the president-elect of the United States when he won 290 electoral votes to Clinton's 232.
"I will admit, coming here tonight wasn't the easiest thing for me. There have been a few times this past week where all I wanted to do was curl up with a good book and our dogs and never leave the house again," Clinton said during the gala on November 16th.
Um, yes, we understand those feels, Hil. false
Clinton reiterated that her campaign "was never about one person or even one election." She wanted to be the President to represent so many different kinds of people and, even though she didn't win, that fact still makes her stand out.
The end of her speech reflected the thoughts of many who voted for her, and hopefully it will inspire them to have hope:
"I know this isn't easy. I know that over the past week a lot of people have asked themselves whether America is the country we thought it was. The divisions laid bare by this election run deep. But please listen to me when I say this: America is worth it. Our children are worth it. Believe in our country, fight for our values and never, ever give up."
Many are taking that sentiment to heart: Thousands have flooded the streets in major cities, protesting the election results. A petition for the electoral college to overturn the results has almost four and a half million signatures, and has received media attention all over the country.
Massive kudos to Hillary Clinton for remaining graceful and mature in the wake of such a tumultuous election.