Hillary Clinton just hit President Trump with his own covfefe, and we kinda love it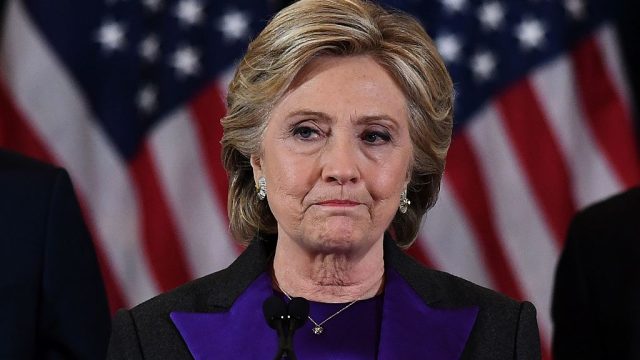 President Trump astounded the nation and the internet over when he tweeted: "Despite the constant negative press covfefe." Covfefe? The tweet was later deleted and replaced with: "Who can figure out the true meaning of "covfefe" ??? Enjoy!" While it seems pretty obvious that President Trump's original intention was to type "coverage" instead of "covfefe," the internet ran wild, coming up with its own translation and rationale behind the nonsensical word. And well, it didn't take long before former Secretary of State, Hillary Clinton, jumped on the bandwagon. In an epic tweet to end all covfefe tweets, the historic nominee proved once again that she's razor sharp and witty as heck.
Before we dive into the former Secretary of State's response… Let's revisit a few memorable tweets from the covfefe maelstrom.
false
Aw yes, the internet is alive and well.
false
Let's not forget this gem.
false
Oh, burn!
Clinton recently gave an in-depth interview at the Recode Code Conference in Rancho Palos Verdes, California, dissecting the 2016 president election. According to The Washington Post, Clinton pointed to several factors as to why she lost the election. Among them fake Facebook news, trouble within the Democratic National Committee and the spread of misinformation.
President Trump tweeted the following:
https://twitter.com/udfredirect/status/870077441401905152
Clinton responded with:
Aw, nothing like a little internet flame-throwing to stir the political pot.
Speaking at the Wellesley College commencement (to thunderous applause might we add), Hillary Clinton spoke passionately about the use of "alternative facts" and how it could lead to the end of free society. She said:
"That is not hyperbole… It is what authoritarian regimes throughout history have done. They attempt to control reality. Not just our laws and rights and our budgets... But our thoughts and beliefs.
You don't need to tell us twice. We hear you loud and clear!