Hillary Clinton is planning a tour to help answer a question so many of us still have about the 2016 election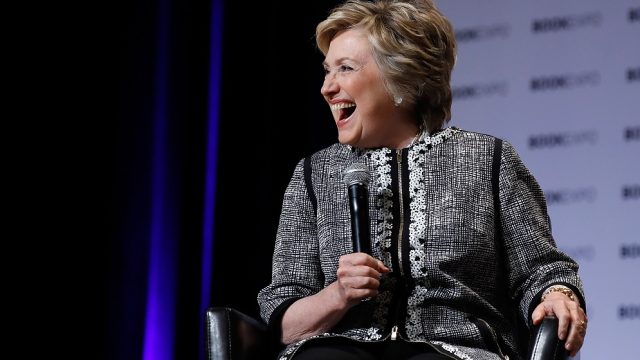 Our favorite lady in politics is hitting the road! Hillary Clinton has a book tour planned for her soon-to-be released memoir called What Happened. And not only will she be stopping at a bunch of major cities, but she'll give a little bit of perspective on the 2016 election.
While we still feel disappointed about the election result, Clinton's story will offer us some positive feelings and hope.
"What you'll see will be her story – Live. Her story of resilience, how to get back up after a loss, and how we can all look ahead," a statement from Simon & Shuster read.
Being able to hear Clinton talk about the election from her own perspective is like a dream come true.
In Clinton's own words, she's allowing herself to let loose a little bit during the tour — these days, she's not afraid to tell it like it is.
"In the past, for reasons I try to explain, I've often felt I had to be careful in public, like I was up on a wire without a net," she writes in the introduction of her book. "Now, I'm letting my guard down."
The book's website says that the story is told "with humor and candor" and notes that Clinton will get real about what "the experience has taught her about life."
Already trying to find tickets? We don't blame you. While most of the tour dates have been announced, the tour's official website states that there may be a few more added in the future.
Top-tier tickets are also expected to be somewhat pricey, which we understand — after all, this is a pretty exclusive opportunity. The tour starts on September 18th in Washington D.C., and as of right now, is set to conclude on December 13th in Vancouver.
What Happened is set to be released on September 12th. We can't wait to hear what it was like to be the very first woman nominated for the role of president by a major party. No matter what, she holds a place in history.