Hillary Clinton got a standing ovation when she attended a Broadway show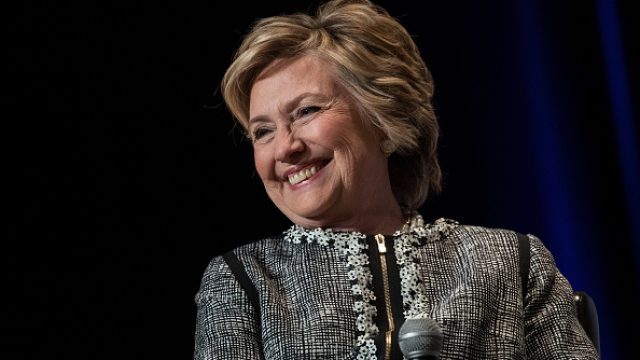 It seems like its been 10 years since the 2016 election, doesn't it? And if it's been, well, interesting for us, to say the least, since the inauguration, imagine what it's been like for Hillary Clinton. Since the election, she hasn't made that many public appearances, choosing her tweets and events very carefully. This weekend, however, Hillary Clinton got a standing ovation at a Broadway show, proving that at least in New York City, people are still fans of the former presidential candidate.
Clinton attended a production of Oslo, which is sort of amusing, since it's about the real-life, secret (until now) backroom negotiations that went into the Oslo Peace Accords between Israel and the Palestinian Liberation Organization. You'd think as a former Secretary of State, she'd be into something a little, well, lighter. Once a policy nerd, always a policy nerd.
ANYWAY, Clinton entered the already crowded theater wearing, yes, a pantsuit, in front of her husband. Everyone in Manhattan's Lincoln Center was standing up and taking cell phone videos, clapping, and cheering. Some people yelled, "We love you!" Others started a stadium-style "Hil-la-ry!" chant. She kept her head down for a while before finally acknowledging the crowd and waving. Bill came down a few steps behind her, which is sort of hilarious, since no one cheers for him, and he actually was president.
Check out all the love for Hillary on Broadway.
The Clintons have been taking in a lot of Broadway shows recently, such as The Color Purple, Sunset Boulevard, and In Transit. At those productions, too, she was met with cheers from the crowd. That doesn't always happen —when Vice President Mike Pence attended Hamilton with his wife, he was booed by the crowd and addressed, personally, by the cast.
Not that anyone's keeping score, of course.
Clinton also apparently has plans to see Wonder Woman this summer. She told reporters in June,
"Now, I haven't seen Wonder Woman yet — but I'm going to, in part because it's directed by the fabulous Patty Jenkins. But something tells me the story of a strong, powerful woman fighting to save the world from a massive international disaster is right up my alley.
She can probably just watch that one at home in Chappaqua, New York, but if we got standing ovations every time we walked into a room, we'd soak that up, too.