Hillary Clinton is going full-on "nasty woman" in Samantha Bee's Planned Parenthood tee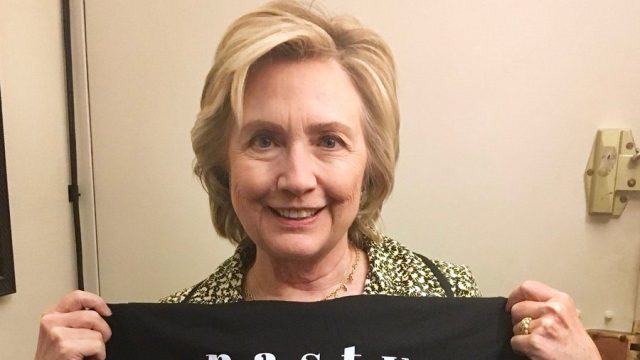 This may be the slogan of our generation, so if you haven't already purchased a "Nasty Woman" T-shirt, the time is now. Our honorary mother and the OG Nasty Woman herself, Hillary Clinton, is calling on us all to support Planned Parenthood by purchasing this tee.
The 2016 presidential candidate tweeted out a photo of herself holding up the shirt with a huge smile on her face. The photo is now hanging on our wall next to our framed portrait of Michelle Obama.
You may recall that during that tumultuous final presidential debate (that made our stomachs turn), Trump called Clinton a "nasty woman." So in solidarity, all liberal women began calling themselves nasty women as well.
TBS's Full Frontal host, Samantha Bee, created the "Nasty Woman" T-shirt promptly after the election, when Planned Parenthood funding was being targeted by new government leaders. She began selling it via Omaze and hoped to donate $1 million of the shirt's proceeds to Planned Parenthood.
With just three days left in her campaign, Bee is almost at her $1 million goal.
https://www.youtube.com/watch?v=JSalzZU_Xq0?feature=oembed
But now we're down to the wire, meaning we only have mere hours to purchase a "Nasty Woman" tee, and Hillary Clinton has given us the quest to get one before time runs out. We cannot let her down.
The T-shirts go for $25 and hooded sweatshirts go for $39. Once again, all proceeds go to Planned Parenthood. Your money is helping the organization and therefore, thousands of women across the country.
Let's stick together, nasty women (and men) of the world, and protect what we hold dear. In the name of Hillary Clinton and Samantha Bee, buy this shirt.